Bachelor's Degree in Management & Marketing (BSMM)
Home ›
BSc ›
Bachelor's Degree in Management & Marketing (BSMM)
Program Description
Core Competence
Management and marketing are two important business disciplines that focus on the planning and application of strategies and techniques. These disciplines are important as regards the utilisation of organisational resources. Professionals in these fields are able to manage their enterprises more efficiently and effectively by identifying and fulfilling clients' needs and wants.
The programme aims to provide students with sufficient knowledge to enable them to pursue a career in management or marketing, and /or advanced further study. In order that students are able to accomplish this, the programme seeks to provide students with the analytical skills necessary to apply their knowledge in organisations in which they are employed, to acquaint them with changing techniques and practices in the professional world, to develop their competence in marketing strategies formulation and to enhance their communication skills.
The programme objectives are to produce graduates who:
Are able to identify trends, problems and conduct research in the field of management and marketing.
Appreciate professional responsibilities of management and marketing tasks.
Have analytical skills, creative skills and ability to apply management and marketing concepts.
Have skills in reflective practice, and life-long learning, and can, therefore, respond to the dynamic nature of the profession and the changing management and marketing needs of the community.
Have the knowledge and expertise to meet the demands of current and future employment by working in a multidisciplinary environment.
Possess and practise soft skills such as communication skills, teamwork skills, leadership skills and organisational development skills.
This program achieved full confidence by QQA.
Employability
Many national, regional and global organisations are based in Bahrain because of its excellent location and reputation in education and business as a result of advanced infrastructure. Therefore, the employment opportunities for our graduates are many but could be briefly summarised as follows:
Executive trainees in different types of corporations including financial institutions
Supervisors and managers
Marketers
Brand managers
Product developers
Event managers
Public relation managers
Besides the professional working areas above, our department's graduates may also establish their own businesses as entrepreneurs. The Department of Management and Marketing aims to prepare its graduates for their career lives with interdisciplinary education pattern planned in accordance with the needs of the business environment.
Fast Facts
Qualification: Bachelors in Management & Marketing
Type: Undergraduate
Duration: 4 years
Qualification name: Management & Marketing
College: College of Business & Finance
Language of offering: English
Teaching and Assessment
Teaching methods include a combination of lectures, workshops, seminars, group discussion, presentations by guest speakers, and role-playing games. Moreover, each course is continuously assessed through tests, assignments, major projects, student presentations and oral participation. Assessment is totally linked to the intended learning outcome (ILO) with an emphasis on employability skills.
Bachelor's Degree Fees
The estimated duration for completion of a Bachelors Degree at Ahlia University is 4 years. This is structured around 134 credit-hours covering 45 courses.
The duration of study for each course is fifteen weeks, covering approximately 45 study hours.
Application Fee: BD 20
Registration Fee: BD 200
Placement Tests Fee (if applicable): BD 40
Orientation Courses (if applicable): BD 1200
First Year Courses – 12 courses (BD 300 Per Course): BD 3,500
Second Year Courses – 11 courses (BD 330 Per Course): BD 3,630
Third Year Courses – 11 courses (BD 360 Per Course): BD 3,960
Fourth Year Courses – 11 courses (BD 390 Per Course): BD 4,290
Total: BD 16,840
Please note that the fees listed above do not include the cost of textbooks required to complete the program.
Entry Requirements
Applicants must hold at least a recognized and endorsed secondary school certificate or equivalent.
Applicants must pass the placement tests or submit an international recognised certificate or attain an acceptable score on an internationally recognised examination, in order to be exempted from the orientation programme.
Apply Now
To apply to join the University, applicants must fill in the Application form either by attending at the Directorate of Admission and Registration in the University or by filling in the application form online. In all cases, applicants must bring hard copies of all the required application documents to the Directorate of Admission and Registration in order to complete their application process.
When to Apply
The university has a limited number of places available for each academic programme; hence to ensure your application is considered you should apply by the relevant deadline:
August 2019 – deadline for applicants wishing to join in the First Semester of the Academic Year 2019/2020.
January 2020 – deadline for applicants wishing to join in the Second Semester of the Academic Year 2019/2020.
May 2020 – deadline for applicants wishing to join in the Summer Session of the Academic Year 2019/2020 (Applications are restricted to transfer students only).
How We Select Students
Applicants are selected from the most promising of the eligible applicants and up to the limits of available space determined by the university. Please note that the requirements for admission stated by the University are in all cases the minimum demanded admission, and their fulfilment by an applicant does not automatically ensure their selection.
Prior to enrolling in University, citizens of non-GCC States should secure residence permits in the Kingdom of Bahrain; otherwise, their admission, granted conditionally, is subject to being rescinded at the discretion of the University.
Last updated Oct 2019
About the School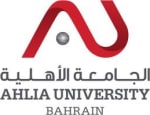 At Ahlia University we are proud of our growing reputation as a provider of quality higher education in the Kingdom of Bahrain and the wider Gulf region. The high quality of education at Ahlia Univers ... Read More
At Ahlia University we are proud of our growing reputation as a provider of quality higher education in the Kingdom of Bahrain and the wider Gulf region. The high quality of education at Ahlia University is at the core of everything we do and the reviews by the Quality Assurance Agency continue to recognise the quality of our teaching and learning.
Read less