Program Description
Bachelor of Hospitality Management
210 ECTS
Intake: 30
Degree Programme in Tourism
Campus: Satakunnankatu 23, Pori
Important Dates
Application period: 13 March – 3 April 2019
Entrance exam: Online entrance exams
Studies begin: Autumn 2019
Apply in Studyinfo.fi
Applying takes place online at Studyinfo service:
Bachelor of Hospitality Management, International Tourism Development, full-time studies, Pori
The entrance examination consists of three parts:
Logical-mathematical test
Material-based exam
Motivational video
Logical mathematical test measures applicant's logical skills, mathematical skills and understanding of written English. Each applicant has 1,5 hours to complete the exam after starting it. Applicant is required to get at least 16 points out maximum 40 points from this section.
In the material-based exam, applicant is required to answer questions based on material about international tourism. Material is given on the exam platform either when it's opened or during the exam. In the motivational video, applicant should be able to bring up issues about the exam material using his/her own computer, webcam, headset/microphone and Internet connection. Both parts will be instructed to eligible applicants before the examination opens, and both parts will be time-limited inside the examination open period. There will be more detailed information in Studyinfo.fi about the examination. Applicant is required to get at least 24 points out maximum 60 from this section.
Business and Well-Being from Nature
The degree programme provides you with competence to support the competitiveness of tourism destinations and organizations in international tourism markets. You will develop knowledge of various tourism-related sectors and actors for boosting the growth of international tourism business.
You will gain a broad perspective of the contemporary tourism industry and its development at a destination and organizational level and develop competence in managing destinations as well as business operations in a multicultural, global environment. In this programme, you learn to utilize the northern nature and its wonders to provide tourists with unforgettable experiences, especially in a marine and coastal environment. In addition to business studies, you explore tourism from different perspectives including responsibility, safety, and security, law and well-being.
Your Studies Include
Orientation Studies
Tourism Industry
Boosting International Tourism
Destination Management
Managing Tourism Business Operations
Coastal and Maritime Tourism
Practical Training
Elective and Complementing Professional Studies
Research Studies, Thesis and Maturity Exam
Study Arrangements
The language of tuition is English. The studies are implemented in co-operation with the tourism industry, i.e. a variety of service providers, sales intermediaries, authorities, and associations.
Teaching is carried out in different ways, according to the topic. There are contact lessons, e-learning, projects, visitor lectures and site visits. Students study in groups or individually.
As SAMK welcomes a lot of exchange students yearly, we can guarantee internationalization at home as well as during the student's exchange study or internship period abroad.
Practical Training and Thesis
Besides the projects, students have a practical internship of 30 credits. This can be performed in Finland or abroad.
In the thesis, the student demonstrates his or her ability to apply his or her knowledge and skills in practical expert duties related to the professional studies.
SAMK Students Will be Employed
With international and business-oriented approach student will get excellent opportunities for different tourism-related jobs, such as supervisors, developers, coordinators, and managers. In addition, the readiness for postgraduate studies is developed during this degree.
Modern and Versatile Campus
The new SAMK-campus is located in the city center of Pori and it is future's learning environment.
Over 4000 students.
Diversified: business, health care and social services, technology, tourism.
Around 600 degrees per year.
Good traffic connections: located next to the Travelling Centre of Pori. It is easy to arrive by a local or long-distance bus and within walking distance from the airport.
You can start your studies at the new campus in autumn 2019.
Last updated Nov 2020
About the School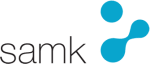 Satakunta University of Applied Sciences (SAMK) is located on the western coast of Finland, in the Satakunta region. There are about 6,000 students in total and more than two hundred international stu ... Read More
Satakunta University of Applied Sciences (SAMK) is located on the western coast of Finland, in the Satakunta region. There are about 6,000 students in total and more than two hundred international students studying in our campuses every year.
Read less