Bachelor's Degree in Banking & Finance (BSBF)
Program Description
Core Competence
The BSBF program consists of 134 credits (45 courses) in which university requirements account for 24 credits, college requirements 24 credits and major courses 78 (of which six credits are elective with the major and the rest, 72 credits, are prescribed) in addition to 6 free electives. To complete the BSBF degree, the students registered for a research preparatory course (BFRM 498) and a final project (BANK/FINC 499) involving undertaking a major research project.
The BSBF programme prepares students for careers in commercial and investment banking in particular and, in general, to become financial professionals in finance/treasury departments in corporations and governmental organisations. In the academic year 2009-2010 based on the market requirements and the feedback of the academic staff and students, the programme had been revised adding more quantitative coursework both college-wide (STAT 202) and adding niche required banking courses, like Islamic banking, programme-wide (BANK 330).
Some new electives were introduced to cover "hot-topic" areas regionally (FINC 328 Real Estate Finance) and globally (FINC 427 Derivative Securities). In 2012-2013, the research component of all programmes including BSBF was strengthened by the inclusion of a research methods course designed specifically for business research (BFRM 498) which became a prerequisite for all 499 undergraduate projects in business. In addition, a course on business ethics (ETHC 391) and Human Rights Principles (HUMR 101) were included in the curriculum of all undergraduate business programmes from term 2 of 2013-2014.
The programme of banking and Finance received confidence in its evaluation by the Quality Assurance Authority (Bahrain) in 2013-2014 and was successfully listed and approved by the National Qualification Framework (Bahrain) 2014-2015.
Aims
The overall aim of the programme is to foster students' knowledge and understanding in the field of Banking and Finance in a way that enhances their skills and competences when analysing and participating in interdisciplinary courses at a high academic level, within an international context that augment graduates with an extensive range of conceptual and practical skills in a professional and globalised contexts.
Objectives
In order to achieve this overall aim, the BSBF programme is designed to achieve the following specific aims:
To develop students' knowledge and critical understanding of theories, concepts and research findings relating to the multidisciplinary fields of banking and Finance
To develop students' professional competence in analysing, understanding and managing interdisciplinary issues and in communicating effectively.
To augment students with a range of skills, values and creative abilities that is suitable for performing managerial roles effectively within the banking and financial services sectors.
To develop students' research skills through instruction in research methods, opportunities to undertake individual and group research projects in the fields of banking and finance.
To prepare highly qualified and motivated students in our BSBF degree programme to become effective managers and leaders of financial institutions.
To develop students into responsible and socially aware business professionals or managers.
To prepare students to enter the postgraduate study in banking and finance or related disciplines.
To develop students' with specialised professional skills in selected areas of banking and finance according to their interests and career aspirations.
This program achieved full confidence by QQA.
Employability
Career Opportunities
Financial Analysts
Financial Examiners
Personal Financial Advisors/Planner/Consultant
Financial Managers
Financial Services Sales Agent
Credit Authorisers
Auditors
Credit Analysts
Treasurer/Controllers
Bookkeepers
Tax Examiners
Tax Collectors
Actuaries
Economists
Loan Officers
Cost Estimators
Bankers
Budget Analyst
Underwriter
Personal Financial Advisors
Purchasing Agents/Buyers
Administrative Service Managers Real Estate Brokers and Agents
Insurance Sales Agents
Investment Broker
Fast Facts
Qualification: Bachelors in Banking & Finance
Type: Undergraduate
Duration: 4 years
Qualification name: Banking & Finance
College: Banking & Finance
Language of offering: English
Teaching and Assessment
Teaching:
The department faculty diversifies their teaching styles to minimize the lecture-based approach and to push students to take initiative in and responsibility for their own learning.
The following teaching methods are widely practised: Lectures, class discussions, in-class problem sets, internship and guest speakers.
Assessment Methods:
Students are assessed through a combination of examinations and assessed course work. Assessments, which are both formative and summative, may take the form of essays, project reports, portfolios, presentations, group work, Problem sets, graded homework, in lab exercises, Case studies, and exams (closed or open books).
Bachelor's Degree Fees
The estimated duration for completion of a Bachelors Degree at Ahlia University is 4 years. This is structured around 134 credit-hours covering 45 courses.
The duration of study for each course is fifteen weeks, covering approximately 45 study hours.
Application Fee: BD 20
Registration Fee: BD 200
Placement Tests Fee (if applicable): BD 40
Orientation Courses (if applicable): BD 1200
First Year Courses – 12 courses (BD 300 Per Course): BD 3,500
Second Year Courses – 11 courses (BD 330 Per Course): BD 3,630
Third Year Courses – 11 courses (BD 360 Per Course): BD 3,960
Fourth Year Courses – 11 courses (BD 390 Per Course): BD 4,290
Total: BD 16,840
Please note that the fees listed above do not include the cost of textbooks required to complete the program.
Entry Requirements
Applicants must hold at least a recognized and endorsed secondary school certificate or equivalent.
Applicants must pass the placement tests or submit an international recognised certificate or attain an acceptable score on an internationally recognised examination, in order to be exempted from the orientation programme.
Apply Now
To apply to join the University, applicants must fill in the Application form either by attending at the Directorate of Admission and Registration in the University or by filling in the application form online. In all cases, applicants must bring hard copies of all the required application documents to the Directorate of Admission and Registration in order to complete their application process.
When to Apply
The university has a limited number of places available for each academic programme; hence to ensure your application is considered you should apply by the relevant deadline:
August 2019 – deadline for applicants wishing to join in the First Semester of the Academic Year 2019/2020.
January 2020 – deadline for applicants wishing to join in the Second Semester of the Academic Year 2019/2020.
May 2020 – deadline for applicants wishing to join in the Summer Session of the Academic Year 2019/2020 (Applications are restricted to transfer students only).
How We Select Students
Applicants are selected from the most promising of the eligible applicants and up to the limits of available space determined by the university. Please note that the requirements for admission stated by the University are in all cases the minimum demanded admission, and their fulfilment by an applicant does not automatically ensure their selection.
Prior to enrolling in University, citizens of non-GCC States should secure residence permits in the Kingdom of Bahrain; otherwise, their admission, granted conditionally, is subject to being rescinded at the discretion of the University.
Last updated Oct 2019
About the School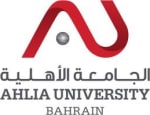 At Ahlia University we are proud of our growing reputation as a provider of quality higher education in the Kingdom of Bahrain and the wider Gulf region. The high quality of education at Ahlia Univers ... Read More
At Ahlia University we are proud of our growing reputation as a provider of quality higher education in the Kingdom of Bahrain and the wider Gulf region. The high quality of education at Ahlia University is at the core of everything we do and the reviews by the Quality Assurance Agency continue to recognise the quality of our teaching and learning.
Read less