Bachelor's Degree Program in Bioinformatics
Home ›
BSc ›
Bachelor's Degree Program in Bioinformatics
Program Description
Bioinformatics
Linking "Life Sciences" - biology, genetics, medicine, pharmacy and computational sciences - with computer science, mathematics and statistics has made the field of Bioinformatics indispensable. Researchers analyze, interpret, visualize and simulate biological data using methods of computer science and mathematics. Bioinformatics contributes significantly to understanding an organism's molecular biological processes. The Bachelor's degree program Bioinformatics is a double degree program offered together with the South Bohemian University (USB) in České Budějovice offering a versatile and future-oriented educational curriculum designed to prepare graduates for various innovative occupational fields, such as pharmaceutical or biomedical research, genetics, biotechnology, data analysis, software development and much more.
Your Benefits
Broad, base-knowledge education
Learn problem-solving skills
Interdisciplinary education
Focus on research and international aspects
Educational Objectives
Bioinformatics is the science of interpreting, visualizing, and simulating biological data by applying methodological approaches in Computer Sciences and Mathematics to gain an understanding of an organism's molecular biology.
Expertise in Bioinformatics opens the door to opportunities and applications in the following fields:
In biology, to understand cell function
In medicine, to develop diagnostic and preventative procedures as well as treatments
In genetics, to find genetic causes of illnesses and study the evolutionary development of humans
In pharmaceutics, to develop new drugs
The research-oriented program focuses on current topics and provides students with individual attention and support services. Early on in the program, students develop problem-solving skills, focus on current scientific issues, and are individually integrated into the institute's academic activities.
Job Opportunities
The academic degree program in Bioinformatics is versatile, future-oriented, and interdisciplinary, preparing students for a variety of innovative professions that require expertise and skills in both life sciences and IT. Graduates can pursue careers in the pharmaceutical industry, the chemical field, in food technology, or at biotechnology companies. In addition, graduates can pursue a career at companies that create software for use in biology, physics, medicine or chemistry.
Advanced Degrees at the JKU
After completing your undergraduate degree, you can continue your education by pursuing an advanced degree:
Master's Degree Program in Bioinformatics
Recommended Study Plan
As part of the Bachelor's degree program, students are required to complete courses totaling 180 ECTS credits in the following areas: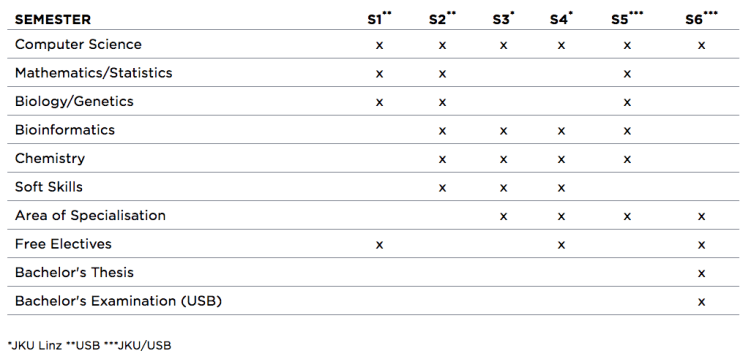 Additional Information
Complete the program at two universities:
Semesters 1 – 2: USB Budweis
Semesters 3 – 4: JKU Linz
Semesters 5 – 6: JKU Linz/USB Budweis
Preparation Courses: The courses have been designed especially for newly enrolled students and cover educational content from higher-level secondary schools in a compressed format. The preparation courses will help students prepare for university-level lectures and classes. Participation is not mandatory.
Students in the program should have a B2 level of proficiency in English.
Admission Requirements
General higher education entrance qualifications (such as an Austrian "Matura" diploma)
Contact the Admissions Office for additional information about the admission requirements.
Last updated Jul 2018
About the School
Young, but oh so impressive. At just a little over 50 years old, the JKU has experienced quite a bit - and has a lot to offer: an outstanding selection of academic degree programs on one hand and on t ... Read More
Young, but oh so impressive. At just a little over 50 years old, the JKU has experienced quite a bit - and has a lot to offer: an outstanding selection of academic degree programs on one hand and on the other, it is a place to be happy.
Read less