Read more about this program on the institution's website
Program Description
Music
If making music energizes and excites you, consider turning your passion into a major in Erskine's Music Department. Whether you want to conduct, perform, or teach, the Music Department offers the tools and expertise to achieve that goal.
We offer applied study in piano and organ, wind, string, and percussion instruments, and voice. At Erskine, you can focus your studies to suit your interests and career goals.
You can earn a B.A. in Music with an emphasis in either performance or church music.
If you are interested in teaching music, you can earn a B.S. in Music Education with an emphasis in choral or instrumental music for grades K-12. Click here for more details.
Erskine offers the opportunity to further customize your studies. With faculty assistance, students can propose alternative concentrations, which may be pursued if approved by the music faculty and the provost.
Non-majors
Many Erskine students studying in other fields enjoy the music minor, which offers either a concentration in a particular performance skill or a general music track.
All students, whether they are music majors, minors, or non-majors, are invited to take applied music or audition for ensembles. The music faculty at Erskine College is committed to equipping students with music skills to be used for a career or a lifetime of enjoyment.
Ensembles
Sinfonia
Erskine's chamber orchestra of string, woodwind, brass, and percussion players, conducted by Dr. Deborah Caldwell.
Jazz Band
Conducted by Dr. Deborah Caldwell, the Jazz Band consists of brass and woodwind players as well as a rhythm section.
Choraleers
An auditioned mixed choir of 40 voices, the Choraleers is conducted by Dr. Keith Timms. The ensemble sings challenging sacred and secular literature from the past five centuries. The Choraleers take an annual tour either in the U.S. or abroad.
Chamber Singers
Auditioned mixed ensemble of 12-20 voices, conducted by Dr. Keith Timms, open to members of the Choraleers. Sacred and popular repertoire.
Bella Voce
A non-auditioned women's chorus, conducted by Dr. Keith Timms. The Women's Chorale performs sacred and secular repertoire on-and-off campus.
Pep Band
Conducted by Sara Glogowski, the pep band supports the Erskine community and athletics teams. The group performs for Erskine football agmes and some of Erskine's basketball games.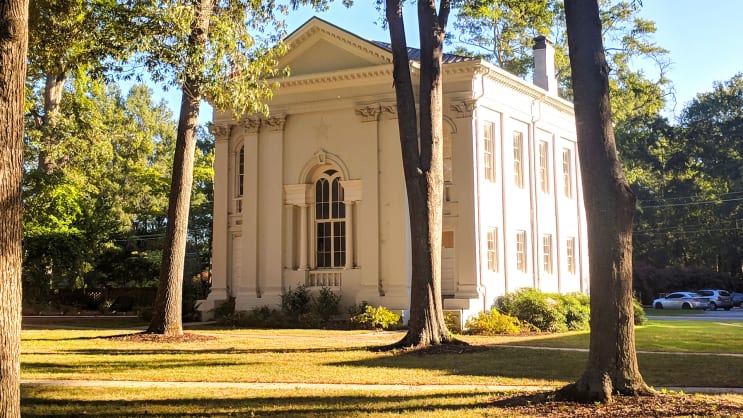 Music Scholarship Auditions
Stay involved with music during your college career, and get scholarship funding at the same time. At Erskine, you don't have to be a music major or minor to receive a music scholarship. Scholarship recipients continue taking private lessons and participate in faculty-led ensembles but are free to pursue whatever major(s) they like. For more information, visit our website.
Admissions
The Office of Admissions accepts applications on a rolling basis. Students may apply for admission beginning January 1 of the year prior to intended entry, and decision notifications for complete applications will be sent on a rolling basis. Students should confirm their enrollment by the national candidates' reply date, May 1.
International Students
Apply. Submit your application, along with the $25 application fee.
Submit transcripts. Transcripts must be translated into a U.S. 4.0 grading scale and go through IEE, WES or ECE.
Submit SAT scores. For more information about Erskine's test flexible policy, click here.
Complete the English Language Proficiency Test. English proficiency is required when a student's native language is not English. Recommended TOEFL score: 70 iBT (Internet-based test). Recommended IELTS score: 6.0.
Enrollment Fee and Certificate of Finance
Upon acceptance, students must submit the certificate of finance as well as an enrollment fee to reserve their place in the incoming class. An I-20 will then be issued so that the student may obtain a visa. The student is responsible for any fees associated with acquiring the student visa. For more information visit our website, or click "apply now" to start the application process.
Last updated Nov 2020
About the School
Erskine College has been preparing students for lives of learning, service, and leadership for more than 180 years. As a Christian liberal arts college, we educate students for careers, but more impor ... Read More
Erskine College has been preparing students for lives of learning, service, and leadership for more than 180 years. As a Christian liberal arts college, we educate students for careers, but more importantly, we prepare you for your life's calling.
Read less