Bachelor programme in Computer Systems
Program Description
Computer Systems
The content of the study programme "Computer Systems" has been designed in accordance with the following standards:
ACM (Association of Computing Machinery standards, i.e. Curriculum Guidelines for Undergraduate Degree Programs in Computer Science)
CDIO Standard 2.0 (Conceiving, Designing, Implementing, Operating) for innovative education frameworks teaching new generation engineers incl. from product concept, design, implementation to exploitation
Software profession standards
DEGREE AWARDED: Professional Bachelor's Degree in Computer Systems
QUALIFICATION AWARDED: Professional qualification of Software engineer
STUDY DURATION AND SCOPE: 4-year full-time studies in Day department, 160 credit points or 240 ECTS
LANGUAGE OF INSTRUCTION: English
PRACTICE: International enterprises Accenture, Tieto etc.
PROGRAMME IMPLEMENTATION: Enrolment twice a year. Studies in the 1st Semester, 1st Study year will commence on 4th February 2019
ENROLMENT FOR STUDIES: From the 6th August 2018, by completing the application form. Meetings with the study programme Director Once a month starting from I. Namatēvs will be organised once a month at Turiba University, Graudu Street 68. Venue and dates to be confirmed.
ENTRANCE EXAM FOR CANDIDATES: Mathematics and English.
STUDY PROGRAMME OBJECTIVES: To educate professional specialists for independent work in the field of information technology with knowledge of computer system architecture, software engineering, system analysis, basic database technologies and the basics of artificial intelligence. To educate professionals who are able to demonstrate systemic thinking and systemic approach to software application development projects, playing different roles and taking into account the IT standards and professional ethics of an IT engineer. To educate students to carry out scientific research based on experimentation, modelling and simulation. To educate students for further qualification and continuation of studies in professional Master's level study programmes.
Learning Outcomes
Students have the knowledge skills and competencies in:
Computer Science:
Software design (software development), algorithms and data structure concepts.
Computer Systems and Architecture.
Programming languages and operating systems (Java, JavaScript, C languages, Python, PHP, Ruby)
Programming languages for Java in-depth competence.
Mathematics:
Higher mathematical principles incl. linear algebra, theory of probability, statistics, number theory, vectors and matrices, logic and discrete mathematics.
Students will be involved in:
Research work:
Understanding of scientific research methods and opportunities for applied research or engineering-related experiments.
Practice:
Academic knowledge is strengthened by practical programming of different systems, using high-performance algorithms, testing, modelling and simulation, offering solutions for reducing certain risks, presenting results and communicating within a team.
Programme Benefits
Flexible study process
Module learning principle
Lectures/practice ration (average) 1:3
Remote access to study materials
Transfer of knowledge of guest lecturers and practitioners
Exchange programmes with other European engineering universities (U.K)
Study laboratories (Software programming laboratories)
Tuition Fee
Annual tuition fee (study year 2018/2019, full-time day department studies in English): 3300 EUR
Tuition fee includes:
Lectures, seminars, work in laboratories
Literature available at the library and access to electronic databases
Access to software programmes (Matlab etc.) and servers (applications, programming)
Study and lecture handouts ISO 25000 product quality assurance standards
Computer and Internet access at the library, free scanning and access to database systems (MS SQL Server 2017)
Free WiFi access
200 pages of free printing
Free entry to Turiba organised student events etc.
Student ISIC card
Content of the Study Programme
1st Study year. 1st Semester
Software Development Fundamentals 1, Java
Introduction to Computer Architecture, Computer Engineering and Computer Systems
Mathematics
English 1
Latvian Language 1
1st Study year. 2nd Semester
Software Development Fundamentals 2, Java
Object-Oriented Programming
Linear Algebra and Analytical Geometry
Algorithms, Data Structures and Complexity
English 2
Civil and Environmental Protection
Course Paper 1, IT System Project
2nd Study year. 3rd Semester
Discrete Mathematics
Software Development Fundamentals 3 and 4
Database Systems 1
Economics and Entrepreneurship in IT
Multimedia Data Processing
Networking and Communication
2nd Study year. 4th Semester
Software Development Fundamentals 4
Data Analysis and Benchmarking
Database Systems 2
French or Spanish or German or Russian language
Course Paper 2, Hackaton
Practice (12-week internship in an international company)
3rd and 4th study year include the following study subjects:
Software Development Fundamentals 3
Finance and Accounting in IT
Coding and Cryptography
Big Data
Graphics and Visualization
Software Project Management
Optimization
WEB Application Development Tools
Machine Learning and Intelligent Analytics
Information Assurance and Security
IT Risk Management
Internet of Things
Green IT Systems and Methods
Software Testing and Quality
Building Software for Modelling and Simulation
Blockchains
Internet Systems and Standards
Cyber Security
Augmented Reality
Robotics
Chatbots
Course Paper 3, Java Project
Pre-Diploma Practice
State Examination (Bachelor's thesis)
*The content of the study programme may be altered and updated during the study process based on labour market requirements and Minister of Cabinet regulation requirements.
** The content of the study programme may vary depending on the type/form of studies.
Last updated Nov 2019
About the School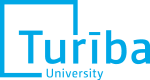 Turiba University has received recognition of employers and ranked in the top position of the most recognized universities. 99.61% of graduates are employed – it is the highest employment rate among L ... Read More
Turiba University has received recognition of employers and ranked in the top position of the most recognized universities. 99.61% of graduates are employed – it is the highest employment rate among Latvian universities, furthermore, more than 80% university students is working during their studies.
Read less