Program Description
Bachelor of Sport, Health and Human Performance
This qualification was previously known as Bachelor of Sports and Leisure Studies
The rapidly growing sport and leisure industry is now worth over $12 Billion dollars per year to New Zealand. Waikato's Bachelor of Sport, Health & Human Performance will give you a foundation in this exciting and dynamic career.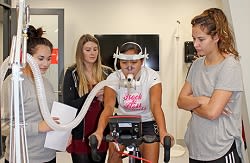 As one of New Zealand's fastest growing industries, the sport and leisure industry provides exciting career opportunities. The Waikato Bachelor of Sport, Health & Human Performance (BSHHP) will equip you with the latest knowledge and skills to excel in this dynamic environment, and help to improve the physical, social and mental well-being of others.
As a university located in the heart of the Waikato Region, we are proud to foster collaborative relationships with some of the country's top sports organisations and facilities. Our partnerships allow students to get a taste of industry careers from high-performance sport (Waikato Chiefs, BOP Magic and Cycling NZ) to community organisations (Sport Waikato, Parafed and Disabilities Waikato).
Our facilities boast the latest equipment in sport science specialisations, namely The University of Waikato Sports Laboratory at the Cambridge Avantidrome and The University of Waikato Adams Centre for High Performance, in Tauranga. Both are equipped with cutting-edge facilities to test athlete performance, exercise and recovery, including an environmental chamber for altitude training.
Specialisations
Movement Cultures
You'll understand the social and cultural aspects of consuming, producing and experiencing sport and leisure in contemporary and historical settings, as well as critically exploring movement in a range of settings, consider issues such as power, identity, gender, race, inclusion, equity and diversity. You will gain an interdisciplinary understanding of contemporary local and global trends. A BSpLS will open up a broad range of career paths, equipping you with problem-solving skills, creativity, critical thinking, communication and reflective processing skills.
Applied Movement Sciences
Critically explore how the application of scientific principals can enhance health and well-being, fitness and performance. You'll find out about anatomy, biomechanics, exercise prescription, movement analysis, nutrition, physiology, psychology, strength conditioning. Apply known scientific principals to examine current practice, explore innovative strategies in the promotion, maintenance and enhancement of physical activity, exercise and sport. Develop skills in applied movement sciences and develop the knowledge necessary to thrive in a dynamic workplace across a range of movement contexts.
People Movement and Professional Practice
Develop an understanding of contemporary knowledge and skills related to teaching, coaching, leading, volunteering, and instructing in diverse movement contexts. Explore theory and practice in educational movement. Gain an understanding of the social and cultural significance of movement in the community and educational settings. Develop critical thinking, planning, communication, reflective and contextually relevant skills necessary to contribute to and lead equitable movement opportunities for all members of their community.
Career opportunities
Applied Sports Scientist
Community Sport Adviser
Events Manager
Health and Physical Education Teacher
Personal Trainer
Sports Coach
Conjoint degree options
The BSHHP can be taken in conjunction with one of a range of other degrees. This can increase your attractiveness to potential employers as you can develop broader knowledge and skills and take just four years to complete.

A couple of popular study paths include:
Sport and Leisure and Management with a second major in Marketing (BSpLS and BMS or BCS). This is often chosen
by students who wish to pursue Sports Marketing as a career.
Sport and Leisure and Teaching (BSpLS and BTchg). If you are interested in teaching sport you could apply to do a conjoint degree, or you could complete a BSpLS degree and then apply for a one-year Graduate Diploma of Teaching or a Master of Teaching and Learning.
Practical experience
A range of undergraduate papers has a practical component as well as those that exclusively promote learning from experience in the field of sport and leisure. These papers offer the chance to observe, participate, contribute, learn and critically reflect. They facilitate opportunities for you to connect real life with cultural, social, economic and political theories and concepts of sport and leisure.
Admission and enrolment
To enrol in this degree, you usually need University Entrance or its equivalent. Some first-year papers may have specific prerequisites, so please check the paper catalogue carefully. If you do not meet the prerequisites, please contact recruitment@waikato.ac.nz as there may be other pathways that you can take to study in this field. The catalogue of papers can be found at papers.waikato.ac.nz.
Last updated Jul 2019
About the School

This University is provides students with a full and dynamic university experience, distinctive in character, and pursuing strong international links to advance knowledge. A commitment to producing qu ... Read More
This University is provides students with a full and dynamic university experience, distinctive in character, and pursuing strong international links to advance knowledge. A commitment to producing quality research that aims to solve the worlds greatest issues has led to the University being among the 100 universities for research impact.
Read less