Bachelor of Software Engineering - Game Programming
Home ›
Bachelor ›
Bachelor of Software Engineering - Game Programming
Program Description
When becoming a Game Programmer, you'll learn best while doing. You'll code, you'll craft and, in the end, you'll graduate with a gaming portfolio like no other. By the end of your third year at Media Design School, you'll have worked with other like-minded programmers and artists to develop an industry level game, giving you the perfect showreel to kick-start your professional career.
Better yet, Media Design School is the only school in New Zealand who has partnered with Sony Computer Entertainment Europe's PlayStation First Academic Development Programme, giving our students the opportunity to develop games for the PlayStation platform.
Careers & Industry
To be a game developer you'll need both the experience and practical skills to be able to work across multiple game platforms and the ability to collaborate in a group that simulates the industry environment.
In this course, you'll be learning C++ along with other coding languages that will help you succeed in the games industry. In your third year, you'll experience an end-of-year project which will be the closest experience you'll get to an industry environment at any tertiary provider in New Zealand. You'll be collaborating in a group with fellow programmers and artists to create a commercially viable game, which you can include in your portfolio and show-reel by the time you go on to work as a professional.
You'll also have the opportunity to work with the PlayStation game platform. Media Design School has partnered with Sony Computer Entertainment Europe (SCEE) to become the only tertiary institute in New Zealand where students can develop for PlayStation platforms, giving you the edge once you graduate.
Our graduates go to work in game studios here and around the globe, such as Game Loft, Grinding Gear Games, Pik Pok and Krome Studios.
A degree in Software Engineering could take you down the following career paths:
Game Programmer
Software Engineer
Graphics Programmer
Engine Programmer
Artificial Intelligence Programmer
Technical Lead
Gameplay Programmer
Tools/UI Programmer
Network Programmer
Physics Programmer
Sound Programmer
Entry Requirements
General Admission
To qualify for General Admission, you'll need a minimum qualification of NCEA University Entrance or equivalent, such as:
An appropriate qualification from an overseas secondary school or tertiary institution, deemed by Media Design School to be sufficient for admission into a bachelors programme.
CIE (University of Cambridge International Examination)
IB (International Baccalaureate)
Plus, it is recommended to have the following:
24 NCEA Credits, Level 3, in Mathematics, Physics, or Computing and Technology.
If you are enroled at a New Zealand secondary school and have not yet completed your NCEA (CIE or equivalent) qualification, you can still apply now for admission. When your NCEA results are available in January, we will check them and contact you.
International Students
If you are an international student, you'll need to prove you have sufficient English language skills in order to complete this course. We'll be looking for Academic IELTS 6.0 (minimum), or equivalent qualification if English is not your first language.
Last updated Jan 2018
About the School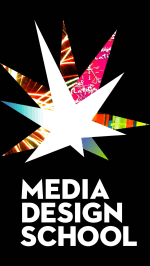 Media Design School is New Zealand's most-awarded tertiary institute for digital and creative technology qualifications
Media Design School is New Zealand's most-awarded tertiary institute for digital and creative technology qualifications
Read less