Program Description
Bachelor of Science
Putting into practice what you learn in your lectures is a major part of the University of Waikato Bachelor of Science degree. You will gain hands-on experience with some of the most up-to-date and high-tech computing facilities and laboratory equipment available, such as our mass spectrometers for investigating molecular structure.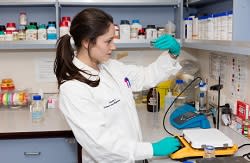 We also take you right to the source, with field trips that might include an overnight stay to gather geothermal samples or a week-long bush camp to examine a region's flora.
The range of career options available to Bachelor of Science (BSc) graduates isn't surprising when you consider the nature of the degree. It is extremely flexible so you can combine papers to suit your strengths and interests. We keep it general in the first year so that your choice, when you do come to specialise, is an informed one. Transferring from this degree to the BCMS is also possible at any stage in your degree.
This qualification may also be studied at the University of Waikato Tauranga, with a major in Biological Sciences or Computer Science.
Facilities
The University of Waikato's School of Science is home to a suite of well-equipped laboratories. Most science papers include weekly laboratory sessions, giving you the chance to put what you've learnt in lectures and tutorials into practice. Our undergraduate students also have the opportunity to use complex research equipment and techniques, such as NMR spectroscopy and DNA sequencing.
The computing facilities at the University of Waikato are among the best in New Zealand, ranging from phones and tablets for mobile application development to cluster computers for massively parallel processing. Computer Science, Mathematics and Statistics students will also have 24-hour access to computer labs equipped with all the latest computer software.
Specialisations
Within the BSc you may choose to specialise in:
Science International
Science International combines a science major with study in Chinese, French, German, Japanese or Spanish. Science graduates who are familiar with the language and customs of other countries are of particular value to export-oriented industries.
Te Pūtaiao me ngā Take Māori (Science and Te Reo)
This specialisation enables you to pursue a science degree in a major subject while extending your knowledge of Māori language and culture.
Career opportunities
Animal Welfare Officer
Biotechnologist
Chemical Analyst
Environmental Scientist
Laboratory Manager
Software Developer
Statistician
Web Architect
Conjoint degree options
This degree can also be taken as a conjoint.
Practical experience
The Bachelor of Science is a practical degree with laboratory and/or field work associated with most subjects.

In some papers, you will be able to take part in field trips to local beaches, forests and lakes to conduct sampling and learn first-hand about the environments you are studying.

For some science subjects, you also have the opportunity to undertake an independent or small team research project (special topics paper) which may be laboratory or literature-survey based.
Admission and enrolment
If you have achieved University Entrance through NCEA you will be accepted into this degree.

Discretionary Entrance

Applicants will normally be granted Discretionary Entrance if they have gained a total of at least 80 credits in NCEA at Level 2 in four subjects equivalent to the approved subjects for University Entrance in NCEA at Level 3, with a minimum grade of Merit in at least half of the achievement standards for each subject. Applicants must also have satisfied the numeracy and literacy requirements of University Entrance.

Applications must be supported by the applicant's school principal or a University Student Recruitment Adviser.

Special Admission

Applicants will be considered on a case by case basis. Applicants 20 years old and over by the beginning of their programme of study will be accepted, except those that are clearly insufficiently prepared for academic study. Preference may be given to applicants who have successfully completed appropriate Waikato Pathways College bridging programmes.

Admission at entry level or with credit from the previous study

Applicants will be considered on a case by case basis bearing in mind patterns of admission which have applied in previous years and the standing of the qualification in New Zealand.

Pathways

Individual papers may require previous experience in this subject. However, there may be other pathways that you can take to study in this field. Please seek advice from the Faculty of Science & Engineering or the Faculty of Computing & Mathematical Sciences.
Last updated Jul 2019
About the School

This University is provides students with a full and dynamic university experience, distinctive in character, and pursuing strong international links to advance knowledge. A commitment to producing qu ... Read More
This University is provides students with a full and dynamic university experience, distinctive in character, and pursuing strong international links to advance knowledge. A commitment to producing quality research that aims to solve the worlds greatest issues has led to the University being among the 100 universities for research impact.
Read less