Bachelor of Science in Petroleum and Natural Gas Engineering
Home ›
BSc ›
Bachelor of Science in Petroleum and Natural Gas Engineering
Program Description
Petroleum And Natural Gas Engineering
Saint Francis University offers a four-year Bachelor of Science (BSc) degree in Petroleum and Natural Gas Engineering (PNGE).
Our PNGE program incorporates a Franciscan approach with real-world experience as an integral component of learning coupled with a vital liberal arts education. Small size classes and strong relationships with faculty are signature advantages of the learning environments established for undergraduate students at SFU. Our students develop a wide variety of skills required to be successful in the rapidly growing field of engineering through classroom learning, field trips, lab operation, academic and industrial research project activities, leadership in professional student chapters, and more. Our graduates are qualified to either work in oil and gas operating companies, oil and gas service companies, government (e.g., Department of Energy), and academic/research institutes, or go to graduate school, or open their own business related to the oil and gas industry.
Petroleum and Natural Gas Engineering at Saint Francis University:
Our Petroleum and Natural Gas Engineering (PNGE) program is a rigorous engineering program enhanced by a foundation of environmental stewardship. As Catholic Franciscans, we care deeply for the health and safety of all species, and environmental sustainability is one of our core values. Over the years, we have built a strong educational curriculum that excels in preparing our students for careers that enable them to protect the public's health, heal the sick, and repair our damaged environment.
Our vision is to serve our society in the best way by preparing a body of Petroleum Engineers who can help to enhance the quality of life through professional service and research for safe, reliable, and affordable energy production and environmental protection.
Our mission is to educate the next generation of qualified petroleum engineers who can combine analytical skills with a Franciscan approach in order to find safer and better ways to supply the energy needs of the state, country, and world.
Why Study Petroleum and Natural Gas Engineering at Saint Francis University?
This four-year degree program prepares our students to be engaged and diligent leaders in the energy industry through:
A Franciscan approach to engineering with a strong stewardship component.
Small class size and individual instruction that assures the quality required for learning.
A focus on undergraduate research experience with our faculty·.
Tailored classroom and lab spaces in our new 70,000 sq. ft. Center.
Individualized instruction from passionate faculty dedicated to both teaching and research.
Taste of diversity with students from multiple continents.
A solid grounding in the liberal arts to develop critical skills in ethics and communications.
Deep care of the environment and public health.
The PNGE curriculum (provided in the following) at Saint Francis University trains the students for a challenging and rewarding career through five major curricular means:
Vibrant General Education program, a keystone of Saint Francis University.
Robust foundation in mathematics and the basic sciences including physics and geology.
The well-founded core of engineering theory and practice.
A specialized sequence of Petroleum and Natural Gas Engineering courses and laboratory work emphasizing Reservoir Engineering, Drilling Engineering, and Production Engineering.
Significant Capstone Design Project for Petroleum and Natural Gas Engineers.
Local Opportunity with a Global Market:
The first oil well was drilled in Titusville, Pennsylvania (1859), initiating the huge and prosperous oil and gas industry in the United States. Many core techniques in the petroleum industry, such as water flooding, were born in Pennsylvania. Before the major oil boom in Texas (1901), Pennsylvania was leading in oil production in the country and the world. According to the data provided by the Pennsylvania Department of Environmental Protection (2015), Pennsylvania produced 4.2 trillion cubic feet natural gas during the year of 2014. This figure makes Pennsylvania responsible for generating twenty percent of the nation's natural gas supply and ranking it the second-largest producer of natural gas behind Texas. This means that a large number of jobs are available in Pennsylvania and the neighboring states, such as Ohio, West Virginia and New York. Other active areas in the U.S. include Texas, Oklahoma, California, Colorado, Louisiana, etc. As one of the most important international commodities, there is a high possibility for petroleum engineers to work and travel around the world.
Undergraduate Research
Our undergraduate students conduct research in small teams advised by PNGE faculty members. Many students begin research as freshmen. Students can work with multiple faculty on different projects over their four years. Students can also receive funding to present their research at regional, national, and international conferences, and have the opportunity to publish their work in peer-review journals as a leading author.
Experiential Learning
Laboratories
Rock Property Lab
PVT Lab
Drilling Fluids Lab
Professional Software Packages
Petrel with Mangrove and Intersect from Schlumberger
CMG from Computer Modeling Group Ltd.
Petra and Harmony from IHS Ltd.
Aries from Halliburton
ArcGIS from Esri Ltd.
PNGE Research & Service Center
Our PNGE students can be involved in real industrial projects through our Intelligent Reservoir & Service (iRRS) Center.
Beyond the Classroom
Our PNGE program also attaches great importance to learning opportunities beyond the classroom. We offer two field trips every year: geological field trip for the freshman to study structural geology and well site trip for all-level students to understand drilling, hydraulic fracturing, and/or completion. We also strongly recommend and help our students to find an internship position in oil and gas companies and energy-related government position. The SFU SPE Student Chapter and AAPG Student Chapter are led by our students to develop their leadership, community service, and industrial network.
Industry Support
Our PNGE program has established a strong industry advisory committee board with nine high-level, experienced experts providing strong support. We also received valuable donations from oil and gas industry companies for professional software valued at over $1 million, and drilling and completion equipment. Industrial experts are frequently invited to our seminar series every Friday afternoon. The engineering department also hosts an annual career fair Meet & Greet specifically for engineering students.
ABET Accreditation
The Petroleum and Natural Gas Engineering program will be seeking accreditation by the Engineering Accreditation Commission of ABET upon our first graduating class, expected Spring 2018. As a guide to our program, we are focused on helping our students attain the "Program Educational Objectives" and "Student Outcomes" that are published below.
Program Educational Objectives
Graduates of the Saint Francis University Petroleum and Natural Gas Engineering program will:
Create value to their professional enterprise by applying fundamental knowledge of petroleum and natural gas engineering.
Embrace lifelong learning to advance to positions of greater responsibility.
Contribute a Franciscan approach as they ethically shape the culture in their workplace, community, and civil society writ large.
Student Outcomes
Each student will have demonstrated the proficiency in the following outcomes upon graduation with a Bachelor of Science in Petroleum and Natural Gas Engineering:
An ability to apply knowledge of mathematics, science, and engineering.
An ability to design and conduct experiments, as well as to analyze and interpret data.
An ability to formulate or design a system, process, or program to meet desired needs.
An ability to function on multidisciplinary teams.
An ability to identify, formulate, and solve engineering problems.
An understanding of professional and ethical responsibility.
An ability to communicate effectively.
The broad education, necessary to understand the impact of engineering solutions in a global, economic, environmental, and societal context.
A recognition of the need for, and an ability to engage in life-long learning.
A knowledge of contemporary issues.
An ability to use the techniques, skills, and modern engineering tools necessary for engineering practice.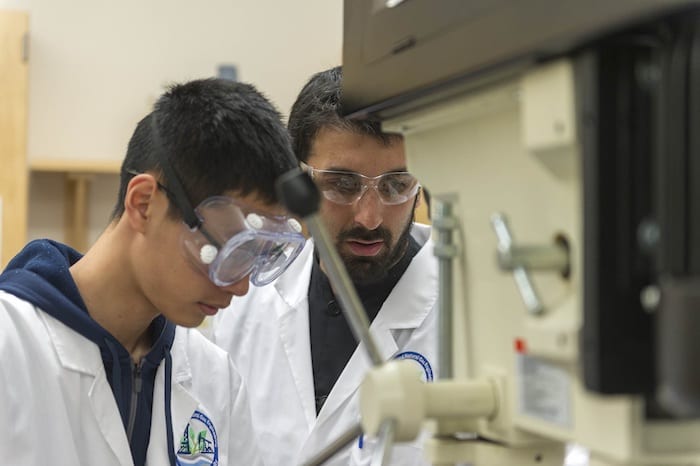 Curriculum
Like other science majors at Saint Francis, the petroleum and natural gas engineering program will emphasize both theoretical and hands-on learning, project design and execution, communication skills, and service-learning. The result will be a major with a holistic program that will create graduate engineers who bring a balanced, Franciscan approach to the field of energy extraction.
Major Requirements
PNGE 110 - Petroleum Statistics Lab
PNGE 192 - Freshman Petroleum and Natural Gas Engineering Seminar
PNGE 193 - Freshman Petroleum and Natural Gas Engineering Seminar
PNGE 231 - Reservoir Rock Properties and Laboratory
PNGE 241 - Reservoir Fluid Properties and Laboratory
PNGE 261 - Intro to Drilling Systems and Drilling Fluids Laboratory
PNGE 292 - Sophomore Petroleum and Natural Gas Engineering Seminar
PNGE 293 - Sophomore Petroleum and Natural Gas Engineering Seminar
PNGE 311 - Environmental-Petroleum Engineering
PNGE 341 - Fundamentals of Reservoir Engineering
PNGE 351 - Production Engineering I
PNGE 361 - Drilling Engineering I
PNGE 381 - Formation Evaluation
PNGE 392 - Junior Petroleum and Natural Gas Engineering Seminar
PNGE 393 - Junior Petroleum and Natural Gas Engineering Seminar
PNGE 411 - Economic Evaluation of Oil & Gas Properties
PNGE 421 - Reservoir Engineering II (Natural Gas Engineering)
PNGE 431 - Introduction to Enhanced Oil Recovery
PNGE 436 - Geophysics
PNGE 492 - Senior Petroleum and Natural Gas Engineering Seminar
PNGE 493 - Senior Petroleum and Natural Gas Engineering Seminar
PNGE 497 - Senior Project Proposal
PNGE 498 - Senior Capstone Design
3 credits in PNGE 4XX
Collateral Courses
MATH 121 - Calculus with Analytic Geometry I
MATH 122 - Calculus with Analytic Geometry II
MATH 221 - Calculus III
MATH 306 - Ordinary Differential Equations I
CHEM 121 - General Chemistry I
CHEM 122 - General Chemistry II
PHYS 121 - General Physics I
PHYS 122 - General Physics II
ENGR 301 - Fluid Mechanics
ENGR 315 - Mechanics of Materials
ENGR 321 - Applied Engineering Thermodynamics or PHYS 321 - Thermodynamics
ENGR 101 - Introduction to Engineering Concepts I
ENGR 201 - Engineering Statics
ENGR 210 - Programming for Engineers
GEOL 205 - Physical and Structural Geology
GEOL 221 - Sedimentology and Stratigraphy
GEOL 321 - Petroleum Geology
Petroleum and Natural Gas Engineering Career Opportunities
What do petroleum engineers do?
Graduates of petroleum and natural gas engineering programs work as petroleum engineers, mining and geological engineers, environmental engineers, and geoscientists with median annual salaries ranging from $78,470 to $114, 080, according to the U.S. Bureau of Labor Statistics. The BLS projects healthy growth rates in all four occupations through 2020, both in Pennsylvania and nationally, according to the newly released 2010 to 2020 occupational projections. The development of the Marcellus Shale (natural gas producing) region is having a positive impact on the job opportunities for professional engineers and related professions with the BLS projecting a 75 percent increase in demand for petroleum engineers in Pennsylvania alone.
The central job of a petroleum and natural gas engineer is to safely and effectively extract oil and gas from deep subsurface rock formations, which is known as a reservoir. To achieve that, petroleum and natural gas engineers need to characterize or describe the reservoir properties, design the well trajectory and the drilling process, and manage well production. With a PNGE bachelor's degree, graduates are able to work in each of these three areas:
Reservoir Engineering
Reservoir Engineers utilize computer modeling techniques and specialized calculations to evaluate the reserve of oil and gas in the subsurface, the 3-D distribution of recoverable oil and gas before and after production, and the best way to extract it. Reservoir engineers work closely with petroleum geologists, geophysicists, and other types of engineers (e.g., drilling engineers and production engineers) to make short-term and long-term plans for maximizing the value of both exploration and production properties.
Drilling Engineering
Drilling Engineers work on oil/gas rig drilling with tasks that include everything from designing the well, to choosing the drilling muds, operating the drilling process, to the completion of the well. Drilling engineers work as a part of a multi-disciplinary team and are responsible to ensure that the drilling operations are safe, environmentally friendly, and cost-efficient.
Production Engineering
Production Engineers take over the well site after the drilling operations are accomplished. They handle the daily management of oil/gas production wells with techniques such as production monitoring, production rate control, water injection, well stimulation, etc. Their primary goal is to design the most effective and safe plan to produce oil and gas based on the subsurface geological properties, oil/gas production history, and the recovering techniques.
Petroleum and Natural Gas Engineers find excellent careers in the following sectors:
Government positions such as in the Department of Energy and national labs
Oil and gas operating companies
Oil and gas service companies
Academic and research institutes such as universities
Others
As a petroleum and natural gas engineer you can experience a variety of work environments including data analysis, design, and modeling in an office; drilling and production operation in the field; drilling and production monitoring in the office and even from your own home; education at a university or in training companies; and others including management, marketing and consulting. In addition, you could even find yourself designing new equipment or developing new techniques resulting in your own small business in the petroleum and natural gas industry. Furthermore, your workplace could be almost anywhere in the world. To the well-qualified petroleum and natural gas engineer are opportunities abound.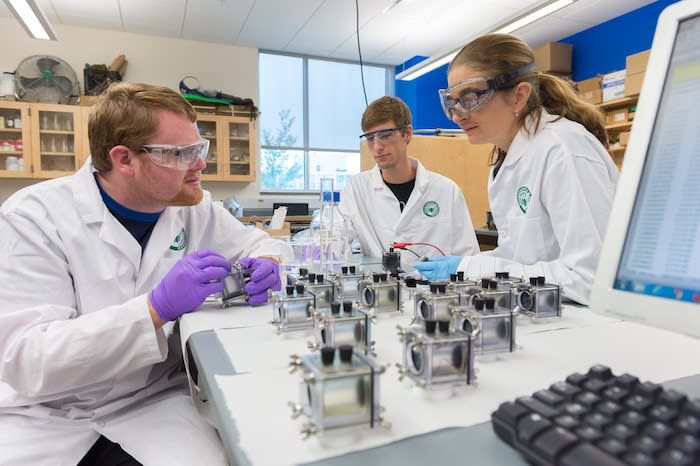 Undergraduate Application Process & Requirements
At Saint Francis, you're more than just a number -- even as soon as we receive your application. We evaluate you as a whole individual, not merely select parts, such as GPA or test scores. We look at how you will contribute to our academic community, the strength of your coursework, extracurricular interests, and unique talents.
Everything you need to start your application can be found here! Detailed instructions, application components, and deadlines.
Four Easy Steps
Step 1: Create a username and password. This will make it easy to save your application, and let you register for SFU events all in one place. P.S. Bookmark the SFU Application site while you're at it!
Step 2: Check your email. You should receive a link to click to confirm your new login.
Step 3: Fill out an application. First-time students may apply anytime, usually after August 1 entering their senior year. To receive full consideration for admission and merit scholarships, it is recommended that students submit a completed application by May 1st of their senior year.

The undergraduate application for admission operates under a rolling admission policy except for the Physician Assistant Science program, which has a Priority Application Date of November 15th. The Occupational Therapy and Physical Therapy program has a Priority Application Date of January 15th.

Step 4: View your "Checklist" for additional requirements.
Official High School Transcripts
Submit your official high school transcript showing work completed through your junior year in addition to a copy your senior class schedule. All applicants should submit mid-year grades from their senior year when available.
This can be sent:
From your high school to

Saint Francis University
Office of Admissions
169 Lakeview Drive
PO Box 600
Loretto PA 15940

Through a secure electronic document system transfer such as Parchment.
Standardized Testing
Applicants are required to submit scores from either the SAT I or ACT. Use the codes below to have your official scores sent directly to SFU.
SAT code #2797
ACT code #3682
Writing Sample
A writing sample is required for Occupational Therapy, Physical Therapy, and Physician Assistant Science majors. Please complete an essay explaining (minimum 250 words) your interest in the academic program for which you are applying. Feel free to highlight any experiences you have that demonstrate your interest in the chosen field of study.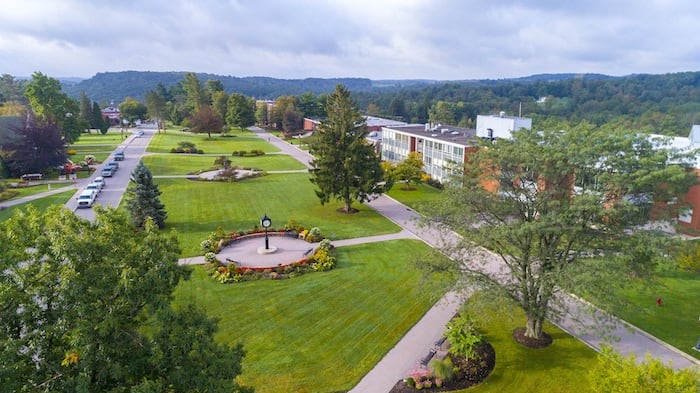 Last updated Sep 2019
About the School
Saint Francis University is one of the oldest Catholic universities in the country, and the oldest celebrating Franciscan values. Our scenic campus sits on a mountain top in Loretto, Pennsylvania, nea ... Read More
Saint Francis University is one of the oldest Catholic universities in the country, and the oldest celebrating Franciscan values. Our scenic campus sits on a mountain top in Loretto, Pennsylvania, near Pittsburgh. Faith, Generosity, respect, discovery, and joy are in our DNA, and we seek to attract students (like you) with a passion to shape the world.
Read less