Bachelor of Science in Music Business
Program Description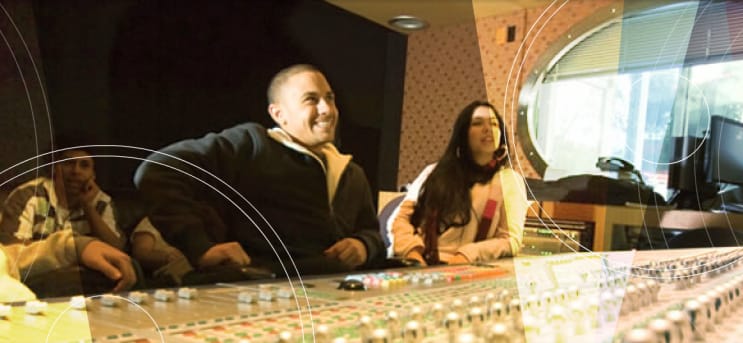 Full Sail University
The sold-out tour everyone's talking about. A viral video that defines a genre. The song that seems to be everywhere. Now more than ever, artists depend on innovative approaches to give them an edge in the market. You could call it luck – or fate – but the truth is that behind every great artist is a great team.
In Full Sail's Music Business program, you'll develop skills that extend beyond the recording industry into the realms of film, television, video games, and sports. From marketing and publishing to artist management, and retail, you'll learn to be an effective player in the music business.
Course Highlights
Music Copyright and Publishing - This course teaches students how to protect their creative works and provides an overview of the business mechanisms that can affect the use of their songs and those of their clients.
Music Supervision - In this course, students will learn how to serve as a creative liaison between the music industry and the visual-media industries, including film, television, video games, and advertising.
Concert Management and Touring - This course takes a ground-level approach to concert-promotion basics, including production management and how to develop and execute an artist's tour.
Creative Minds Scholarship
Eligible participants may receive up to $25,000 toward the tuition of Full Sail University's campus-based degree programs.
Momentum Scholarship
Qualified online students can receive up to $20,000 with the Momentum Scholarship. Financial aid is available to those who qualify.
Admissions
Before You Apply
The first step is to talk to an admission representative about your plans, what program you're considering, and when you'd like to begin school.
Here are a few ways Full Sail University's admissions process is different:
No traditional application deadlines: Classes begin monthly for most programs, so you can apply anytime and start on the date that works best for you.

Program design and course order: You do not need to sign up for specific classes every semester – all of our programs have a predetermined program design and course order.

Acceleration: Full Sail's undergraduate programs are taken on an accelerated schedule and can be completed in as little as 20 months.
How to Apply
If you've spoken to an admissions representative and completed your interview, and you're ready to begin the application process, there are several items you'll need to have ready:
Government-Issued photo identification such as a driver's license, passport, or state-issued ID card.

Verification of English proficiency if English is not your primary language (all required documentation that is not in English must be accompanied by a certified English translation).
Once you have these items, you're ready to begin the online application. Completing your application will take 30-45 minutes, and you can save your application if you run out of time or need to gather additional information.
After You've Applied
If you haven't already completed your admissions interview, that will be your next step. An admissions representative will reach out to schedule an interview at a convenient time for you.

If you have completed your interview, your enrollment guide will reach out to finalize your application and gather additional information.
You will also receive an email that gives you access to our Launch Portal, where you'll be able to submit documentation and complete the final steps for enrollment.
Enrollment Options for Campus Degrees
20-Month Program
Our accelerated degree programs let you graduate quicker than at a traditional four-year university. They're designed to help you experience a typical entertainment industry schedule and put your degree to work faster. These 20-month programs typically include two classes per month plus a career module, totaling around 35 hours per week of classes.
29-Month Program
These degree tracks share all the curriculum of our 20-month programs. And while they're still at an accelerated pace compared to traditional four-year universities, the additional nine months of study may afford students:
More funding options, including an additional academic year of federal financial aid for those that are eligible.

A lower average per-semester tuition cost due to the additional nine months (although the total tuition does not change).

A smaller course load per month with around 17.5 hours per week of classes.

More personal schedule flexibility and the opportunity to work outside of school.
Flexible Enrollment
Flexible enrollment options allow students to take up to four courses online at the beginning of their program and continue the rest of their education on campus. It includes the same curriculum as the 20-month and 29-month programs but with a few advantages:
Savings on living expenses and housing during the first four months of your education.

More time to secure housing and solidify relocation plans.

A jump start on your education with the ability to start school sooner.
Last updated Oct 2020
About the School
Full Sail is dedicated to helping creative students follow their dreams in the entertainment and media industry. Whether they are passionate about music, art and design, web and technology, filmmaking ... Read More
Full Sail is dedicated to helping creative students follow their dreams in the entertainment and media industry. Whether they are passionate about music, art and design, web and technology, filmmaking, or the business behind entertainment, an education at Full Sail University can prepare students for a career path doing what they love.
Read less