Bachelor of Science in Logistics Engineering
Home ›
BSc ›
Bachelor of Science in Logistics Engineering
Read more about this program on the school's website
Program Description
Are you curious about how the package delivery driver is able to deliver your new phone so quickly? You will discover the reason during the degree program Logistics Engineering, where you will learn everything there is to know about management and logistics at companies and organizations.
Order today, delivered tomorrow. It seems simple, but the process behind it is complex. How is it possible that your new sneakers are delivered to your house so quickly, even though they are coming from the other side of the world? Every day, large companies such as bol.com, DHL, and Amazon are faced with the challenge to deliver their products to their customers on time. And because of new techniques and methods, companies are constantly dealing with their logistics process. Think of self-driving trucks, drones that deliver products to your doorstep, or robots in the warehouse.
Logistics is everywhere, regardless of whether you are dealing with products, events, information, or people. During the four-year degree program of Logistics Engineering, you will learn to analyze, improve, plan or (re)design these processes in companies and organizations. You will immediately apply a lot of what you have learned in practice through internships and projects. This degree program offers excellent job prospects: employers in the Netherlands and abroad are eager to have logistics management talents. This degree program is offered in Dutch and English. If you choose the English-taught program, you will take classes with students from all over the world.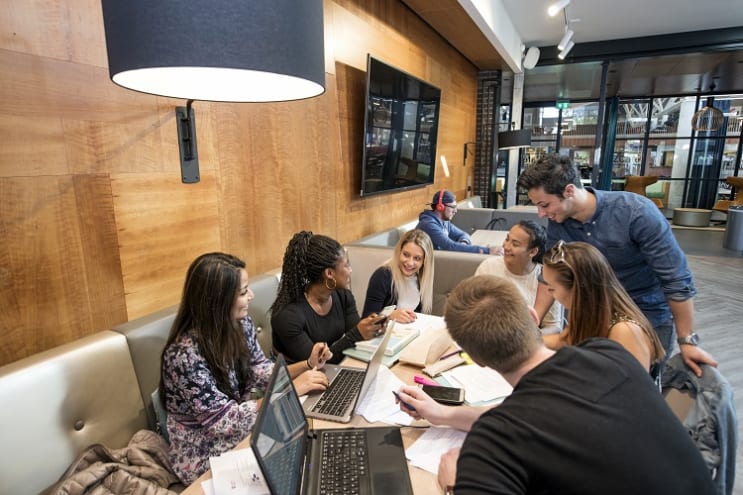 Program
1st and 2nd year
During the first academic year, you will be introduced to the basics of logistics. You will learn more about the logistics sector and get a clear picture of your future career. You will get to work on topics such as international logistics, financial management, and event logistics. In your second academic year, the focus will be mainly on management and change processes. In addition, you will deepen your knowledge about the world of logistics. You will deal with topics such as marketing and export management, distribution logistics, production planning and you will train your practical management skills (what type of manager are you and how do you adjust your leadership style when in contact with other staff members). In addition, you will take English classes and you will learn how to start and carry out a research project. One day a week, you will either participate as an intern at a logistics company or you will be active on the board of the study association of the degree program. More to that, you will go on regular excursions in the Netherlands and abroad and to different companies such as CoolBlue, Coca-Cola, and the Air Force. You also get to visit these companies and follow guest lectures.
3rd and 4th year
In your third academic year, you will do an internship or follow a minor here or abroad. With a minor, you will deepen or broaden your knowledge and skills. You can follow a minor at HZ or at another University of Applied Sciences in the Netherlands or abroad.
In your fourth academic year, you deepen your knowledge in one of the specializations of the degree program and you will do an internship at a company where you will conduct your graduation research. For your research, you will analyze a problem at a logistics company and produce the best solution. Research can include how to improve cargo ship storage, how to improve the waiting times in health care, or how to create a benchmark of different ports. You will also choose a specialization. All classes during the fourth year will be in English.
Specializations
In the fourth academic year, you get to choose from one of the following specializations: Supply Chain Management, Human Logistics Management or Maritime Logistics Management.
Supply Chain Management
As a supply chain manager, you plan, coordinate, and monitor the flow (supply chain) of products and services from suppliers to customers. In this specialization, you will learn how to streamline this process by means of proper product planning, transportation, orders, a company's inventory, and storage.
Human Logistics Management
In Human Logistics Management, you deepen your knowledge of events management and human-related logistics processes. These processes can vary from management activities, planning festivals, or large-scale military action, to disaster logistics and the improvement of processes in health care.
Maritime Logistics Management
As a maritime logistics manager, you coordinate the flow of goods at the port, for example. You will check if the transport has gone as planned, but you also need to organize storage. Your focus is on cargo that is shipped by sea or water, but you will also study the organization of new port facilities, terminals, and wharves.
Requirements
Before you apply to the Logistics Engineering program, you have to meet a few admission requirements
Admission requirements
To be admitted to the Logistics Engineering program you need:
A qualification equivalent to a Dutch secondary education diploma, which gives you access to higher education.
Good knowledge of mathematic. Economics or physics would be an advantage.
Good command of written and spoken English. Your level of English should be equivalent to an IELTS score of 6.0.
Alternative entrance exam
If you don't have the appropriate secondary school diploma, and if you are at least 21 years old, you may be exempted from this requirement. The HZ provides the possibility of taking an alternative entrance exam.
Tuition fees
The amount that you will be required to pay depends on your nationality and the program you have applied for.
EU-students:
2020-2021 tuition fees for EU-students are: €2.143*
* 50% reduction tuition fees
EU-students and students with a Norwegian, Swiss, Icelandic, Liechtenstein, or Suriname nationality are entitled to a 50% reduction on Dutch tuition fees for the first study year. The halving applies to all students who for the first time in the academic year start a bachelor's degree (or associate degree) at a funded university of applied sciences or research universities in the Netherlands. Students who pay institutional tuition fees are not entitled to the halving of the tuition fees.
Non-EU students:
2020-2021 Institutional tuition fees for non-EU students are: €7.835
Fees and finances
Next to the tuition fees and cost of living there are extra costs for your study program (study materials, excursions, and books). In the first two years, these costs are approximately €750,- per year.
Scholarships
While common in other countries, scholarships, especially full scholarships, are rare in the Dutch education system. However, there are some scholarship options available at the HZ.
Holland Scholarship for incoming students
The Holland Scholarship is financed by the Dutch Ministry of Education, Culture, and Science and Dutch research universities and universities of applied sciences. The Holland Scholarship is for incoming students not originally from the EEA who have not previously studied in the Netherlands, and who plan to attend the HZ University of Applied Sciences in the framework of diploma mobility. The scholarship awarded is not a full scholarship. It has a value of € 5,000.00 and is allotted for one year only.
Conditions for allotment:
The student is not from the European Economic Area (EEA). The EEA consists of the EU countries and Iceland, Liechtenstein, and Norway.
The student has not previously studied in the Netherlands.
The student has an IELTS of 6.5 (or higher) or an equivalent.
The student wants to enroll in a fulltime (four-year or three-year) bachelor's program at HZ.
The student has already been (conditionally) accepted to the HZ Bachelor's program indicated with his/her scholarship application.
How to apply for the Holland Scholarship
Students can apply for the scholarship by sending an email to study@hz.nl before 1 May of their starting year. In this email, the student should indicate the reasons for choosing the particular HZ Bachelor program of study. The student must also send a copy of his/her CV with the email. The applications will be assessed by a two-member HZ Scholarship Committee, nominated by the academy directors. The HZ Scholarship Committee will award the scholarship based on previous academic results, motivation for choosing a program of study, and C.V. applicants will be notified of the decision within 6 weeks after the application deadline of 1 May.
Mobility scholarships
When you are a student at HZ University of Applied Sciences and you are thinking of studying or doing research or an internship outside of the Netherlands during your studies, then you can apply for a scholarship.
HZ Grant
HZ offers an HZ Grant for students who study or do an unpaid internship outside the EU. As far as we know, HZ is the only university of applied sciences in the Netherlands that subsidizes its students with a grant.
Holland Scholarship
This scholarship is meant for full-time HZ students who want to study, do research, or an internship outside the European Economic Area (EEA). The EEA consists of the EU countries and Iceland, Liechtenstein, and Norway. The Holland Scholarship is a scholarship made available by the Dutch Ministry of Education Culture and Science together with Dutch research universities and universities of applied sciences. The scholarship amounts to a one-off payment of € 1,250 and is meant as a contribution towards your study expenses.
Erasmus+ grant
If you do part of your study at an HZ partner institute within the EU or an internship within the EU, you can apply for this grant. The Erasmus+ is a grant that the European Union has made available in order to stimulate students from its member states to gain experience abroad during their education; to enhance their languages, to become acquainted with other cultures, etc. The grant also serves as compensation in the travel and accommodation costs that a study/internship abroad will bring in its wake. Clearly, the Erasmus+ grant will not cover all the costs that you will have abroad.
As soon as you are a student of HZ, we can help you apply for a grant.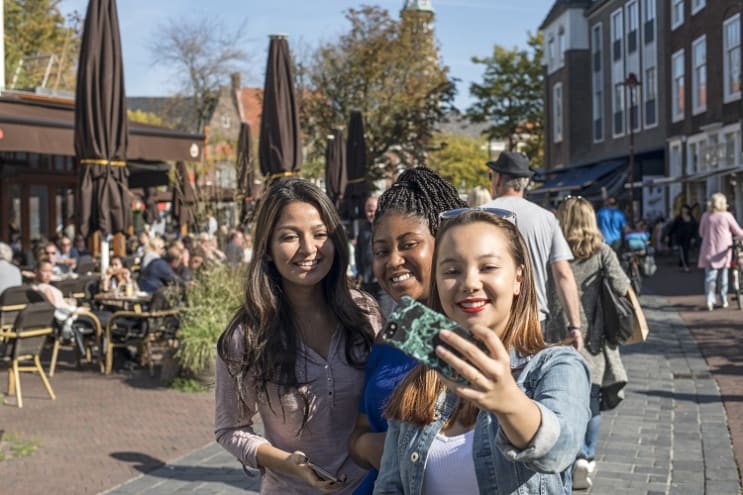 After graduation
Bachelor's degree
Congratulations, you're now graduated! From now on you may use the title 'Bachelor of Science'.
Did you participate in the Honors Program? You will get an extra certificate with your bachelor's degree.
Career prospects
After your graduation, you have gained enough knowledge to ensure that the connection between all the chains of a logistics process is seamless. You can work at a transport and distribution company, a shipping company or a consultancy agency as a buyer, logistics manager, consultant, supply chain manager, or material manager. Logistics managers are always in high demand, so after your graduation, it won't take you long to find a job.
Further studies
With an HZ bachelor's degree, you can enroll in a Master's program. If you want to do this abroad, you can usually start straight away. If you wish to do this at a research university in the Netherlands, you may be required to follow a pre-master's program.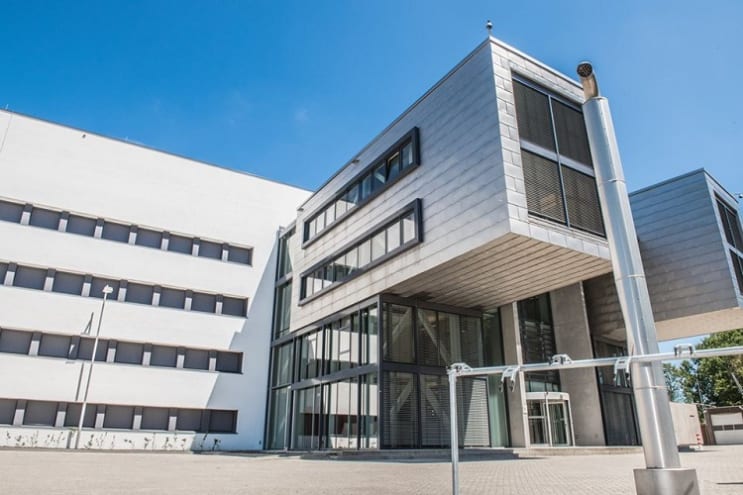 Last updated Sep 2020
About the School

HZ University of Applied Sciences is located in the South-West of the Netherlands. With a population of some 4,800 national and international students, we are a small university with a personal approa ... Read More
HZ University of Applied Sciences is located in the South-West of the Netherlands. With a population of some 4,800 national and international students, we are a small university with a personal approach. HZ offers high-quality study programs. Since 2011 -so for the past nine years- HZ has been in the top three of Dutch multidisciplinary universities of applied sciences.
Read less