Bachelor of Science in Health Psychology
Read more about this program on the institution's website
Program Description
Health Psychology is a study program with the aim to educate competent bachelors in health psychology with scientific insight, solid base of scientific knowledge in health psychology, and professional application skills in the field of personal and public health and well-being. This program aims to ensure the necessary universal first stage health psychology training and provide thorough knowledge on healthcare systems, aims, and objectives of health maintenance and promotion, system requirements and demands, and the role of mental health professionals in meeting these needs.
Course details
Health Psychology
4 years
BSc in Social Sciences
240 ECTS credits
3,500 EUR per year
Taught in English
After graduation, you can
Continue your education in Master, Doctorate and Ph.D. programs;

Work as an assistant psychologist, a research assistant or HR assistant;

Work in the projects;

Work in health, social, educational, and organizational sectors.
Structure of the program
What you will learn each year
Year 1:

Introduction to Studies, Introduction to Psychology, Psychology of Communication, Neurophysiology and Biological Bases of Psychology, Humanitarian-Social Sciences, the Lithuanian language, Basic Statistics, Human Ecology, and Sustainable Social Development.

Year 2:

Health Psychology, Developmental Psychology, Cognitive Psychology, Quantitative and Qualitative Research Methods, Scientific Literature Analysis, the Lithuanian language, Coursework.

Year 3:

Clinical Psychology, Social Psychology, Educational Psychology and Practice, Crisis and Disaster Psychology, Psychological Assessment and Practice, Ethical Issues in Psychology, Psychiatry, Health Care Systems, Economics and Management, Research Planning and Design, Coursework.

Year 4:

Counseling Psychology, Work and Organizational Psychology, Rehabilitation Psychology, Behavioural Medicine, Statistical Analysis in Psychological Research, Health Policy, Academic Writing, Preparation, and Defence of Bachelor's Thesis.
Why study Health Psychology at LSMU?
Degree recognized in the EU. The program is prepared according to the EuroPsy requirements.

This large-scale program especially meets the needs of students who are interested in mind and body relationship, behavior sciences and health promotion and treatment of health disorders.

You will have courses with students from different study programs (medicine, nursing, and social work) so you will learn how to work in healthcare teams.

University provides lots of opportunities to develop practical skills in various healthcare, educational, and occupational areas as well as in the largest clinical hospital in the Baltic States.

University provides a variety of laboratories and equipment for experiments in psychology and neurosciences as well as an opportunity to implement their innovative ideas in the Centre of Psychological Well-being and Health Education.

The multicultural environment and student community: international students from 70 different countries make up nearly 17 % of the total student population at LSMU.

Possibility to spend a semester or whole academic year abroad with the Erasmus+ exchange program.

Support system for students' adaptation: mentoring, tutoring, and psychological counseling.
Admission
International students could be admitted into the English program of the Lithuanian University of Health Sciences if they provide the legalized high school or college certificate and transcript (officially translated into English) and meet the Entrance Exam requirements. Good grades in biology, chemistry, and physics will give preference. Good knowledge of the English language is obligatory.
Items to be submitted (in English or with an authorized English translation):
Matriculation / School Leaving Certificate confirmed by the governmental authorities (see below "Legalization of Educational Documents");
Transcripts of high school/ senior secondary school courses verifying successful completion of General Biology and General Chemistry. For Health Psychology program - Mathematics and General Biology;
Certificate proving the knowledge of the English language: TOEFL – minimum 65 points (iBT); IELTS – above 5.5 points; the certificate confirming the knowledge of a foreign language at minimum B2 level (CEFR) or similar. If you are not able to present any certificate proving the knowledge of the English language you will have to take an English language test prepared by the University. The English language test will be given on the same day as the test in Biology/Chemistry;
Motivation letter;
Brief CV;
Passport or ID copy;
Health Certificate based on complete medical examination;
Three passport-type photographs (3x4 cm);
Application fee 150 EUR (nonrefundable).
Testimonials
| | |
| --- | --- |
| | "The staff and students are all friendly, the course is brilliant. The University is an extremely beautiful college with a focus on the students. Great education, nice environment, great spirit. The social life is great and the campus provides a safe and friendly environment to live in." - Basel Sijari |
| | "I applied for this university to get knowledge not only about psychology, but also to get specific theoretical and practical lectures about the impact of illness and stress to a person, promoting healthy living, providing psychological help to patients and other topics linked with physical and mental health. I learned about various diseases and methods of assistance from doctors and psychologists, who had a lot of practical experience and supported our professional growth. All this knowledge and practical skills helped me to grow as a young specialist and later to help patients with chronic diseases, to provide psychological counseling and to work in suicide prevention." Laura D. Alumni of Health psychology program |
| | "Studying at the Lithuanian University of Health Sciences, I really enjoyed the broad range of subjects. Studying experience enabled me to establish a better understanding of a complex human body, bases of psychology theories, including a holistic approach to body and mind relations. The practical and active learning component of lectures and seminars helped develop my communication, teamwork, and analytical skills, while also building up the knowledge and broadening the understanding of the field. A significant part of the studies was focused on various internships, which gave invaluable practical experience." Paulina A. Alumni of Health psychology program |
Last updated Aug 2020
About the School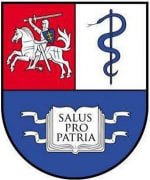 The University is the largest institution of higher education for biomedical sciences in Lithuania, successfully integrating studies, research, and clinical practice. LSMU consists of two main academi ... Read More
The University is the largest institution of higher education for biomedical sciences in Lithuania, successfully integrating studies, research, and clinical practice. LSMU consists of two main academies: Medical Academy and Veterinary Academy.
Read less