Bachelor of Science in Environmental Science
Home ›
BSc ›
Bachelor of Science in Environmental Science
Program Description
Bachelor of Science in Environmental Science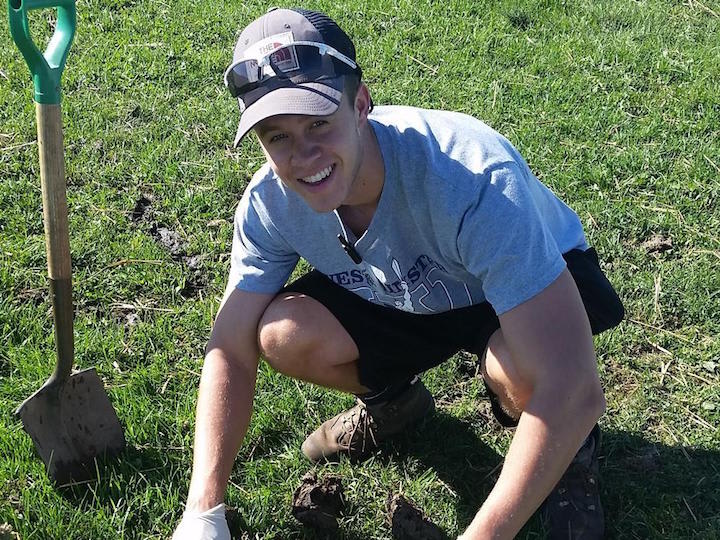 Environmental Science students study the complex interactions occurring within environmental systems and the role of humans within these systems. They look for practical solutions for environmental issues and harbor a passion for both science and nature. Environmental Science is a growing field that uses scientific knowledge to protect natural resources and the environment. Water preservation, alternative energy, air quality, land use, and waste disposal are just a few areas of research. This dynamic interdisciplinary program offered by Westminster College emphasizes science. The major provides a broad scientific background combined with Westminster's solid liberal arts education to develop the understanding necessary to tackle the complex environmental issues facing the world today. The minor in Environmental Studies emphasizes a liberal arts approach, including the natural sciences, social sciences, arts, and humanities, in studying the interface between humans and their environment. Over 110 acres of outdoor research space, state-of-the-art scientific instrumentation, and dedicated faculty make Westminster College an ideal setting for studying the environment.
THE ENVIRONMENTAL SCIENCE MAJOR IN PHOTOS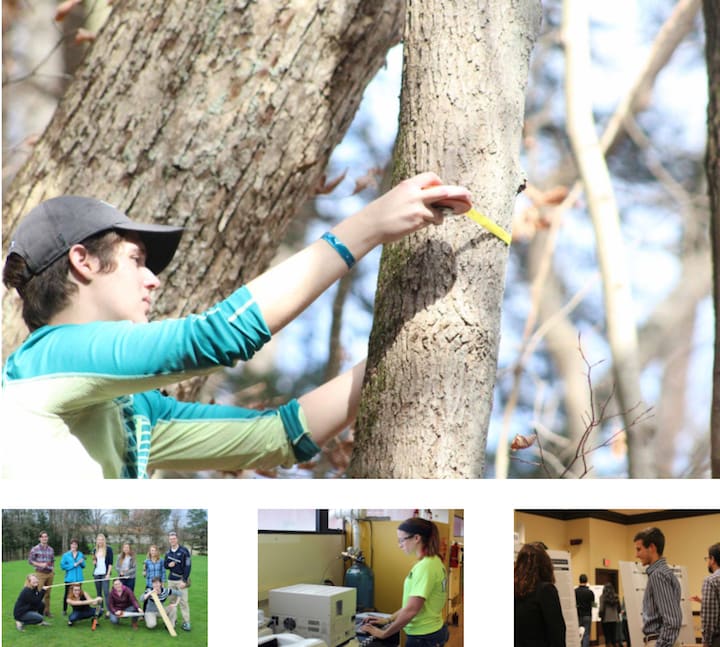 Requirements for the Major
Environmental Science and Supporting Courses:
ES 160 Concepts of Environmental Science
ES 230 Chemical Analysis
ES 360 Ecology
ES 601 Environmental Science Capstone: Problem Analyses in Environmental Science
BIO 201 Cell Biology and Genetics
BIO 202 Evolution, Form and Function
BIO 203 Biodiversity and Ecology
CHE 117 Principles of Chemistry
CHE 180 Inorganic Chemistry OR CHE 261 Organic Chemistry I
MTH 135 Concepts of Statistics OR BIO 206 Biostatistics and Experimental Design
PHY 141 Foundations of Physics I OR PHY 151 Principles of Physics I
PHY 142 Foundations of Physics II OR PHY 152 Principles of Physics II
And four semester hours from the following: 590, 620, or 660:
ES 590-594 Internship
ES 620-624 Independent Study
ES 660, 670, 680, 690 Honors Research
Electives: In addition to the required courses, students must take 12 semester hours from two different disciplines from the following elective list. Additional travel courses may also be approved for ES elective credit, but only one travel course may count toward the ES major.
ES 250 Risk Assessment
ES 465 Introduction to GIS
ES 620-624 Independent Study
ES 664 Honors Research
BIO 301 Microbiology
BIO 361 Biological Diversity
BIO 363 Animal Behavior
BIO 461 Field Biology
BIO 463 Marine Biology
BIO 464 Freshwater Biology
BIO 466 Ornithology
BIO 467 Epidemiology
BIO 520/521 Biology Travel Course
CHE 180 Inorganic Chemistry OR CHE 261 Organic Chemistry I
CHE 262 Organic Chemistry II
CHE 340 Instrumental Analysis
CHE 375 Green Chemistry
CHE 380 Principles of Biochemistry
CHE 611 Advanced Topics
GEL 121 General Geology
MTH 150 Calculus I
MTH 152 Calculus II
PHY 221 Electronics
Masters Program with Duquesne University
Westminster participates in a cooperative program with Duquesne University where students may be eligible to enter the two-year Duquesne program leading to the master of science degree in environmental science and management after three years of undergraduate study at Westminster. Upon successful completion of the requirements, a bachelor of science in environmental science is awarded from Westminster, and a master of science is awarded from Duquesne. Additional information on this program is available from Dr. Helen Boylan Funari, program coordinator, environmental programs.
Resources & Facilities
Westminster's rural location and outdoor lab facilities are ideal for studying environmental phenomena in their natural setting. More than 100 acres near the main campus are conserved for scientific education and research, including:
50+ acre Field Station
20 acre Brittain Lake
40 acre College Woods
2 miles of nature trails
Nature Center
Composting Facility
Little Neshannock Creek
McClure's Run
Offutt Microforest
Arboretum & Nursery
Seasonal Wetland
Successional Plots
Internships
Students enrolled in the Environmental Science program are required to complete an internship. Internships are an option for students in the Environmental Studies minor. Westminster environmental students have participated in internships with the following organizations:
Allegheny County Health Dept.
Bureau of Deep Mine Safety
Friends of the Riverfront
PA Dept. of Environmental Protection
Pittsburgh Zoo
US Department of Agriculture
Okefenokee National Wildlife Refuge
Energy Developments Inc.
Opportunities
GREEN JOBS - INTERNSHIPS AT GREEN BUILDING ALLIANCE
At GBA, interns see far more action than fetching cups of coffee and making trips to the copier. Our interns receive a unique opportunity to work with leaders in the green building industry and to contribute to a variety of initiatives.
ENVIRONMENTAL INTERNSHIP CLEARINGHOUSE
As an extension of the National Council for Science and the Environment's (NCSE's) Campus to Careers (C2C) program, NCSE has created an environmental internship clearinghouse with support from the UPS Foundation. The clearinghouse enables university students to search for internships in the environmental field and provides a forum for internship providers to tap into a solid community of quality applicants.
Thanks to the UPS Foundation, all services provided by the Environmental Internship Clearinghouse are 100% free.
PENNSYLVANIA DEPARTMENT OF ENVIRONMENTAL PROTECTION
Outdoor Laboratory
About the Outdoor Lab
The Westminster College campus includes approximately 100 acres outside of the main campus that are conserved for scientific education and research. The Outdoor Laboratory for Biological and Environmental Sciences includes three distinct areas that are used for education, research, and recreation. The 46-acre Field Station lies within walking distance of campus. It includes a Nature Center, nature trail, and various experimental and conservation areas. Brittain Lake, on the edge of the main campus, encompasses approximately 15 acres. In addition to enhancing the beauty of the campus, it is used by classes in biology and environmental science and for recreation. The College Woods is a mature 40-acre beech-maple forest south of campus. It provides excellent opportunities for ecological studies that require undisturbed ecosystems. A trail in the woods is used for recreational walking.
Our Mission
The mission of the Outdoor Laboratory takes its direction from the mission of Westminster College. The Outdoor Laboratory for Biological and Environmental Sciences comprises three facilities: the Field Station, Brittain Lake, and the College Woods. Together and separately they support and augment the philosophy and purposes of Westminster College. Westminster's quest for excellence is a recognition that stewardship of life mandates the maximum possible development of each person's capabilities. The Outdoor Laboratory thus realizes its mission in men and women who:
develop intellectual curiosity and the competencies to reason logically and evaluate critically;
acquire a knowledge and appreciation of the natural world;
develop and demonstrate moral and ethical commitments to society and the natural world;
commit themselves to lifelong learning and responsible service as world citizens.
The Outdoor Laboratory endeavors to fulfill its mission through curricular, co-curricular, and community learning programs.
Tiny House Project
ABOUT THE PROJECT
The Tiny House (TH) Project will allow Westminster College to develop a unique living/learning educational experience that integrates concepts of sustainability, simple living, environmental science/studies into students' coursework and lifestyles. In Phase I of the project (Spring 2016), a team of students will help design and plan the building of the first TH. Ideally, we will construct the TH through a "community build" where students, faculty, staff, community members, and alumni are able to support the building of the TH through physical participation in the build, donations, and/or other contributions. Pending success of Phase I (and funding), we will plan for 2-3 more TH's. Each student enrolled in a TH-linked course will experience "tiny living" for approximately one-two weeks (new students will rotate into the TH's every one-two weeks). Student learning objectives associated with tiny living will be meaningfully integrated into TH-linked coursework. This novel educational model which incorporates tiny living into the student's academic experience will position Westminster College as an innovator in sustainability education.
GOALS
The overall goal of the Tiny Housing Project is to help elevate Westminster College to a position as a leading innovator in sustainability education while providing undergraduate students in a variety of majors with a living experience which links environmental/sustainability concepts to other elements of a liberal arts education.
The integration of tiny housing with academic experiences will enable the College to advance several of its mission-based student learning outcomes, including "to acquire knowledge of self, society, human cultures, the natural world, and human relationships to God," "to apply knowledge to contemporary issues," and "to demonstrate moral and ethical commitments to neighbor, society, and the natural world."
OBJECTIVES
In addition to serving as a novel means for forwarding Westminster's mission, the Tiny Housing Project will enable a series of more specific objectives to be achieved, including:
Provide unique and marketable student learning experiences (and associated student learning outcomes) that are made possible by integrating tiny housing with academic experiences.
Establish Westminster College regionally and nationally as an innovator in sustainability education and sustainable living.
Recruit increased numbers of sustainability-minded students (especially those who may not otherwise have Westminster College on their radar screens).
Gain greater visibility for Westminster College, regionally and nationally, through marketing and promotion of the Tiny Housing Project.
WHAT CAN YOU DO WITH AN ENVIRONMENTAL SCIENCE DEGREE?
Imagine yourself an environmental consultant, environmental regulator, environmental lawyer, conservation scientist, or sustainability analyst.
Last updated Oct 2017
About the School
We are Westminster College. We're closer than you think, nestled within the charming town of New Wilmington, just one hour north of Pittsburgh. We study hard, priding ourselves in strong academics, ou ... Read More
We are Westminster College. We're closer than you think, nestled within the charming town of New Wilmington, just one hour north of Pittsburgh. We study hard, priding ourselves in strong academics, outstanding faculty, and individualized attention with our 12:1 student to faculty ratio. We expand horizons with opportunities to study abroad and make connections with our strong alumni base. We encourage participation, sponsoring 20 varsity sports, 18 honor societies, and more than 80 clubs. We're a platform for spiritual freedom, providing the independence to think and participate in what's most important to you. We're a place to call home to nearly 1,300 students each year. We're more than you imagine.
Read less