Bachelor of Science in Computer Science
Home ›
BSc ›
Bachelor of Science in Computer Science
Program Description
Computer Science
Computer Science is an exciting, growing and challenging field which impacts almost every aspect of our lives. Our Computer Science program emphasizes a collegial relationship between faculty and students where faculty guide students in developing skills and concepts that are fundamental to the discipline today and in the future.
Why SFU?
Real-world skills. The Computer Science program assists our students in developing skills in programming, networking, security, design and systems management.
State-of-the-art Facilities. Because Computer Science is an ever-advancing field, we have dedicated a large portion of the new Science Center to a cutting-edge programming classroom as well as an advanced research laboratory, both of which are equipped with intricate work stations, large screen monitors and updated hardware and software.
Practical application. We continually develop new projects that provide students with the practical application of their learned computer skills.
Curriculum
Computers are becoming an ever-greater part of our world and the skills to utilize them are in great demand. These skills come in many varieties and can be applied in any number of different ways.
One of the key features of the Computer Science program at Saint Francis University is its flexibility. All Computer Science students complete a common core that focuses on coding as well as fundamental concepts that all Computer Scientists should understand, but after completing this core, students have a great deal of freedom in deciding how to configure their education to best utilize their individual strengths, likes, and prepare themselves to meet their career goals.
We offer a variety of different specialization tracks, such as
Software Development
Machine Learning and Data Science
Information Technology
Information and Software Security
Software Development
As well as tracks on
Robotics and Autonomy
Security Architecture
Mathematical Modeling
Business Intelligence
Major Requirements:
CPSC 121 - Introduction to Programming
CPSC 122 - Intermediate Programming
CPSC 221 - Introduction to Data Structures
CPSC 140 - Fundamentals of Information Technology
CPSC 280-282 - Algorithmic Programming
CPSC 492 - Computer Science Seminar
CSA 130 - Cyber Security Foundations
MATH 130 - Discrete Mathematics
Collateral Courses
And one (1) of the following collateral sets of courses:
MATH 121 - Calculus with Analytic Geometry I
MATH 122 - Calculus with Analytic Geometry II
MATH 322 - Linear Algebra
or
STAT 205 - Essentials of Statistics
BUSA 201 - Introduction to Business Analytics
BUSA 202 - Advanced Business Analytics
And two (2) the following Tracks:
Information and Software Security track
CPSC 429 - Secure Programming
CPSC 437 - Cryptography
CSA 420 - Ethical Hacking I
Information Technology track
CPSC 322 - Introduction to System Administration
CPSC 422 - System Administration
CPSC 231 - Introduction to Networking
Machine Learning and Data Science track
CPSC 360 - Machine Learning I
CPSC 361 - Machine Learning II
CPSC 460 - Deep Learning
Programming and Languages track
CPSC 408 - Software Craftsmanship
CPSC 420 - Programming Languages
CPSC 428 - Advanced Programming Topics
Software Development track
CPSC 222 - Server-Side Programming
CPSC 409 - Web Application Architectures
CPSC 410 - Software Engineering
$1.5 Million DiSepio Chair Endowment
Funding for Undergraduate Research
Undergraduates as early as the freshman year, engage in real projects with real clients mentored by Computer Science faculty.
Ample library resources are available on Information Assurance and Computer Security.
The DiSepio Information Assurance Scholarship for highly qualified students.
Three separate VM Networks: Testing, Coursework, and Production.
Dedicated facilities for CS students
Information Assurance Laboratory and Research Space
Special spaces designed specifically for CS majors equipped with enhanced technology resources to play, work and learn in. These exceptional spaces include:
The New DiSepio Information Assurance Laboratory dedicated to Security and Computer Science Research.
The "Wall of Monitors" which facilitates Computer Science student teams design and programming activities.
Upgraded VM Enterprise Network and enhanced bandwidth provide a rich playground for the CS student to exercise their talents in network and security administration.
The Advanced Programming Classroom with Dual Cloud monitors stations provides access to unique software environments for Computer Science students to learn, develop and administer.
Successful Career Paths
Employment Opportunities Abound
The common skills needed for computer scientists to be successful in their chosen career are their ability to solve problems, excellent communication and working independently and as a member of a team, and because of this computer science graduates are some of the most sought-after graduates and earn among the highest salaries of any major right out of college. Career paths in CS consistently top the charts of "Best Jobs" lists.
| | | |
| --- | --- | --- |
| Computer Science Occupation | Expected Employment Growth | Median Salary |
| Computer Systems Administrators | 23% | $66,310 |
| Database Administrators | 20% | $69,740 |
| Network Systems & Data Communications Analysts | 53% | $71,100 |
| Computer Software Engineers – Applications Specialists | 34% | $85,430 |
| Computer Software Engineers – Systems Specialists | 30% | $92,430 |

Computer Science Student Opportunities
Explore the Possibilities
Our students gain real-world experience that equips them with the skill sets they need to land world-class careers. Below are just a few of the opportunities waiting for you as a future computer science student.
Projects that Matter
Real projects - Real clients - Real jobs
Current students are carrying out real-world projects with industry and nonprofits. Computer Science Student Development Teams are:
Studying the feasibility of SFU becoming a tablet university by pushing the IPAD and other mobile technologies capabilities to the edge.
Investigation of zero client machines feasibility as replacement technology for laptops.
Designing and developing a Diocese iPhone app.
Designing and developing a Web app for Diocese to publicize church events.
Developing an application to track and communicate computer science internships in the local geographic area.
These real applications enhance our students' portfolios, communication skills, and career networking opportunities.
Opportunities to Excel!
Our students get real-world experience that equips them with the skill sets they need to land world-class careers. A vast set of opportunities awaits the engaged student, including:
Serving as Network Administrators on the departments own server cluster running VMware Enterprise.
Providing real CS services to clients on and off-campus.
Internships with such technology research organizations as CERMUSA.
CS teams participate in the ICPC Programming Competition.
Department Fellowship for Students
A four-year fellowship of $2,000 per year is awarded annually up to ten incoming students per year majoring in Computer Science. Prospective Fellows must have a minimum high school grade point average of 3.5, an SAT (critical reading and math) score of at least 1100 or ACT of at least 24, and a letter of recommendation. Additionally, the Fellowship requires the student to remain as a Computer Science major, maintain good academic standing (3.0 QPA) and participate in either an internship or an undergraduate research project or a study abroad experience prior to graduating. Students, as Computer Science Fellows, should also be willing to participate in outreach, tutorial or service activities.
Department Awards for Students
Computer Science Undergraduate Summer Research Award
Computer Science majors may receive an award to carry out Undergraduate Summer Research with a faculty mentor. A number of research topics are possible ranging from applied real-world problems to theoretical questions. Students in previous years have received a stipend for the eight - week research program.
Computer Science Department Travel Award
Students who present at regional and national conferences may receive a monetary award to help with travel-related expenses. Students also present their summer undergraduate research results, seminar research projects, and independent study projects at on and off-campus events as well as participate in programming competitions.
Computer Science Department Senior Award
This award is presented to the top senior student in the department based upon academics and service to the department.
Gaming Club
The gaming club was formed by a group of friends in the Computer Science program who shared a love of video games. The club has expanded and incorporates tabletop games such as Dungeons and Dragons and Magic: The Gathering as well as live streaming party games such as Super Smash Bros., Mario Party, and Mario Kart. Throughout the year, the club also puts on other fun events such as movie nights and board game nights.
Endowments & Partnerships
DiSepio Chair Endowment
This $1.5 Million Endowment provides a rich set of resources and opportunities:
The DiSepio Endowed Computer Science Scholarship.
Funding for Undergraduate Research for students as early as the freshman year mentored by Computer Science faculty.
Library resources on Information Assurance and Computer Security.
The DiSepio Information Assurance Laboratory: a dedicated space for CS majors equipped with enhanced technology resources to work and play in.
Gaming: New Media Design and Production Concentration Partnership with Harrisburg University of Science and Technology
An exciting next-generation combination of web and entertainment technologies, including computer science, visual story-telling, and graphic arts where words, images (still and video), sound and human commands are integrated to produce a dynamic and exciting new media format. Saint Francis University students in this concentration will spend two semesters onsite at Harrisburg University of Science and Technology where they will complete concentration coursework in HU's state of the art media production facilities.
Undergraduate Application Process & Requirements
At Saint Francis, you're more than just a number -- even as soon as we receive your application. We evaluate you as a whole individual, not merely select parts, such as GPA or test scores. We look at how you will contribute to our academic community, the strength of your coursework, extracurricular interests, and unique talents.
Everything you need to start your application can be found here! Detailed instructions, application components, and deadlines.
Four Easy Steps
Step 1: Create a username and password. This will make it easy to save your application, and let you register for SFU events all in one place. P.S. Bookmark the SFU Application site while you're at it!
Step 2: Check your email. You should receive a link to click to confirm your new login.
Step 3: Fill out an application. First-time students may apply anytime, usually after August 1 entering their senior year. To receive full consideration for admission and merit scholarships, it is recommended that students submit a completed application by May 1st of their senior year.

The undergraduate application for admission operates under a rolling admission policy except for the Physician Assistant Science program, which has a Priority Application Date of November 15th. The Occupational Therapy and Physical Therapy program has a Priority Application Date of January 15th.

Step 4: View your "Checklist" for additional requirements.
Official High School Transcripts
Submit your official high school transcript showing work completed through your junior year in addition to a copy your senior class schedule. All applicants should submit mid-year grades from their senior year when available.
This can be sent:
From your high school to

Saint Francis University
Office of Admissions
169 Lakeview Drive
PO Box 600
Loretto PA 15940

Through a secure electronic document system transfer such as Parchment.
Standardized Testing
Applicants are required to submit scores from either the SAT I or ACT. Use the codes below to have your official scores sent directly to SFU.
SAT code #2797
ACT code #3682
Writing Sample
A writing sample is required for Occupational Therapy, Physical Therapy, and Physician Assistant Science majors. Please complete an essay explaining (minimum 250 words) your interest in the academic program for which you are applying. Feel free to highlight any experiences you have that demonstrate your interest in the chosen field of study.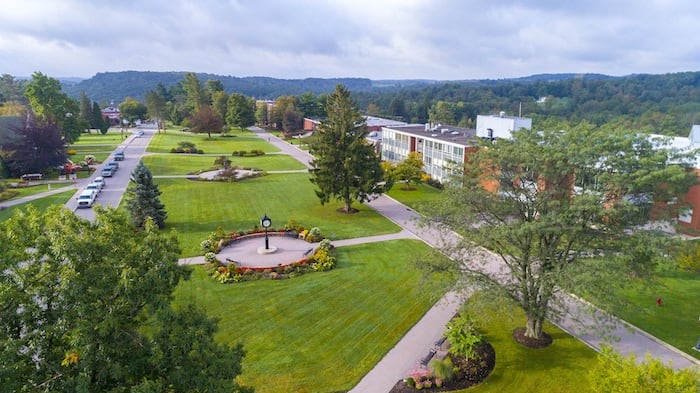 Last updated Sep 2019
About the School
Saint Francis University is one of the oldest Catholic universities in the country, and the oldest celebrating Franciscan values. Our scenic campus sits on a mountain top in Loretto, Pennsylvania, nea ... Read More
Saint Francis University is one of the oldest Catholic universities in the country, and the oldest celebrating Franciscan values. Our scenic campus sits on a mountain top in Loretto, Pennsylvania, near Pittsburgh. Faith, Generosity, respect, discovery, and joy are in our DNA, and we seek to attract students (like you) with a passion to shape the world.
Read less