Bachelor of Science in Computer Science
Home ›
BSc ›
Bachelor of Science in Computer Science
Program Description
Computer Science
Major: Computer Science
Degree / Award Title: Bachelor of Science in Computer Science
Offering Academic Unit: Department of Computer Science
Mode of Study: Full-time
Aims of Major
This major aims to provide the best possible undergraduate education with a well-balanced emphasis on computer science theories, practical hands-on development skills as well as software engineering management know-how needed to manage or work as a member of a software development team.
Through in-depth lectures and rigorous tutorials, laboratory work, projects and case studies, students will acquire a broad and thorough understanding of the theories and practical skills behind software design and development, software engineering, database systems, computer networks and information security. In addition, our study streams allow students to further specialize in different areas of expertise.
The B.Sc. Computer Science includes a year-long day-release industrial placement component that allows students to gain valuable real-world work experience. Graduates can leverage this strong foundation to pursue technical as well as managerial positions in their career.
Intended Learning Outcomes of Major (MILOs)
Apply relevant mathematics and engineering methods to computing.
Use computer programming for problem-solving.
Identify problems, analyze requirements, formulate the design and implement solutions that meet realistic constraints, such as costs, operational, social, cultural, ethical, environmental, health and safety.
Use software engineering methods and tools for developing quality software solutions.
Communicate and use language effectively.
Develop projects effectively and independently.
Apply specialized knowledge in the selected area(s) of Computer Science.
Reflect on the ethical, legal, security and social responsibilities required of professional citizens in a global society.
Stay abreast of contemporary issues in computing and recognize the need for, and able to engage in life-long learning.
Collaborate and function effectively in teamwork situations including the multi-disciplinary team.
Function effectively in an industrial environment and apply learned skills to real-world problems.
Acquire an inquisitive attitude and skill to enable creating an original discovery or design related to computing.
Degree Requirements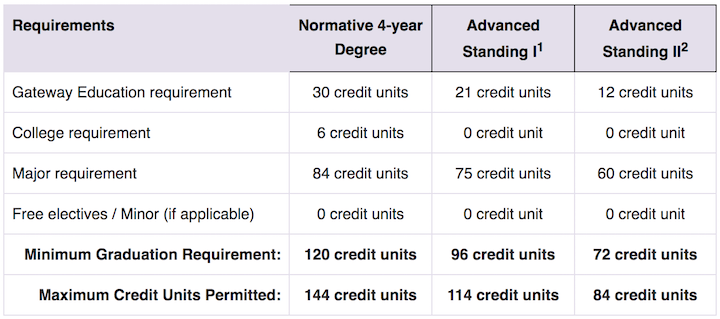 Notes:
For students with recognised Advanced Level Examinations or equivalent qualifications.
For Associate Degree/Higher Diploma graduates admitted as senior-year intake students.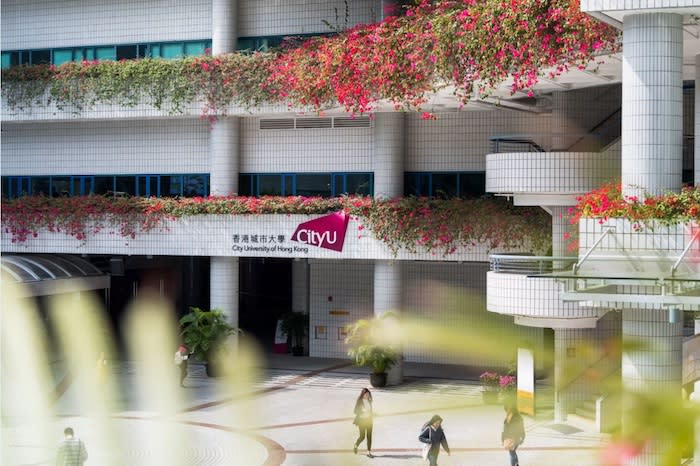 BSc Computer Science
Year of Entry: 2020
Mode of Funding: Government-funded
Admission Code: 1204 BSc Computer Science
Mode of Study: Full-time
Indicative Intake Target (subject to change): direct application places

Local Students: Direct Application Places (Local Students): 21 (the Combined figure for the programmes 1204 and 1561A).
Non-Local Students: Direct Application route for international and mainland Non-Gaokao students: around 250. NUEE route [全国普通高等学校统一招生计划(统招)] for mainland Gaokao students: around 225

Normal Duration of Programme: 4 years
Direct/Non-JUPAS Application Deadline: 2 January 2020 (Local & Non-local)
Programme Video
Department of Computer Science
This programme is one of the leading Computer Science programmes in Hong Kong, providing students with a well-balanced curriculum and solid education in both the theoretical and practical aspects of computing. This foundation enables students to lead successful careers as professional software developers, system architects, system analysts, technology officers, etc. Besides acquiring a broad knowledge of Computer Science, students can elect to specialise in different technology streams, such as information security, multimedia, software engineering/project management or data science. In addition, our one-year Information Technology Professional Placement provides students with the opportunity to put into practice what they have learnt in school and to gain valuable real-world work experience, giving them a head start in their careers.
Our Target
We provide students with a thorough grounding in the theoretical and practical aspects of the computer science discipline. This prepares them for successful careers as system architects and technology officers in the continually developing information technology environment. Our flexible curriculum enables students to develop a strong foundation in the overall discipline and specialisation in a particular area. Through a wide range of electives, our students can keep pace with trends in technology.
Admission Arrangements for Direct/Non-JUPAS Applicants
Applicants to this programme (admission code: 1204) will be considered for admission to first-year studies in the Bachelor of Science in Computer Science programme.
Applicants seeking advanced standing entry can submit an application for the following programme:
BSc Computer Science (admission code: 1561A)
Entrance Requirements for Direct/Non-JUPAS Applicants
To be considered for admission, you must satisfy the General Entrance Requirements.
First-Year Curriculum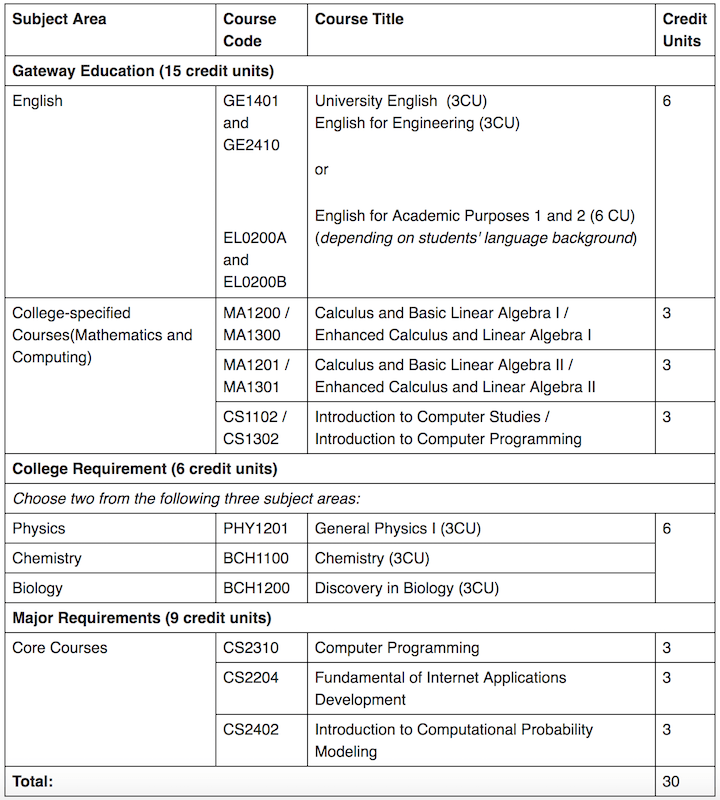 Industrial Training and International Exchange
After completing the first two years of full-time study, CS students will take a year-long IT Professional Placement (ITPP) course in the third year. This structured placement/internship programme enables our students to integrate and apply what they have learnt in class in a real-world environment. Students perform IT-related projects/developments and learn how to work as a team member in business or government organizations. In the past, we had students who work at international computer vendors, such as IBM; at banks such as HSBC and the Bank of East Asia; at the Hong Kong SAR government and related organisations such as the Office of the Government Chief Information Officer, the Hospital Authority, the Housing Authority, the Education Bureau and other enterprises such as Hongkong Electric, Jardine, Matheson & Co., Limited, Siemens Ltd. and Hong Kong Exchanges and Clearing Limited. During the placement year, students will take one day off weekly from work to study a number of courses.
If time permits, students may, in addition, opt for additional short-term overseas internships between the ITPP and semester start.
Furthermore, for students to broaden their educational horizons, gain language experience and enhance their awareness of different cultures, the Department, College and University offer over 110 credit-bearing exchange programmes with various partner institutions around the world including universities in Australia, Canada, Europe, the US and the Asia-Pacific region.
Professional Recognition
This programme is the first computer science programme in Hong Kong accredited by the Hong Kong Institution of Engineers (HKIE).
Did You Know?
This is one of the most popular computer science programmes in Hong Kong. We have student exchange partnerships with well-known universities including University College London (UK), University of Bath (UK), University of Sheffield (UK), University of Alicante (Spain), McGill University (Canada), University of Toronto (Canada), University of Illinois at Urbana-Champaign (US) and Vanderbilt University (US), the University of New South Wales (Australia), Peking University (China) and Tsinghua University (China).
Career Prospect
Graduates of this major will have good employment opportunities in the field of information technology. They will be equipped for jobs which involve state-of-the-art technology and design and construction of large software systems. The provision of study streams allows students to pursue specializations in state-of-the-art technology such as data science, cloud computing and mobile applications, further enhancing their career prospect in these areas.
Postgraduate Studies
For students who desire to pursue postgraduate studies or a career in research and development, there are many opportunities to pursue undergraduate research through a number of different channels ranging from the Research Mentoring Scheme, guided studies and the final year project to overseas research internship opportunities. The demonstrated ability of students to innovate is a key factor in the success of our students in gaining admission to top tier postgraduate programs.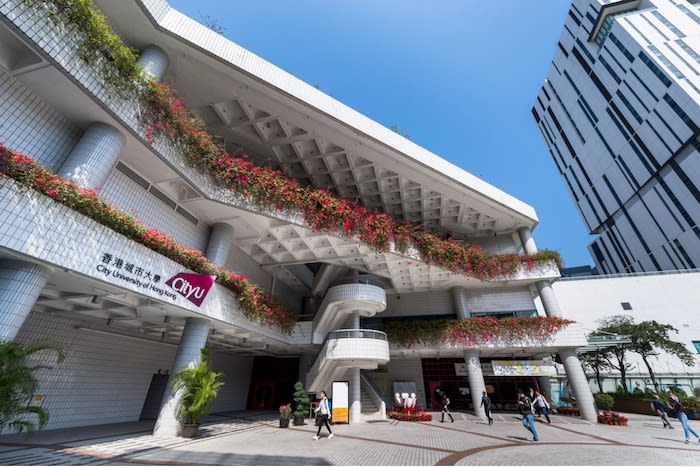 Last updated Jan 2020
About the School

Welcome to City University of Hong Kong (CityU). We are a dynamic university established in 1994 and uniquely located in the heart of Hong Kong, Asia's world city. Our goals are to pursue high levels ... Read More
Welcome to City University of Hong Kong (CityU). We are a dynamic university established in 1994 and uniquely located in the heart of Hong Kong, Asia's world city. Our goals are to pursue high levels of excellence, promote innovation and nurture creativity with the aim to improve people's lives. In a city where East meets West, our vision is to become globally recognised for professional education, one that emphasises the mutual enrichment of different cultures and intellectual traditions, and for research that makes a real difference.
Read less