Program Description
Chemistry
Major: Chemistry
Degree / Award Title: Bachelor of Science in Chemistry
Offering Academic Unit: Department of Chemistry
Mode of Study: Full-time
Aims of Major
This major aims to provide students with a firm foundation in chemical sciences with a focus on analytical chemistry, environmental chemistry, inorganic chemistry, organic chemistry, and physical chemistry.
It is designed to train and produce graduates who are able to pursue a developing career in local and regional industrial, commercial, government, education, and research sectors.
Intended Learning Outcomes of Major (MILOs)
Upon successful completion of this Major, students should be able to:
Describe the general chemical principles appropriate to the study of chemistry:
Explain the important aspects of chemical terminology, nomenclature, convention and units.
Describe the structure and properties of atoms, ions, molecules and materials.
Apply the principles of thermodynamics and kinetics to chemistry.
Apply the principles and procedures used in chemical analysis and characterization.
Competently perform a wide range of laboratory and technical procedures in chemistry:
Handle chemicals in a professional manner, through knowledge and adherence to chemical safety legislation.
Operate laboratory procedures in synthetic and analytical chemistry.
Evaluate experimental data through testing hypotheses, defining problems and creating innovative and practical solutions.
Communicate and cooperate with other personnel and participate as an effective team member.
Critically evaluate experiments in chemistry as reported in the literature and synthesize information in a constructive manner:
Demonstrate the ability in oral and written presentations and recognize the limitations inherent in hypotheses.
Develop strategies for creating, updating, maintaining and enhancing knowledge in chemistry.
Identify, analyze and reflect upon the responsibilities of chemists by applying chemical knowledge to society, commerce and the environment:
Apply knowledge of synthetic chemistry for the discovery and design of compounds with new and interesting properties.
Apply the concepts and principles of chemical analysis to environmental, industrial, biological and food sciences.
Apply chemical knowledge to address ethical and social issues in the work environment.
Degree Requirements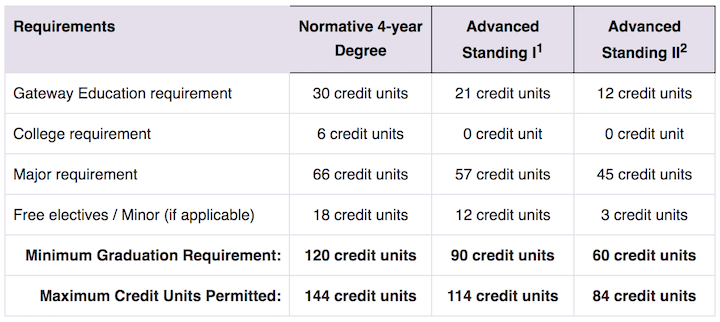 Notes:
For students with recognised Advanced Level Examinations or equivalent qualifications.
For Associate Degree/Higher Diploma graduates admitted as senior-year intake students.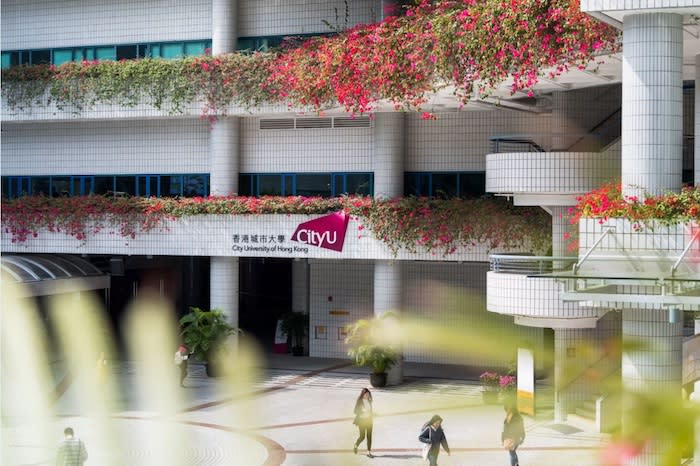 BSc Chemistry
Year of Entry: 2020
Mode of Funding: Government-funded
Admission Code: 1202 BSc Chemistry
Mode of Study: Full-time
Indicative Intake Target (subject to change):

JUPAS and non-JUPAS government-funded places: 45-55
Direct Application Places (Local Students): 6 (the Combined figure for programmes 1202 and 1523A)
Non-Local Students: Direct Application route for international and mainland Non-Gaokao students: around 250. NUEE route [全国普通高等学校统一招生计划(统招)] for mainland Gaokao students: around 225
Normal Duration of Programme: 4 years
Direct/Non-JUPAS Application Deadline: 2 January 2020 (Local & Non-local)
Programme Video
Department of Chemistry
The Department of Chemistry (CHEM) fosters an interdisciplinary approach in teaching and research. CHEM is committed to training science graduates to meet the demand for technical, educational and industrial professionals in Hong Kong. The study programmes offered by the Department are designed to develop the knowledge, skills and attitudes that students need to achieve fulfilling personal development and a successful career.
CHEM currently offers BSc in Chemistry.
This major integrates theory and practice. By focusing on the application of knowledge, it helps students to understand important scientific issues, current technologies and future challenges in light of local, regional and global needs. Most of the courses have a lab component that complements the lectures and tutorials and enables students to acquire hands-on experience in preparation for their future employment or further study.
Our Target
The Chemistry major aims to provide students with a firm foundation in chemistry that will equip them with the knowledge, understanding, skills and attitudes required to achieve personal development and find suitable employment in the industrial, commercial, government and educational sectors.
Admission Arrangements for Direct/Non-JUPAS Applicants
Applicants to this programme (admission code: 1202) will be considered for admission to first-year studies in the Bachelor of Science in Chemistry programme.
Applicants seeking advanced standing entry can submit an application for the following programme:
BSc Chemistry (admission code: 1523A)
Entrance Requirements for Direct/Non-JUPAS Applicants
To be considered for admission, you must satisfy the General Entrance Requirements and have studied a subject related to Chemistry at a high school or post-secondary institution.
Start Your Career Here
Graduates can expect to make a significant contribution in both the government and private sectors. You may seek employment in various government departments (such as the Environmental Protection Department, Government Laboratory or the Agriculture, Fisheries and Conservation Department), consultancy companies, laboratories and the commercial, industrial or educational sectors. Alternatively, you may choose to pursue postgraduate studies.
Career Prospects
Civil Service
Assistant Environmental Protection Officers
Chemists
Agricultural/ Fisheries/ Forestry Officers
Executive Officers
Business
Sales and Marketing Executives
Managers
Specialists for scientific instruments, medical & pharmaceutical products
Environmental Consultancy
Consultants
Environmental Auditors
NGOs/ Advocates
Industry and Laboratories
Research and Development
Analytical Chemists
Quality Assurance / Management Chemists
Environmental Scientists
Technical Officers
Education
Secondary School Teachers
Technical Staff of Tertiary Institutions
Teaching Assistants
Research Assistants
Further Study
Postgraduate students in local and overseas universities
Learning Enrichment
On top of the curriculum, our programme also takes our students out of classrooms, providing them with a multitude of enrichment activities ranging from a-few-hour company visits, career talks and distinguished speakers seminars, to research placement, local/overseas internships and exchange programmes that last up to a year, to equip students with the critical knowledge and skills, enhance their exposure and depth of knowledge, so as to excel in both their personal and career development.
Industrial Training and International Exchange
The College of Science and the Department offer work placement opportunities through internship schemes that provide students with full-time job attachments to firms not only in Hong Kong but also in the Pearl River Delta region and overseas. Through such placements, students will:
Gain solid experience in a real-life work environment;
Develop problem-solving abilities and interpersonal skills;
Learn the right attitudes towards work and professionalism; and
Broaden their experience and enhance their employability.
Furthermore, to help students broaden their educational horizons, gain language experience and enhance their awareness of different cultures, the Department, College and University offer around 340 credit-bearing exchange programmes with various partner institutions around the world including universities in Australia, Canada, Europe, the US and the Asia-Pacific region.
The Department also organises out-of-classroom learning activities to broaden students' learning interests. These include:
Industrial Attachment and Overseas Internship schemes, which help students to acquire work experience in various local, regional and international companies and organisations.
Student Exchange programmes, which provide students with opportunities to experience foreign cultures and enhance their intercultural and interpersonal skills while studying abroad.
Summer Research Scholarships and Summer Placement Scheme, which pair students with staff research groups to promote a research culture among undergraduate students.
Professional Recognition
Chemistry graduates are eligible for:
Full Membership of the American Chemical Society
Full Membership of the Chemical Institute of Canada
Membership of the Canadian Society for Chemistry
Full Membership of the Hong Kong Chemical Society
Graduate Membership of the Royal Australian Chemical Institute
Associate Membership of the Royal Society of Chemistry
Bonus Features
Our courses are practical and based on examples from the local region. Many courses are augmented with laboratory sessions and out-of-classroom learning activities.
We aim to facilitate your active learning, rather than forcing you to memorise information. We use a range of strategies to help you learn, including:
Web-based software to enhance your discussion of course materials;
the Personal Response System, an electronic device used in the classroom to gauge your understanding during lessons;
problem-based learning schemes that stimulate you to apply subject knowledge to solve daily life problems related to chemistry; and
open book examinations in some courses to encourage you to read widely and enhance your comprehension skills.
Did You Know?
This major provides basic and professional training in the areas of chemistry. Graduates can seek career opportunities in the industrial, governmental and educational sectors.
The major has close relationships with the government and industrial sectors, with the goal of nurturing the next generation of chemistry professionals.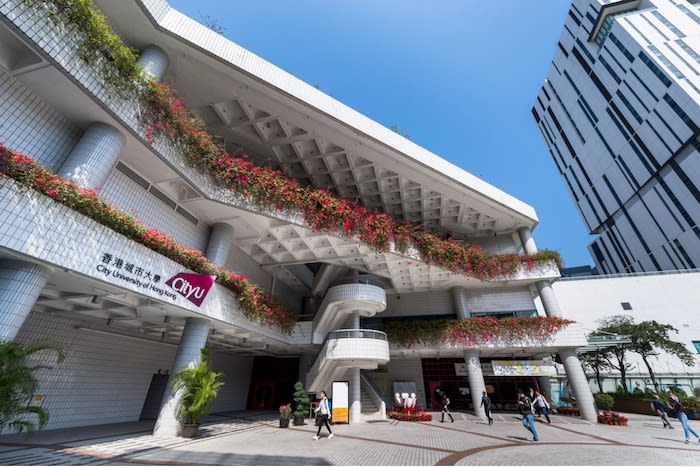 Last updated Jan 2020
About the School

Welcome to City University of Hong Kong (CityU). We are a dynamic university established in 1994 and uniquely located in the heart of Hong Kong, Asia's world city. Our goals are to pursue high levels ... Read More
Welcome to City University of Hong Kong (CityU). We are a dynamic university established in 1994 and uniquely located in the heart of Hong Kong, Asia's world city. Our goals are to pursue high levels of excellence, promote innovation and nurture creativity with the aim to improve people's lives. In a city where East meets West, our vision is to become globally recognised for professional education, one that emphasises the mutual enrichment of different cultures and intellectual traditions, and for research that makes a real difference.
Read less