Bachelor of Science in Business Management
Home ›
BSc ›
Bachelor of Science in Business Management
Read more about this program on the institution's website
Program Description
The College of Business offers undergraduate students a major in Business Management.
The major program offers students a solid foundation of essential business concepts and applications. In addition to courses in statistics, decision sciences, and general management, students study the fundamentals of four business functions: accounting, finance, marketing, and operations management. The knowledge gained in the specialization assists students in finding employment in that area of a business.
Requirements For The Major In Business Management (BUS)
Note: Many Business courses must be taken for a letter grade and do not offer students a G/P/NC option. See the courses without the G/P/NC option course list for a full list of courses that do not offer a G/P/NC option.
Acceptance to the Major in Business Management
Qualified freshman and transfer students who have indicated their interest in the major on their applications are accepted directly into the major upon admission into the University. Students who did not apply for the major and those who were not accepted into the major when they entered the University may apply to the major provided that their cumulative grade point average (including, for transfer students, college course-work complete at other institutions) is 3.2 or higher. Applications must be submitted to the College of Business Office of Student Services in accordance with the Registrar's deadlines for processing major/minor declaration forms. Application forms are available on the College of Business website.
Requirements for the Major
The major in Business Management leads to the Bachelor of Science degree. Completion of the major requires 49 credits.
Transfer Credit Policy for students in the Business Major
Students may apply a maximum of 21 transfer credits toward the Business Major. Of the total 21 credits, only 6 credits may be used to fulfill an area of specialization.
A. Core Courses
ACC 210 Financial Accounting
BUS 215 Introduction to Business Statistics
BUS 220 Introduction to Decision Sciences
BUS 301 Business Communications
BUS 326 Organizational Behavior
BUS 330 Principles of Finance
BUS 346 Operations Management
BUS 348 Principles of Marketing
BUS 353 Entrepreneurship or BUS 383 Social Entrepreneurship or BUS 441 Business Strategy
BUS 446 Ethics: Critical Thinking through Film or BUS 447 Business Ethics
ECO 108 Introduction to Economics
MAT 122 Overview of Calculus; or MAT 123 Precalculus; or MAT 119 Foundations for Precalculus and MAT 123 Precalculus; or a higher-level calculus course
B. Area of Specialization
One of the following specializations must be chosen at the start of the junior year. The details are available in the College of Business Office of Stu­dent Services.
Choose one specialization from the following areas:
Accounting

a. Required courses

ACC 214 Managerial Cost Analysis and Applications
ACC 310 Intermediate Accounting I
ACC 311 Federal Income Taxation I
Note: For business majors, successful completion of the accounting minor will satisfy the accounting specialization requirement. However, only the accounting minor will be reflected on the student's academic transcript.

b. Select one from the following:


ACC 313 Intermediate Accounting II
ACC 314 Federal Income Taxation II
ACC 315 Accounting for the Small Business Entrepreneur
ACC 400 External Auditing
BUS 488 Internship

Finance


a. Select four from the following:


BUS 331 International Finance
BUS 332 Entrepreneurial Finance
BUS 333 Introduction to the Business of Real Estate
BUS 336 Mergers and Acquisitions
BUS 355 Investment Analysis
BUS 356 Financial Analysis with Excel (formerly offered as BUS 356 Financial Engineering)
BUS 365 Financial Management
BUS 366 Money and Financial Institutions or ECO 360 Money and Banking
BUS 376 Risk Management and Insurance
BUS 377 Risk Management and Insurance II
ECO 383 Public Finance
BUS 468 Risk Arbitrage
BUS 488 Internship

Marketing


a. Required courses


BUS 358 Marketing Research
BUS 359 Consumer Behavior
BUS 448 Marketing Strategy

b. Select one from the following:


BUS 302 Social Media Marketing Strategy
BUS 334 Consumer Advertising and Promotion
BUS 335 Business Advertising and Promotion
BUS 357 Principles of Sales
BUS 360 Business Marketing
BUS 361 Retail Management
BUS 362 Principles of International Marketing
BUS 363 Brand Management
BUS 369 Marketing of New Products
BUS 449 Marketing Client Project
BUS 488 Internship

Operations Management


a. Required course


BUS 340 Information Systems in Management

b. Select three from the following:


BUS 370 Lean Practices in Operations
BUS 371 Supply Chain Management
BUS 372 Quality Management
BUS 375 Data Mining
BUS 393 Principles of Project Management
BUS 488 Internship
Note: BUS 475, BUS 476 Undergraduate Teaching Practicum I, II, and BUS 487 Independent Research will count toward the total University credit requirement, but not toward the business major.
C. Upper-Division Writing Requirement
BUS 301 contains the necessary writing components which satisfy the Upper Division Writing Requirement for the business major, and also satisfies the Stony Brook Curriculum learning objective WRTD.
Grading
All courses taken to satisfy the business management major requirements must be taken for a letter grade. All students accepted to the business management major in the fall 2005 semester and subsequent must complete all BUS courses, ECO 108, and MAT 122 with a grade of C or higher in order to satisfy the requirements for the major. Students accepted to the business management major prior to fall 2005 must complete the following courses with a grade of C or higher in order to satisfy the requirements for the major: BUS 110, BUS 210, BUS 220 (formerly BUS 249), BUS 340, BUS 346, BUS 347, BUS 348, BUS 440, and BUS 441; AMS 102, ECO 108, MAT 122 or MAT 123, PSY 103 or SOC 105.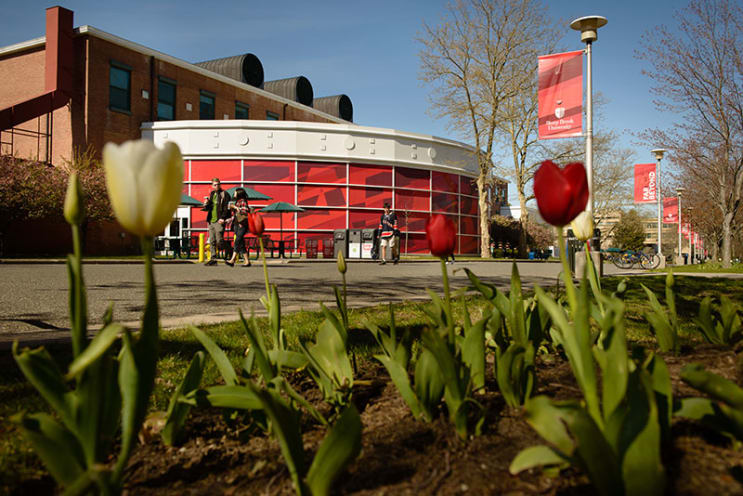 Business Honors Program (BHP)
Qualified students may graduate with honors in the College of Business. Admission requirements for the honors program are an overall GPA of 3.5 or higher and successful completion of WRT 102 with a B or better. To graduate with honors requires an accumulated GPA of 3.5 or better, the fulfillment of the courses below, and a student presentation during the Undergraduate Research & Creative Activities Celebration of Undergraduate Research & Creativity (an annual event organized by the URECA Program that showcases undergraduate research, open to all SBU undergraduates conducting faculty-mentored research and creative projects). Students' progress and performance will be monitored throughout the program. Students who perform poorly (below a cumulative 3.5 GPA) in their academic studies will be counseled and warned that they are in jeopardy of being dropped from the BHP. Following at least one warning, such students will not be permitted to continue in the BHP. Students entering as a business major, either as an existing Stony Brook student or transfer student, will be evaluated under the same criteria for curriculum and admittance to the BHP.
Required Courses (each 3 credits):
BUS 495 Business Honors Program Thesis (Capstone Experience)
BUS 496 Business Honors Program Thesis (Capstone Experience)
The College of Business Honors Program Capstone enables junior and senior undergraduate students to pursue a track of excellence of their choice required for graduation. These tracks include, but are not limited to:
Working with a Ph.D. faculty member in a business department of choice. The business faculty member will serve as an advisor to assist with research design and implementation that is showcased at the Undergraduate Research & Creative Activities (URECA) Campus-wide poster symposium.
Partnering with a corporate sponsor to design an experiential program for your senior year that promotes the synergies of learning for the organization as well as the student body at the COB. This Honors Capstone requires a well thought out project/plan with a reflection piece that is shared with the employer and the COB.
Designing and producing a program/project that incorporates research and analysis in a specialization of your choice, working with a Ph.D. faculty mentor who serves as a mentor pursuing research in a particular specialization with a predetermined learning outcome.
Completing a business plan as your Honors thesis, working with a faculty member in innovation or entrepreneurship.
Pursuing social entrepreneurship/community impact by taking on a project grounding in creating innovative solutions to society's social problems. This Honors Capstone will require a written implementation proposal incorporating research, analysis, possible a corporate sponsor and an implementation plan.
Creating a project that entails leadership on the Stony Brook University Campus and the use of planning, organizing and orchestrating an idea from conception to a measurable end result. This Honors Capstone will require a written implementation proposal incorporating research, analysis and an implementation plan.
Acceptance to the Business Honors Program
Applicants must complete the BHP application which includes a 250-500 word essay. The deadline is March 15; however, applications will be reviewed on a rolling basis. Students are encouraged to apply prior to March 15.
Please contact the Office of Student Services at COBAdvising@stonybrook.edu with any questions regarding the Honors program.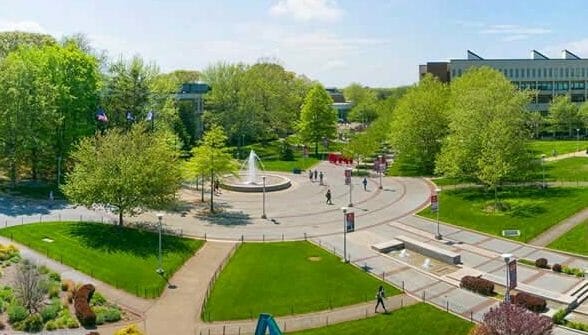 What We Look for in a Freshman Applicant
Stony Brook is a highly selective institution, seeking to enroll those students who demonstrate intellectual curiosity and academic ability to succeed. Applicants are evaluated on an individual basis. There is no automatic cutoff in the admission process, either in grade point average, rank, or test scores. The Admissions Committee seeks to enroll in the strongest and most diverse class possible.
Successful Applicants Will Typically Have:
High school diploma or equivalent (Regents diploma preferred for NY residents)
Strong high school academic program that includes:

4 units of English
4 units of social studies
3 units of mathematics (4 units required for engineering and applied sciences)
3 units of science (4 units required for engineering and applied sciences)
2 or 3 units of a foreign language

Standardized test scores that indicate the promise of success in a rigorous undergraduate course of study.
Students who show evidence of leadership, special talents or interests, and other personal qualities through extracurricular activities, volunteer work, and other non-academic pursuits will receive special consideration.
Business Management
Successful applicants will, in addition to our regular admission criteria, typically display evidence of achievement in mathematics and writing and will have performed particularly well on both the Math and Critical Reading sections of the SAT and/or ACT.
Applications are still being accepted for the fall 2020 semester. At this time, space in our class is very limited and we may only be able to offer qualified students a spot on our Wait List.
Last updated Sep 2020
About the School

Stony Brook University, widely regarded as a SUNY flagship, is home to an exceptionally diverse student body of nearly 27,000 high-achieving students — including more than 17,000 undergraduates — fro ... Read More
Stony Brook University, widely regarded as a SUNY flagship, is home to an exceptionally diverse student body of nearly 27,000 high-achieving students — including more than 17,000 undergraduates — from nearly all 50 states and more than 100 countries. Our energetic campus is ranked among the top 40 public universities by U.S. News & World Report. Wondering what makes a Stony Brook education unique? Here, you'll learn by doing. Each year, thousands of our students do research or independent projects alongside a faculty member, study abroad, volunteer in the community, intern in nearby New York City, or participate in another form of experiential learning. You'll apply the skills you learn in the classroom to real life, helping to prepare for your future and create a better world.
Read less