Bachelor of Science in Business Management
Home ›
BSc ›
Bachelor of Science in Business Management
Read more about this program on the school's website
Program Description
Start your management career on a solid foundation of business management principles. Dominican College's online Bachelor of Science in Business Management degree gives you the necessary tools for a successful business leadership career.
Graduates will emerge from the program with valuable skills, including:
Business analysis and problem-solving
Written and verbal communications
Advanced uses of modern technology for reporting and operations
Global business acumen
Leadership and management of diverse team members
Dominican College's Bachelor of Science in Management will spark new ideas and business concepts that will help you get ahead in your career. You will be able to analyze where a company is and where it could go through effective management and organizational operations and will be able to communicate with all levels of organization stakeholders to maximize efficiency and output.
The curriculum focuses on current business management theories and applications and will assist you to become a business leader who can easily adapt to the demands of a changing work environment in the 21st century. The analysis of core business concepts helps to establish managers who are well-versed in a variety of business practices.
A minimum of 60 semester hours in liberal arts is required for a Bachelor of Science degree from Dominican College.
Job Opportunities
Key industries are looking for qualified, experienced and educated professionals to take on leadership and management roles. The Bureau of Labor Statistics reports a strong job market for managerial-level professionals in sales, advertising and marketing as well as administrative services.
Dominican College's Management program will develop your technical, human relations, conceptual, and administrative skills while providing you with the benefits of our broad-based liberal arts education. In addition to the major in Management, you have the option of selecting one or more of five areas of specialization, so you may cater to your management goals towards specific areas of expertise.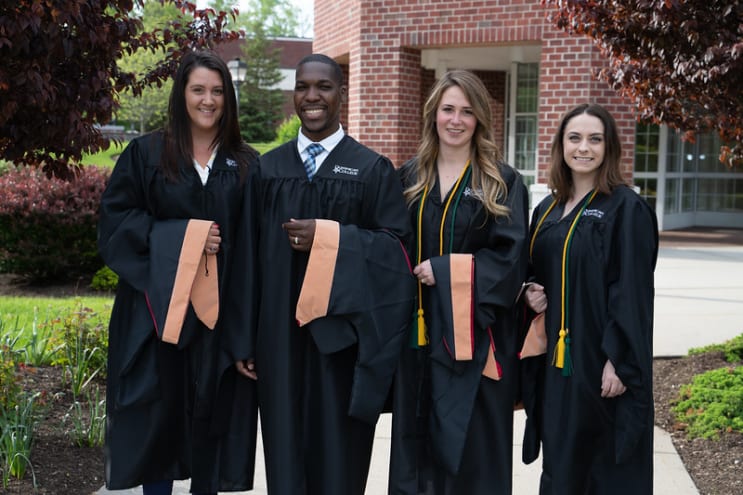 Concentrations
Financial Management Specialization
If you select the Financial Management specialization, you will acquire a thorough understanding of various sources of cash, uses of cash, and dividend policy, and you will develop a keen awareness of the roles of financial intermediaries in the financing of business firms. You will become thoroughly versed in the corporate decision-making processes surrounding asset and debt management; investment in working capital and capital assets; budgeting; and the investment process, and you will graduate as a qualified expert in financial management in both domestic and international environments.
International Management Specialization
The role of multinational businesses in the age of globalization is more critical than ever, as is the role of managers. Dominican College's International Management specialization will provide you with functional knowledge, skills, and insights in the areas of international marketing, finance, economics, and management, preparing you for success in the governance of any multinational enterprise.
Marketing Management Specialization
With the wealth of information available today at consumers' fingertips, visible and innovative marketing strategies are more important to businesses than ever. Choosing the Marketing Management specialization will provide you with expertise in the effective marketing of products and services. Through this course of study, you will become thoroughly versed in the best ways to maximize market penetration, as you learn about creating, pricing, promoting, and distributing products or services; examine case studies to understand and evaluate various techniques in action; and develop the analytical skills required to identify marketing problems and opportunities, and apply logic and ingenuity to create solutions.
Sports Management
The sports management specialization is designed for students who wish to be trained in the basic principles of business administration but through the lens of sports. The program is meant to have general management application with all skills transferable, but with examples and applications drawn from the world of sports. The specialization helps prepare students for careers in team organizations, athletic foundations, media, professional services (such as event planning) and facility management.
IACBE Accreditation
Dominican College has received specialized accreditation for its business programs through the International Accreditation Council for Business Education (IACBE), located at 11374 Strang Line Road in Lenexa, Kansas, USA. The business programs in the following degrees are accredited by the IACBE:
Master of Business Administration with concentrations in Accounting, Healthcare Management, and Management.
Bachelor of Science degree with majors in Accounting, Computer Information Systems, and Management (specializations in Financial Management, International Management, and Marketing Management).
Admission Requirements for First Year Students
Transcripts
Ask your high school counselor to forward transcripts directly to the Office of Admissions
ACT/SAT
If English is not the first language of the applicant, a minimum TOEFL score of 80 on the internet-based test (I.B.T.), or 550 on the traditional paper test, or 213 on the computer-based test is required for admission.
Submit the results of one of the following examinations to the Office of Admissions:
Scholastic Aptitude Test (S.A.T.) of the College Entrance Examination Board. The C.E.E.B. Code for Dominican College is 2190.
The American College Testing (A.C.T.) Assessment Test. The A.C.T. code for Dominican College is 2730.
Personal Interview
A meeting with an admissions counselor is not always required but is always desirable. Some applicants may be asked to meet with a member of the Admissions staff.
Last updated Dec 2019
About the School
The aim of Dominican College is to promote educational excellence, leadership, and service in an environment characterized by respect for the individual and concern for the community and its needs. Fo ... Read More
The aim of Dominican College is to promote educational excellence, leadership, and service in an environment characterized by respect for the individual and concern for the community and its needs. Founded by the Dominican Sisters of Blauvelt, the College is an independent institution of higher learning, Catholic in origin and heritage. In the Dominican tradition, it fosters the active, shared pursuit of truth and embodies an ideal of education rooted in the values of reflective understanding and compassionate involvement.
Read less