Bachelor of Science in Business Administration
Home ›
BSc ›
Bachelor of Science in Business Administration
Program Description

BS in Business Administration
*Online and Hybrid (mixture of in-person and face-to-face) options are currently being offered due to COVID-19.
Don't just learn about business. Learn how to do business.
Business Administration covers the nuts and bolts of a business career and the skills required of successful executives: effective writing, strong presentation, critical thinking, and ethical leadership.
Concentration Options
Business Economics
Finance
Information Technology Management
International Business
Management
Marketing
Organizational Leadership
Small Business / Entrepreneurship
Sports Management
Popular Minor Pairings
Asian Studies
Computer Information Systems
Environmental Studies
French
Mathematics
Multimedia
Psychology
Theology and Christian Leadership
Financial Planning
The Curriculum
Build up your core business knowledge
Your courses will combine a solid background in the liberal arts and sciences with an in-depth study of business-related disciplines. Before choosing a concentration, you will complete a core managerial program that covers:
Accounting
Economics
Business Law
Finance
Organizational Behavior
Information Systems
Marketing
Business Communication
Strategic Management
Choose your concentration
After completing the core program, you will choose to specialize in one of nine concentrations. Focusing on your area of interest adds depth to your knowledge — and value to your degree.
Get firsthand experience
You'll gain practical knowledge as part of your coursework through hands-on projects such as creating business plans, conducting market research, and implementing advertising campaigns. Two-thirds of business administration majors also take on an internship, working at organizations like Disney and the Los Angeles Lakers. This gives you a chance to sharpen your skills in an active workplace — and maybe even secure a job before you graduate!
Build your professional network
Your professors' real-world business experience will be an invaluable resource during your studies. You'll also learn directly from company executives through special courses and speaker series. Take advantage of many extracurricular opportunities such as the New Venture Competition and the Entrepreneurship Club to network with other students who share your interests. Or travel with a variety of short-term programs to learn about business in other parts of the world, including Europe and Asia.
Save time and money earning your MBA
Add further value to your degree by choosing the 4+1 Option, which gives you a head start on earning an MBA. With 4+1, you'll be able to take graduate-level courses as part of your undergrad curriculum. After graduation, you'll only need one additional year to complete your MBA at Cal Lutheran — saving you both time and money.
The Experience
"Working with students on their research projects helps them prepare for research work in the workplace, and distinguishes them from other candidates in the job market. For me, it provides insight into their experiences in the world of information systems, which often differs from my own – I use those insights often in my teaching."
Paul Witman
Associate Professor
My internships helped to realize that finance, not accounting, was the right option for my own personal interests and talents. I recommend that you do two or more internships in varying areas of your major early on in your college career. As they did for me, internships can help you better understand if your choice of major is the best fit for your own future career.
Anessa Buff '16
Your Future
As a graduate of our business administration program, you can target professional careers in corporate or nonprofit management, finance, international business, small business entrepreneurship, information technology management, or marketing; or you may gain admission to law or other graduate and professional schools.
Our alumni study at:
San Diego State University
Seattle University School of Law
Pepperdine University
University of California, Riverside
University of California, Los Angeles
University of Miami
Copenhagen Business School
New England School of Law
University of Southern California
California Lutheran University
Our alumni work for:
ABC Television Group

Anthem Inc

.
Bank of America
Ernst & Young
Facebook
Google
Guess Inc.
J.D. Power and Associates
Move, Inc.
Northrop Grumman
PennyMac Loan Services, LLC
PricewaterhouseCoopers, LLP
Sage Publications
UBS Financial Services
Career paths:
Associate Account Executive
Audit Staff
Budget Analyst
Director of Sales
Director of Technical Recruiting
Financial Advisor
Financial Analyst
Logistics Administrator
Marketing Coordinator
Project Coordinator
Research Analyst
Through the strong connections I made with professors at Cal Lutheran, I was given the unique opportunity to tour the campus of one of my dream employers. That opportunity, along with my studies, helped me land an internship there which led to a now full time, permanent position. My advice to current students is be proactive, persistent, and also patient. You never know what doors may open!
Patty Teodorescu '17, Staff Accountant - International
Patagonia
Last updated Jul 2020
About the School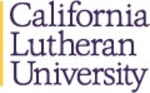 California Lutheran University is a selective, comprehensive institution offering undergraduate and graduate degrees in the liberal arts and sciences and professional fields. Rooted in the Lutheran tr ... Read More
California Lutheran University is a selective, comprehensive institution offering undergraduate and graduate degrees in the liberal arts and sciences and professional fields. Rooted in the Lutheran tradition, Cal Lutheran encourages critical inquiry into matters of faith and reason. Mentored by dedicated and accomplished faculty members, students pursue their passion and discover their purpose as they seek to grow as individuals. California Lutheran College was founded in 1959 on a ranch donated by Richard Pederson, the son of Norwegian immigrants. The college opened its doors to 330 students in September 1961 and held its first Commencement in May 1964.
Read less