Bachelor of Science in Business Administration (B.S.B.A.) with Major in Management and a Concentration in Finance
Home ›
BSc ›
Bachelor of Science in Business Administration (B.S.B.A.) with Major in Management and a Concentration in Finance
Program Description
Major Description
Students selecting a major in Management will be awarded a Bachelor of Science in Business Administration (B.S.B.A.) degree under the program of study offered by the William G. McGowan School of Business. A minor in Management is also available as a part of the William G. McGowan School of Business program of study.
The Management major at King's College provides an extensive general background in business; the major requirements emphasize the fundamental principles of business management along with the entrepreneurial and global aspects of business required of a business professional. The management major is provided with a thorough foundation in the fields of accounting, economics, computer systems, finance, law and the quantitative aspects of the business. Through the selection of a concentration of study, a management major can achieve a major in Management along with a Concentration in Business Administration, Entrepreneurship, Finance, Health Care Management, Human Resources Management, or International Business Management. Utilizing the elective courses a student can achieve a double concentration, double major or minor from the other majors in the McGowan School of Business or the College of Arts and Sciences.
The Management concentrations gives the student strategic training in business, an appreciation of and ability to use the modern tools of management, and exposure to a broad range of business subjects and opportunities, and a wide range of career options, such as business enterprises, not-for-profit organizations, or government service, as well as graduate and/ or professional school.
The Management concentrations integrate and build upon the CORE Curriculum courses/skills, including oral and written communication competencies, information technology, and critical thinking to enhance the learning of business. A variety of elective courses are available to meet the desires and interests of the students. These courses and the availability of internships contribute significant depth to the student's education.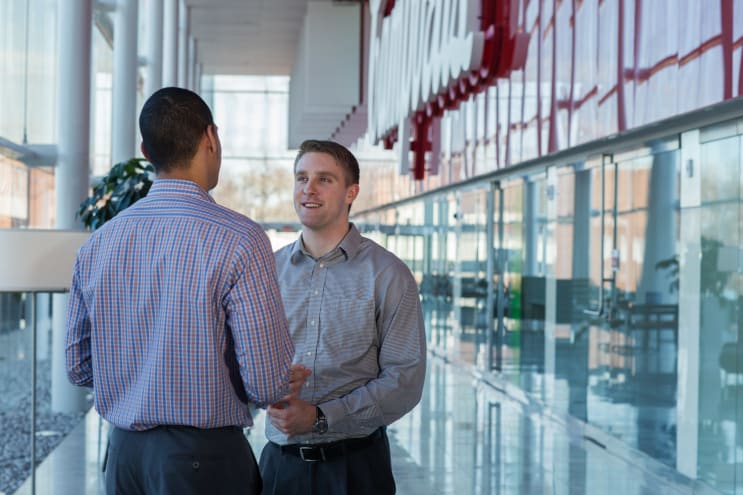 photo courtesy of King's College - Pennsylvania, USA
Finance Concentration
Finance is the art and science of the management of assets, especially money, and the raising of money through the issuance and sale of debt and/or equity. The finance curriculum is designed to provide students with the knowledge of the major concepts and practices of financial management, while at the same time helping them to develop their analytical, decision making, and communication abilities. The globalization of business activities and the availability of capital from sources around the world and the role it plays are incorporated into the Finance curriculum.
The influence and responsibilities of financial executives have expanded dramatically in recent years. Financial officers are involved in the most profound decisions affecting the strategy of business operations. They are concerned not only with the pricing of products but with the initial decisions to produce them. Most aspects of business affairs ultimately reduce to dollar terms, and the financial officers' intimate knowledge of the intricacies of financial operations places them in a vital role in corporate management. Financial careers involve corporate financial management, personal financial planning, investment management and research, and risk management.
Financial management involves the management and control of money and money-related operations within a business. Financial management also refers to the financial input needed for general business decisions such as the adoption of investment projects and securing the funding for the projects. The role of finance includes the oversight responsibility for the effective use of money and financial assets by all decision-makers in the business entity. Personal Financial planners help individuals to create budgets, plan for retirement, and assist in determining the most appropriate investment vehicles for their clients.
Investment management and research span a large number of capital market functions, including trading securities, researching debt-equity issues, managing investment portfolios, assisting with mergers and acquisitions, and structuring new security issues. Risk managers use a wide variety of financial instruments, including financial derivatives, to limit the firm's exposure to adverse economic events like interest rate changes, foreign exchange fluctuations, and commodity price swings.
Careers
There is a wide range of career opportunities in the field of finance, including investment analysis and management, commercial banking, securities trading, corporate treasury functions, and regulatory functions. Recent graduates have been hired by:
Campbell Soup Company

Citizen's Bank

Fidelity Investments

M & T Bank

Merrill Lynch

MetLife

Northwestern Mutual Financial Network

Office of the Comptroller of the Currency
Opportunities for Graduate Studies
Several options are open for graduate studies, including:
M.B.A. programs

M.S./Ph.D. programs in finance

M.A./M.S., Ph.D. programs in economics

Law school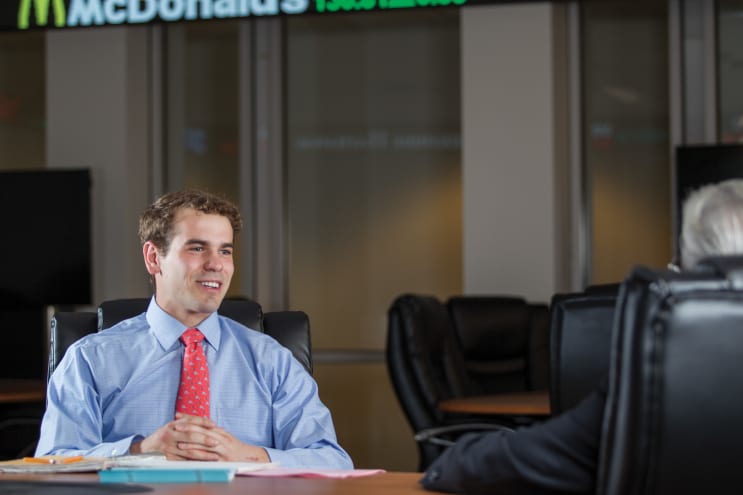 photo courtesy of King's College - Pennsylvania, USA
Degree Requirements
Required Core Courses

(15 Credits)
CIS 110 Introduction to Computer Applications for Business

CORE 153 Principles of Economics: Macro

CORE 180 Social Science in an American Context

CORE 193/IB 241 Globalization

MATH 123 Finite Math
Business Foundations

(39 Credits)
ECON 112 Principles of Economics: Micro

ECON 221 Quantitative Methods for Business and Economics

MSB 100 Introduction to Business (1 credit)

MSB 110 Introduction to Financial Reporting

MSB 120 Introduction to Management Control and Planning

MSB 200 Principles of Management

MSB 210 Principles of Marketing

MSB 220 Financial Management

MSB 240 Business Law I

MSB 250 Business Communication and Mentoring

MSB 287 Business Ethics

MSB 305 Organizational Behavior

MSB 400 Professional Seminar (2 credits)

MSB 480 Strategic Management
Electives

(15 Credits)
Students may choose from any elective course offered/accepted by the College, including non-business courses from the arts and sciences including study abroad experiences and foreign languages.
Required Courses

(8 courses - 20 credits)
BUS 363 Operations Management

BUS 363L Operations Management Lab (1 credit)

ECON 353 Money and Banking

FIN 351 Advanced Financial Management

FIN 355 Investments

FIN 378 International Finance and Commerce

FIN 421 Security Analysis, Portfolio Management, and Trading

CARP 412 Career Planning II (1 credit)
Last updated Oct 2020
About the School
King's is a Catholic, comprehensive college in the liberal arts tradition founded in 1946 by the Congregation of Holy Cross from the University of Notre Dame. The minute you step foot on campus, you'l ... Read More
King's is a Catholic, comprehensive college in the liberal arts tradition founded in 1946 by the Congregation of Holy Cross from the University of Notre Dame. The minute you step foot on campus, you'll feel the warm, friendly vibe; you'll notice the immaculate surroundings and impressive facilities; you'll feel at home in the comfortable, urban setting. King's College is a home away from home—a place that overflows with values for a lifetime.
Read less