Bachelor of Science in Biomanufacturing
Home ›
BSc ›
Bachelor of Science in Biomanufacturing
Program Description
Biomanufacturing
The Biomanufacturing Bachelor's Degree program develops the skills, abilities, and knowledge students need to work in the unique environment of biological production. It emphasizes the applied, quantitative analysis of biomanufacturing process design and performance to prepare students for employment in technical or quality positions in the manufacturing sector of the biotechnology industry, which includes biotherapeutics, diagnostics, supplies and services, and industrial products.
The biomanufacturing bachelor's degree program requires the completion of 120-semester units, including 45 units of upper-division coursework with a minimum of 12 units in residence at MiraCosta College.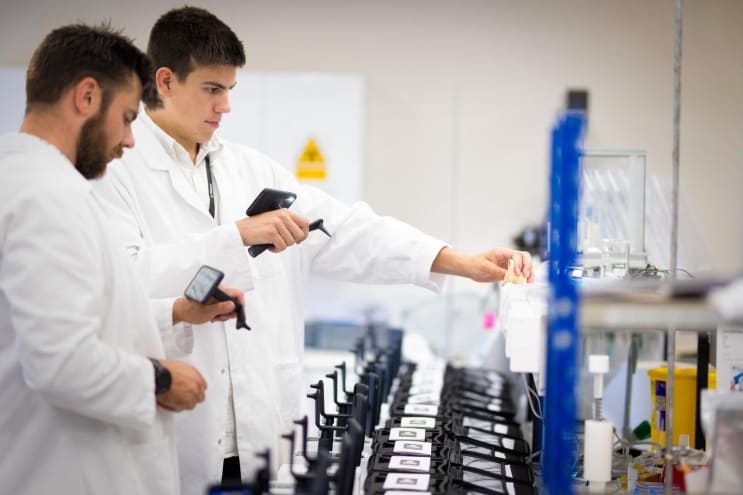 Ben Wicks / Unsplash
The program builds upon the college's associate degree program in biomanufacturing, allowing students who complete the associate degree or equivalent coursework from other colleges to enter as juniors and earn a bachelor's degree. Students earning the college's associate degree in biomanufacturing must complete either the CSU-GE (Plan B) or the IGETC (Plan C) general education pattern to graduate with a bachelor's degree in biomanufacturing.
Lower-Division Major Preparation
Overall GPA of 2.0 for all coursework
Completion of the following lower-division course requirements with no grade less than "C" or "P":

General biology (BIO 105 or equivalent)
CHEM 150/CHEM 150H
CHEM 151/CHEM 151H
BTEC 110
BTEC 120
BTEC 210
BTEC 211
BTEC 221
BTEC 222
ENGL 100/ENGL 100H
Statistics (BTEC 180 or equivalent)
Application for Admission
Students complete the standard online application to the college as well as the Application for the Bachelor of Science in Biomanufacturing, which is available on the Biomanufacturing Bachelor's Degree Program webpage. Applications for the fall 2019 cohort are due in November and are accepted on a rolling basis until the cohort is full.
Additional applications will be accepted until the cohort of 30 is full.
Students who have completed the course prerequisites or are in progress and will have them completed by Fall 2019 are encouraged to apply. Students will apply to the college using the standard online application. In addition to the application to MiraCosta College, there is a separate application process specific to the bachelor's degree.
You can also add yourself to our mailing list. We will send out additional information about the program once it becomes available.
Certain lower-division courses must be completed or in progress in order to submit an application for admission to the program.
Samuel Zeller / Unsplash
Admission/Selection Criteria
Qualified applicants are selected for admission based on a comprehensive review process that gives additional weight to the following:
Percentage of lower-division major preparation completed at the time of applying.
Completion of an associate degree in biomanufacturing, research and development, or equivalent.
Completion before the entry date of BTEC 221 and BTEC 222 (or equivalent).
Completion of additional 200-level biotechnology, biology, or chemistry courses or 100-level physics courses not listed in the program requirements.
Completion (or partial completion) of CSU-GE (Plan B) or IGETC (Plan C).
GPA in lower-division major preparation courses.
Employment in the biotechnology/biomedical industry, including internships.
Relevant life experiences or special circumstances, such as disabilities, low family income, first generation college student, veteran status, and other criteria.
Upper-Division Tuition
Upper-division coursework costs $130 per unit, which is an additional $84 per unit currently charged for lower-division coursework.
Program Student Learning Outcome Statements
Upon completion of this program, students will be able to
Design and execute a project that identifies possible options of new biomanufacturing technologies that serve as process improvements, including technical and financial benefits, and write a report evaluating those options with a final recommendation.
Perform an investigation that requires them to analyze an Out of Specification (O.O.S.) occurrence during a production step in the manufacture of a biological substance, perform the analysis to justify the batch disposition and incorporate this into a C.A.P.A. (Corrective Action Preventative Action) report.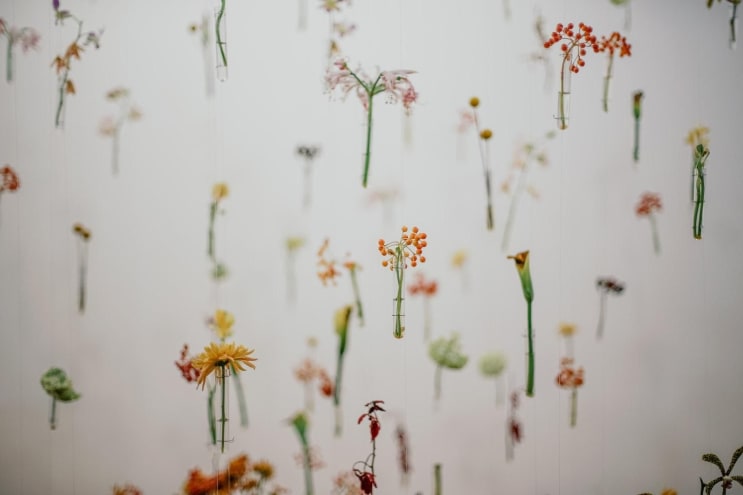 bady qb / Unsplash
Curriculum
Required lower-division courses:
BIO 105 Introductory Biology: Biotechnology in Society *, 3
BTEC 110 Basic Techniques in Biotechnology, 4
BTEC 120 Business and Regulatory Practices in Biotechnology, 3
BTEC 180 Biostatistics *, 4
BTEC 210 Data Analysis with Excel, 1
BTEC 211 Technical Writing for Regulated Environments, 1
BTEC 221 Bioprocessing: Cell Culture and Scale-up, 1.5
BTEC 222 Bioprocessing: Large Scale Purification, 1.5
CHEM 150 General Chemistry I: For Science Majors *, 5

or CHEM 150H General Chemistry I: For Science Majors (Honors)

CHEM 151 General Chemistry II: For Science Majors *, 5

or CHEM 151H General Chemistry II: For Science Majors (Honors)

ENGL 100 Composition and Reading *, 4

or ENGL 100H Composition and Reading (Honors)
Required upper-division courses:
BTEC 300 Supply Chain and Enterprise Resource Planning in Biomanufacturing, 3
BTEC 310 Biomanufacturing Process Sciences, 5
BTEC 320 Design of Experiments for Biomanufacturing, 4
BTEC 330 Advanced Topics in Quality Assurance and Regulatory Affairs, 4
BTEC 340 Six Sigma and Lean Manufacturing, 3
BTEC 360 Design of Biomanufacturing Facilities, Critical Utilities, Processes, and Equipment, 3
BTEC 400 Bioprocess Monitoring and Control, 4
BTEC 410 Methods in Quality, Improvements, Investigations, and Audits, 4
BTEC 460 Capstone Seminar in Biomanufacturing Technologies, 3
BTEC 470 Capstone Seminar in Biomanufacturing Quality, 3
BIO 340 Molecular Mechanisms of Disease, 3
BUS 302 Leadership and Personal Development, 3
PHIL 302 Bioethics, 3
Remaining required lower-division general education and elective coursework. 42
Total Units: 120
* Course satisfies a general education requirement on the CSU-GE or IGETC general education pattern.
Last updated Jul 2019
About the School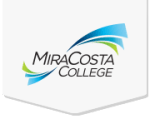 The MiraCosta Community College District mission is to provide superior educational opportunities and student-support services to a diverse population of learners with a focus on their success. MiraCo ... Read More
The MiraCosta Community College District mission is to provide superior educational opportunities and student-support services to a diverse population of learners with a focus on their success. MiraCosta offers undergraduate degrees, university-transfer courses, career-and-technical education, certificate programs, basic-skills education, and lifelong learning opportunities that strengthen the economic, cultural, social, and educational well-being of the communities it serves.
Read less