Program Description
Coastal Ecology and Conservation
The Bachelor of Science in Biology with a concentration in Coastal Ecology and Conservation serves the need for trained coastal scientists with knowledge and skills required to address the unique problems facing coastal ecosystems. Environmental stresses from intense commercial and residential development have the potential to significantly impact sensitive coastal ecosystems if growth is not properly managed. USCB is well positioned to exploit the unique physical and ecological characteristics of the Sea Islands Coastal Region for the training of our students in the protection the local environment. Several of USCB's recent graduates are currently pursuing advanced degrees in some to the most competitive graduate programs both domestically and internationally. Others are working in local and regional coastal conservation/science positions as well as ecotourism jobs.
The types of classes you will take include: Invertebrate Zoology, Biology of Marine Organisms, Marine Plants, Ichthyology, Conservation Biology, Marine Ecology, Molecular Marine Ecology, and Selected Topics in Biology.
Research opportunities, including projects with the Research Vessel Vagabond, are also available.
Biology Curriculum
USCB offers the Bachelor of Science with a major in Biology. To qualify for graduation, a student must meet general education requirements and biology core requirements as stated below.
Coastal Ecology and Conservation Concentration: students have the ability to receive a concentration in Coastal Ecology and Conservation that will be listed on the transcript upon graduation. Students will need to take at least 4 courses (a minimum of 15, but not exceeding 18 credits) with corresponding laboratories within this concentration.
Admissions Standards for the Biology Program
Students who fulfill the admission requirements of USCB may enroll as biology majors. Transfer students are required to have a 2.0 GPA.
The Biology program has the following goals:
Provide students with a diverse knowledge in the biological sciences and significant exposure to the physical sciences.
Prepare students for careers in the medical and health professions, environmental and natural resource management, and conservation areas.
Foster a fundamental understanding for the process of science and an appreciation for how the life sciences and other areas of science impact our everyday lives and the future of the natural world.
Provide students with the scientific background needed to understand and participate in the burgeoning biotechnological revolution.
Provide students with the opportunity to understand themselves and their world from a scientific perspective.
Serve as a necessary core area in science to allow the development of the other traditional sciences and foster the development of other interdisciplinary minors and majors.
Provide promising undergraduate students with significant research experiences
Provide much-needed opportunities for interaction with the local citizenry concerning environmental and health care issues and environmental issues through formal classroom instruction, internships, seminars, and informal educational opportunities at local events
Upon successful completion of the biology degree, the student should…
possess an understanding of biological systems at the molecular, physiological, organismal, and ecological levels;
demonstrate critical thinking skills, analytical techniques, and problem-solving skills applied to biological problems;
possess a knowledge of classical research leading to the fundamental concepts and principles that serve as the foundation for biological inquiry; and
be able to apply the scientific method to expand scientific knowledge and understanding.
Last updated Feb 2018
About the School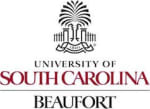 Situated in the Carolina Sea Islands in a region rich in history, steeped in natural beauty, teeming with extraordinary opportunities for those who participate in golf, tennis and water sports of all ... Read More
Situated in the Carolina Sea Islands in a region rich in history, steeped in natural beauty, teeming with extraordinary opportunities for those who participate in golf, tennis and water sports of all kinds and thriving as one of the world's great resort destinations, USC Beaufort offers students an exceptional place to learn and live in an environment focused on growth, preservation and opportunity.
Read less