Bachelor of Science in Banking and Finance
Program Description
The Finance Department at Dar Al-Hekma University offers a unique well-structured program that prepares students for success in the dynamic financial world. The first in the region to offer an Islamic Finance track, the Department is keen on preparing young professionals for this fast-growing field. Beginning students in the Program start with core business courses to establish a strong foundational understanding of the business environment. Specialization courses are taught in the junior and senior years providing students with a deeper understanding of specialized areas such as Investment Banking, Corporate Finance, Risk Management, Zakat and Tax Accounting, Auditing, Managerial Accounting, and Financial Modeling.
Combining their academic and financial expertise gained through many years of experience in the industry, our faculty expose students to the realities of the market and work on enhancing their critical thinking skills.
The Department aims at bridging the gap between theory and practice by offering many opportunities for exposure to real life practices through presentation to inspiring industry leaders, guest speakers, and educational trips. Students also participate in worldwide competitions, such as the CFA Research Challenge.
Our students are in high demand in the financial job market sector which offers many career paths and opportunities. Our graduates start their careers with top employers including, Saudi Banks such as National Commercial Bank and Saudi British Bank, and international firms such as PwC, Ernest and Young, BMG Financial Group, and Unilever.
Key Facts:
Format: Full-time on campus, 4 years
Intake: Fall and Spring Semesters
Language: English
Track(s): Islamic Finance
Number of Credits: 130
Program Mission
To graduate professionals equipped with concepts and skills of international standards in the area of banking, investment, and finance from both conventional and Islamic perspectives.
Why Choose the Banking and Finance Program at Dar Al-Hekma University?
The curriculum was designed in collaboration with top local and international universities. Developed by Hass School of Business, University of California Berkeley, USA and tailored specifically to the Saudi market by King Fahd University. The Finance and Accounting curriculum combines theory and concepts with practical skills needed in the job market. The Program associates itself with the industry through strong links with prominent employers in order to prepare its graduates to meet the job market requirements.
Our faculty is a mix of highly qualified international and local scholars who hold degrees from reputable world-class universities.
The Finance and Accounting Department plays an important role in promoting the financial sector in Saudi Arabia by providing qualified professionals in the fields of Finance and Accounting.
Our graduates have a high rate of employability in the financial sector, which is a multifaceted large industry providing a vast range of job opportunities for future graduates.
The high-quality education of the Program is reflected in the professional success of our graduates who are usually employed by top local and international companies such as NCB, PwC, and Unilever. Those who opt to pursue their post-graduate studies are accepted by top international universities such as SOAS, LSE and Durham University.
Career Prospects
Financial analyst
Banker
Financial Manager/Officer
Financial Markets Analyst
Fund/Investment Manager
Financial Advisor/Consultant
Financial Planner
Investment Analyst
Investment Banker
Insurance Specialist/Officer
Real Estate Manager
Stock Broker
Portfolio Manager
Bank Manager/Officer
Development Banks/Institutions Officer
Venture Capital Professionals
Sharia Compliant Specialist (Islamic Track)
Last updated Dec 2019
About the School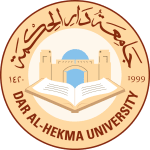 Located in the heart of the metropolitan city of Jeddah, Dar Al-Hekma is one of Saudi Arabia's leading teaching and research universities for young women. Since its opening in 1999, Dar Al-Hekma is de ... Read More
Located in the heart of the metropolitan city of Jeddah, Dar Al-Hekma is one of Saudi Arabia's leading teaching and research universities for young women. Since its opening in 1999, Dar Al-Hekma is dedicated to endowing its pupils with the skills and knowledge they need to flourish and succeed in a rapidly changing world.??
Read less