Program Description
The Bachelor of Science in Accounting is considered one of the most versatile degrees in business. The Accounting program at Dar Al-Hekma offers a thorough and rigorous academic program in accounting studies. Students will get an in-depth understanding of the technical and theoretical aspects of accounting, including auditing, taxation, financial management, management science, economics, and marketing.
The program will prepare students for a variety of job opportunities in numerous sectors of the economy. Also, it can help students meet professional designation requirements, including the Chartered Professional Accountant (CPA), the Certified Management Accountant (CMA) and the Chartered Financial Analyst (CFA).
Accountants are in high demand in Saudi Arabia, due to the implementation of the International Financial Reporting Standards (IFRS) for small and medium enterprises (SMEs).
Program Mission
To graduate professionals equipped with concepts and skills of international standards in the area of accounting and auditing.
Why Choose Accounting Program at Dar Al-Hekma University?
The Hekma School of Business and Law incorporated an Accounting program in order to reflect the needs of the labor market and recent market developments, such as the adoption of International Financial Reporting Standards in Saudi Arabia, effective from 2017.
The curriculum will reflect both the entrepreneurial character of Dar Al-Hekma's institutional philosophy in graduating female leaders and entrepreneurs. It will allow the Schools' graduates to enter yet another exciting labor market segment, which is currently undergoing local change due to standard and international changes as a result of continuous technology-related developments and diversification.
The accounting program at Dar Al-Hekma University will prepare the graduates for international certificates such as Certified Management Accountant (CMA), Certified Public Accountant (CPA), Association of Chartered Certified Accountants (ACCA). In this context, accounting students will gain advanced theoretical and practical knowledge of accounting and finance; master computational and calculation skills as well as techniques used in professional accounting practice; and finally become skilled in the area of corporate governance, corporate financial analysis, and financial planning.
Career Prospects
Qualified accounting professionals are thus in high demand across the board due to the importance of accounting for all businesses and individuals across all industries and sectors. Some of the most popular job titles and career paths in corporate or personal finance, credit consultancy or risk management include:
Accountant
Assistant Controller
Auditor
Budget Analyst
Credit controller
Collector/Collection Agent
Estate Planner
Inventory Control Specialist
Financial Analyst
Fund Raiser
Internal Auditor
Loan/Loan Administrator
Payroll Manager
Personal Financial Advisor
Revenue Agent
Stock Broker
Financial Trader
Investment analyst
Tax Examiner
Tax Manager/Tax Specialist
Also, accountants may work in management consultancy, banking, insurance companies, hospitals, schools, businesses and the public sector, building societies, stock market and working for multinational companies, as well as not-for-profit organizations. Moreover, accounting students may pursue an advanced business degree, such as an MBA or acquire professional designations such as CFA or CPA.
Last updated Dec 2019
About the School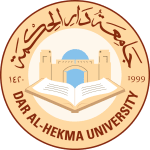 Located in the heart of the metropolitan city of Jeddah, Dar Al-Hekma is one of Saudi Arabia's leading teaching and research universities for young women. Since its opening in 1999, Dar Al-Hekma is de ... Read More
Located in the heart of the metropolitan city of Jeddah, Dar Al-Hekma is one of Saudi Arabia's leading teaching and research universities for young women. Since its opening in 1999, Dar Al-Hekma is dedicated to endowing its pupils with the skills and knowledge they need to flourish and succeed in a rapidly changing world.??
Read less