Bachelor of Science (Hons) in Business Management
Home ›
BSc ›
Bachelor of Science (Hons) in Business Management
Read more about this program on the school's website
Program Description
Program Details
The Bachelor of Science (Hons) in Business Management is a unique program offered by MERITUS UNIVERSITY that enables a student to build a holistic understanding of the eco-system of the business environment both from the business as well as technical aspects.
Unique features of this program:
Able to demonstrate in-depth knowledge in Business Management with a particular focus in managing a business and to ensure the continued sustainability of the business.
Have a continuous improvement attitude with rational and practical considerations in the thinking process (critical thinking).
Capable of accepting as well as deriving solutions through both creative and innovative ideas.
Appreciate the continuous changing requirement of businesses and constantly thinking of overcoming challenges faced in achieving a set of objectives.
Equipped with employable skillsets that enable them to perform activities of managing a business as a professional ethical manager.
Subjects Offered:
Personal Development
Employability Skills
English Language
Personal & Leadership Development
Compulsory
Ethnic Relations
Foreign Language – Mandarin or Japanese
Research Method and Academic Writing
TITAS
Business
Business Communication
Corporate and Business Strategy
Entrepreneurship
Finance for Business
Financial Accounting and Reporting
Human Resource Management
Introduction to Malaysian Business Law
Introduction to Organisations and Management
Macroeconomics
Marketing, Communication and Branding
Microeconomics
Risk Management
Social Enterprise Project
Management
Business Ethics
Change Management
Consumer Behaviour
Corporate Innovation and Entrepreneurship
Customer Service
Financial Reporting and Analysis
Foundation of Sustainable Business
Information Technology for Business
Innovation Management
International Trade Finance
Introduction to Cost Accounting
Introduction to Environment Sustainability
Market Research and Analysis
Marketing Management
Operations Management
Organisational Behaviour
Practical ISO
Principles of Accounting
Project Management
Project Paper
Quantitative Methods with Big Data for Business
Strategic and Responsible Innovation Management
Supply Chain Management
ArtTower
/
Pixabay
Minimum Requirements for Admission
Pass Matriculation/Foundation in Science and Technology / Science / Arts / Business field or its equivalent from a recognized higher learning institution by the Malaysian Government with a minimum CGPA of 2.0 or
Pass A-Level with minimum Grade C in any 2 subjects and a pass in Mathematics and English at SPM level or any equivalent qualification or
University Aggregate of 50% or ATAR score of at least 50 for various Australian Matriculation Programs or
Complete International Baccalaureate Diploma Programme (IBDP) with a minimum of 20 points in 5 subjects or
Complete Canadian Pre-University (CPU) with a minimum average of 50% in 5 subjects or
Pass any MQA Accredited Level 4 Diploma or Level 5 Advanced Diploma with a minimum CGPA of 2.0 or
Any other qualification that is equivalent and approved by The University Senate.
Foreign Students English Proficiency
International English Language Testing System (IELTS)
Test of English as a Foreign Language (TOEFL)

Paper-based test score of 500 and above or
Computer-based test score of 173 and above or – Internet-based test score of 61 and above.

A conditional offer is considered on a case to case basis by the Admissions Committee.
Job Opportunities and Placements
MERITUS UNIVERSITY has established a number of industry collaboration through the Halim Mazmin Group with some of the leading organisations in Malaysia as well as around the region. Students will have the opportunity to conduct their project work with these companies or potentially even work for these companies when they graduate.
Employment Prospects
MERITUS UNIVERSITY's programmes are carefully designed to ensure that our graduates have ample opportunities for employment by ensuring that not only our syllabus meets the needs of the industry but also to ensure that our graduates have the necessary employability, leadership and teamwork skills highly sought after by today's employers.
Last updated Feb 2020
About the School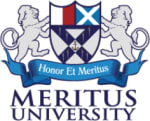 As a niche university, MERITUS' unique approach to education is to offer a practical and effective blend of traditional, modern and experiential learning to ensure success.
As a niche university, MERITUS' unique approach to education is to offer a practical and effective blend of traditional, modern and experiential learning to ensure success.
Read less