Program Description
About this Course
The degree provides students with a strong foundation in quantitative, economic, accounting and finance subjects.
The finance units provide students with an understanding of the way in which financial intermediaries and institutions operate and the structure and functioning of financial markets.
Students will learn about the pricing of financial assets and why and how corporations choose and issue various types of assets.
The banking units provide information on precisely how financial intermediaries operate, both on a domestic level and in the international arena.
The degree allows students to choose optional units in related areas which complement the core units to give well rounded coverage of the major issues and areas of modern financial theory and practice.
Entry Requirements
Applicants must have one of the following Entry requirements:
STPM
2 passes (excluding General Paper)
A-level
2 passes
ATAR
80 or above score
CPU
6 passes (at leasr 70% is achieved in each of those subjects )
HELP Foundation in Arts
(pass any 4 of the following subjects: Calculus, Accounting, Microeconomics, Macroeconomics, Finance, Economics Principles, Business Principles, Marketing Principles)
HELP Foundation in Science
University of London International Foundation Programme
Foundation Programme from other institutions
fully accredited by MQA
HELP Diploma in Business
Diploma from other institutions
fully accredited by MQA
UEC
5 B's inclusive of English & Maths
SPM
3 credits (non overlapping) inclusive of English and Maths
UEC
8 B's inclusive of English & Maths
OPTION 3 (ONLY CHINA / VIETNAM)
Senior High Examinations in the country of origin
Minimum grade level of 70% in each of the 5 best subjects
OPTION 4 (ONLY CHINA / VIETNAM)
Education in the country of origin
Attended at least 12 years
OPTION 4 (ONLY CHINA / VIETNAM)
HELP's Foundation Programme
3 passes (Advanced English, Calculus and Critical Thinking Skills)
Intakes
March 11 (Year 1), May 13 (Year 1), September 3 (Year 1/2/3)
Last updated Apr 2020
About the School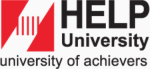 Since 1986 we have grown steadily and sturdily. We have sustained our student number and ensured a robust financial position. We have distinguished ourselves by excelling as a thought leader, an incub ... Read More
Since 1986 we have grown steadily and sturdily. We have sustained our student number and ensured a robust financial position. We have distinguished ourselves by excelling as a thought leader, an incubator of outstanding graduates, a model of selective excellence, and as a community-caring institution. All these years our educational goals have been to prepare students for their first job graduate school, to prepare students for their subsequent career and to prepare students for a fulfilling and productive life. The drives of our vision are our values which are based on "Pride Of Achievement, Sharing Success, The Courage to Be, To Be compassionate, and To be Significant"
Read less