Read more about this program on the institution's website
Program Description
This programme does not consider second choice applications. The credit requirements of this programme are indicative only and subject to review.
Programme Aims
Being the most established applied chemistry programme in Hong Kong, our BSc(Hons) in Chemical Technology programme offers a broad and rigorous education in contemporary chemistry and training in laboratory practices. The programme emphasizes the application of chemistry in technological innovation. Through the programme, students develop competence in problem solving and communication. These abilities are essential for graduates to pursue professional careers in business and technical services in chemical and related industries.
Characteristics
Focusing on the technological application of chemistry, this programme comprises Core and Elective Subjects in chemical principles, applied/industrial chemistry, and chemical process technology.
This is one of the most popular applied science programmes in Hong Kong, and it is specifically designed to enhance graduates' career prospects in the government, business and industrial sectors.
Elective Subjects include Medicinal Chemistry, Natural Products Chemistry, Food Processing Technology, Environmental Science, Principles of Quality Assurance and Economic Analysis for Process Technology. These subjects broaden and enrich students' knowledge and skills, which should enhance their career prospects in the commercial and industrial sectors. Our students would gain further work experience through industrial visits, Work-Integrated Education and summer placements in local and overseas companies.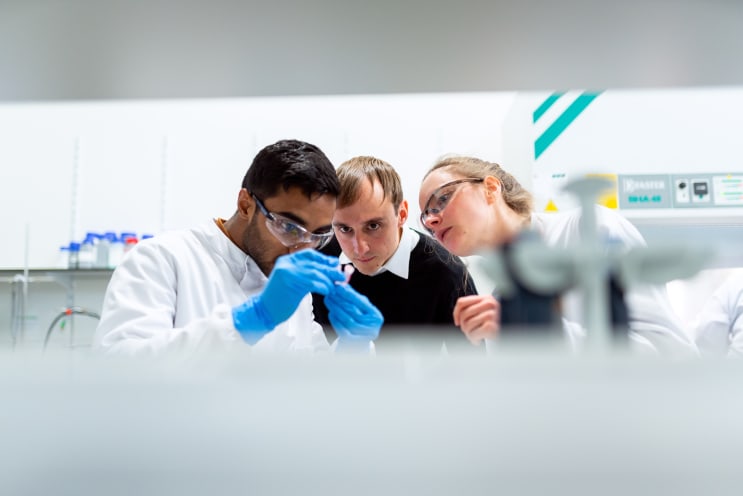 Curriculum
Year One studies include the University's core curriculum and underpinning subjects common to science students and general chemistry with laboratory skills training.
Year Two studies cover the general analytical, organic and physical chemistry, plus the basics of chemical process technology.
Year Three studies introduce the intermediate level of organic, inorganic, physical and analytical chemistry, and chemical process technology.
In the Final Year, an investigative project allows students to learn, experiment and practise chemistry on a topic of their choices.
Professional Recognition
Graduates qualify for membership of the Hong Kong Chemical Society (HKCS) and the Royal Society of Chemistry (RSC) in the UK.
Career Prospects
Graduates are able to pursue careers in industry, business or the public sector. Our graduates work as chemists, technologists, and chemical and/or biochemical process engineers. Employment opportunities abound in industries, such as plastics and toys, cosmetics and fragrances, drugs and pharmaceuticals, pollution control and the manufacture of printed circuit boards. Graduates can also pursue openings in sales and marketing, or as management executives in various fields.
Graduates are qualified as chemical analysts or environmental protection officers for the government or public utilities. Teaching chemistry in secondary schools is another possibility. Graduates who wish to pursue further studies have excellent opportunities both in Hong Kong and overseas.
Entrance Requirements
PolyU welcomes applications from qualified candidates from around the world. The following guidelines are for the reference of students who wish to seek admission to PolyU based on non-local qualifications. Qualifications that cannot be found below will be considered on a case-by-case basis.
GCE A-level / International A-level

GCE Advanced Level or International Advanced Level with passes in 3 AL, OR 2 AL and 2 AS, subjects

(This is only the minimum eligibility criteria. Applicants who gain admission, typically, attain at least BBB in 3 AL subjects.)

International Baccalaureate (IB)

A minimum score of 24 with at least grade 4 in 2 Higher Level subjects

(This is only the minimum eligibility criteria. Applicants who gain admission, typically, attain a score of 30 or above, including bonus points.)

SAT Reasoning Test/ACT/Advanced Placement Test/SAT Subject Tests

A High School (Graduation) Diploma (non-Chinese curriculum) and any one of the following:

a total score of 1190 in the SAT Reasoning Test; or
an American College Test (ACT) composite score of 24;

and

grade 3 in two Advanced Placement (AP) subjects; or
a score of 600 in two SAT Subject Tests

[English language requirement is waived for those attaining a score of 590 or above in the Evidence-based Reading and Writing in the SAT]
Applicants with good results in the GCE A-level / International A-level or International Baccalaureate (IB) can be granted up to 25% credit transfer upon admission to the 4-year degree curriculum.
Other Information
Applicants attaining good results in Chemistry are preferred.
Testimonies
My four-year university degree experience as a student of Chemistry has been rewarding. Students are constantly challenged by the design of the studies and by the diverse coursework, ranging from fundamental subjects to advanced electives, which provides the opportunity to develop into different subfields of chemistry.
When conducting experiments as part of the course work, I worked closely with my partner in the inorganic chemistry laboratory. We were asked to plan our own schedule and we completed the work in 10 lab sessions. Teamwork was important and our success in completing all the experiments in a limited time gave me enormous satisfaction. I was able to put my learning to the test, and got a taste of the real world where not everything is ideal.
Time did fly, and my schedule was full of academic work or extra-curricular activities. I was constantly busy with various tasks or attending meetings on campus, and I wanted to make the most of my university life. Establishing a work-life balance was another invaluable lesson I learned from PolyU's Chemical Technology programme
Tan Mei Fen
Last updated Nov 2020
About the School
With 80 years of proud tradition, PolyU is a world-class research university, ranking among the world's top 100 institutions. The Hong Kong Polytechnic University (PolyU) is a home for educating think ... Read More
With 80 years of proud tradition, PolyU is a world-class research university, ranking among the world's top 100 institutions. The Hong Kong Polytechnic University (PolyU) is a home for educating thinkers, communicators, and discoverers in delivering positive impact. We are committed to training tomorrow's leaders today, through a professionally-oriented education that delivers graduates unrivaled placements to thrive in businesses and industries. We strive for inter-disciplinary research and impactful innovations for discoveries to solve real-world challenges. Our researchers are developing breakthrough ideas, fostering sustainability, lifting economic outcomes, and improving communities' lives for the benefit of Hong Kong, the nation, and the world.
Read less