Bachelor of Science (Honours) in Accounting and Finance
Home ›
BSc ›
Bachelor of Science (Honours) in Accounting and Finance
Program Description
This accounting and finance degree is your first step into the vast industry. Accountants and finance specialists have a central role in all types of organizations; public and private sector, within industry and commerce. The accountant has become a key player in the provision of management information to enable successful decision making, planning, and control. Accounting is more than just a computational skill and the programme will develop your ability to analyze and to evaluate real-life situations and effectively communicate your views and opinions. You will consider practical techniques involved in accounting and finance, and develop skills to critically analyze the theory behind these techniques.
The Accounting and Finance Division is one of only six universities to have courses accredited by AAT (Association of Accounting Technicians). This means that once you graduate you will be able to apply for AAT membership, providing you with a professional qualification to enhance your employability.
The Division has also retained its accreditations from ACCA (Association of Chartered Certified Accountants – 9 exemptions), CIMA (Chartered Institute of Management Accountants), ICAEW (Institute of Chartered Accountants in England and Wales) and AIA (Association of International Accountants).
Course Assessment
The modules will be assessed through the use of coursework-based assessments and examinations.
Teaching and Learning
Lectures, tutorials, and independent learning are employed. To make sure that students have a clear understanding of the concepts, tutorials are used to re-emphasize the key areas.
Independent learning involves pupils taking the initiative in recognizing learning requirements and undertaking activities to meet them. These activities could take the form of research, tutorial exercises, review questions and coursework.
Modules
Year 1
Financial Accounting*
Cost and Management Accounting*
The Accountant in Business*
Financial Skills and Numeracy*
The Economic Environment*
Business and Company Law*
Year 2
Financial Management
Financial Reporting
Management Accounting
Taxation Theory and Practice
Financial Environment*
Enterprise Operations*
Year 3
Accounting Project
Advanced Accounting Theory and Practice
Corporate Finance
Management Accounting – Decision Making
Taxation
Audit and Investigations
Entry Requirements
Age
17 years old
Academic Qualification
Obtained at least a Pass in any one of the following:
TMC Professional Diploma in Accounting and Finance
Relevant Polytechnic Diploma*
Advanced / Higher Diploma in ( Accounting / Finance ) from Private Education Institutions*
* Assess on a case by case basis. Relevant Polytechnic Diploma and other Higher / Advanced Diploma holders may have to obtain a TMC Professional Diploma prior to the Accounting and Finance degree.
English Qualification
Any of the following or equivalent:
At least a C6 at GCE O English
Completed a Higher / Advanced Diploma where medium of instruction is English
Pass an English online test and an interview with the Dean/HOD/designate
IELTS 6.0
TOEFL ( Paper ) ≥ 547
TOEFL ( Computer ) ≥ 210
TOEFL ( Internet ) ≥ 78
TOEIC ≥ 780
Attend and pass Certificate in English up to Academic English level
Course Fee
Local: $18,200
International: $23,260
Last updated Mar 2018
About the School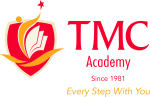 TMC Academy was established in Singapore in 1981. It offers courses in various disciplines including Accounting, Business and Management, Infocomm Technology, Hospitality/Tourism Management and Psycho ... Read More
TMC Academy was established in Singapore in 1981. It offers courses in various disciplines including Accounting, Business and Management, Infocomm Technology, Hospitality/Tourism Management and Psychology/Counselling. It also offers language and bridging courses for international students to enter the Singapore education system. TMC Academy was one of the first six Private Education Institutions to obtain the 4-year prestigious EduTrust Certification awarded by the Committee for Private Education (CPE).
Read less