Bachelor of Science (BSc) Industrial Engineering
Home ›
BSc ›
Bachelor of Science (BSc) Industrial Engineering
Program Description
BSc Industrial Engineering
The College of Engineering aims to produce competent and responsible engineers ethically committed to the application and advancement of Science and Technology geared towards national development.


Objectives

1. To provide the future engineers with thorough knowledge and technical skills to contribute to the continuing development of the industry.
2. To enhance the creative abilities of future engineers in responding to the needs of the society through research.
3. To equip engineers with moral and social values and with a strong commitment to the protection of the environment.
4. To produce engineers who will be dynamic leaders in their field of endeavors.
5. To develop entrepreneurial abilities and skills of future engineers.


Core Values

1. Faith in God
2. Honesty
Bachelor of Science in Industrial Engineering (BSIE) deals with the study of mathematical techniques as applied to business and manufacturing industry. It includes a study on facilities design, factory automation, methods engineering, and entrepreneurial training.

The program aims to produce graduates to keep abreast with the demands of continuous advancement in Industrial Engineering and enhance the professional growth and development to serve the welfare of the society.
Specific Objectives

The program specifically aims:


to provide students with solid foundation in science and engineering for professional advancement;
to equip the students with knowledge of the modern industrial principles and practices that will enable them to handle systems problems for decision making; and
to develop students' creative abilities in problem solving for the effective utilization and conservation of resources.
Curriculum
First Year - 1st Semester


College Algebra
Plane Trigonometry
General Chemistry 1
General Chemistry Lab 1
Communication Arts 1
Engineering Drawing 1
Physical Fitness
National Service Training Program 1


First Year - 2nd Semester


Analytic Geometry
Solid Mensuration
General Chemistry 2
General Chemistry Lab 2
Communication Arts 2
Land Reform and Taxation
Engineering Drawing 2
Rhythmic Activities
National Service Training Program 2


Second Year - 1st Semester


Differential Calculus
Engineering Physics 1
Engineering Physics Lab 1
Technical Report Writing
Sining ng Pakikipagtalastasan
Philippine History
Logic
Individual/Dual Sports
Typing 1


Second Year - 2nd Semester


Integral Calculus
Engineering Physics 2
Engineering Physics Lab 2
Politics Governance & the N.C.
Phil. Literature in English
General Psychology w/ Drug Addiction
Pagbasa at Pagsulat sa Iba't-ibang Disiplina
Team Sports
World History


Third Year - 1st Semester


Statistics & Probability w/
Research Methods
Industrial Psychology
Basic Accounting
Differential Equation
Engineering Mechanics
Comp. Fundamentals Lab
Comp. Fundamentals
Elementary Elect. Eng'g Lab
Elementary Elect. Eng'g


Third Year - 2nd Semester


Industrial Economics
Managerial Acct'g.
Advanced Statistics
Advanced Engineering Math
Thermodynamics
Engineering Materials
Strength of Materials
Values Formation


Fourth Year - 1st Semester


Engineering Methods Lab
Engineering Methods & Accounting
Industrial Org. & Management
Operation Research 1
Methods of Research
Numerical Method
Environmental Science
Society & Culture w/ Family Planning


Fourth Year - 2nd Semester


Financial Management
Industrial Process
Occupational Safety & Health
Operation Research 2
Ergonomics
Computer Programming Lab
Computer Programming
Engineering Economy
Rizal Course


Fifth Year - 1st Semester


Industrial Marketing
Project Feasibility Study/Thesis
OJT/Practicum
Production & Operation Management 1
Statistical Quality Control
Waste & Pollution Management
Industrial Personnel Management


Fifth Year - 2nd Semester


IE Computer Software
IE Computer Software Lab
Contracts, Laws & Ethics
Information System
Factory Automation & Design Lab
System Engineering
Inspection, Trip & Seminar
Factory Automation & Design
Production & Operation Management II
Last updated Feb 2018
About the School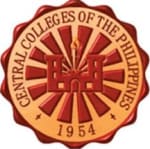 Welcome to the Central Colleges of the Philippines, one of the country's higher educational institutions in Metro Manila. Whether you are a prospective student or an alumnus, we encourage you to brows ... Read More
Welcome to the Central Colleges of the Philippines, one of the country's higher educational institutions in Metro Manila. Whether you are a prospective student or an alumnus, we encourage you to browse our website to learn about the many exciting educational activities here. 

The Central Colleges of the Philippines is committed to becoming a premier educational institution producing professionals imbued with the proper values and discipline preferred by local and global organizations. PhilosophyThe Central Colleges of the Philippines is dedicated to the pursuit of knowledge, truth, and excellence towards the holistic formation of the human person as a strong foundation for the national pride, discipline, and development.VisionThe Central Colleges of the Philippines is envisioned to develop the intellectual, artistic, scientific and technological minds of students essential to the attainment of the country's goals for rapid modernization and global competitiveness.MissionThe Central Colleges of the Philippines aims to: provide quality and relevant education accessible to all; train individuals to develop personal discipline and critical, creative thinking; and produce committed professionals imbued with the ideas necessary to serve the welfare of the society. Services and Facilities The School has an Air-Conditioned Studio theatre, complete with audio-visual devices for the use of students during convocations, seminars, symposia, film showings, etc.The School has an adequate number of public telephone booths and drinking fountains for the use of its students.The food service facilities are located in the Main and Extension Campuses for the convenience of the students and personnel.Located in fully Air-Conditioned rooms at the 2nd Floor of the HR Reyes Computer Hall is the New Computer Technology Center which includes: A Computer Laboratory consisting of more than 300 computers of the latest models that provide a 12-hour daily hands-on service to students with at least 2 Local Area Networks. Full-time laboratory instructors are always on hand to guide and help the students in their hands-on activities.Our landmark building dubbed the "Consorcia P. Reyes Hall" houses the College of Nursing with its air-conditioned classrooms, Anatomy Laboratory, Microbiology Laboratory, Chemistry Laboratory, Physics laboratories, a Chapel and a gymnasium equipped, among others, with synthetic wooden basketball court, an electronic scoreboard and movable bleachers.A separate Multimedia Laboratory with complete audio-visual facilities for showing instructional software of such popular software as Visual Studio, Microsoft Office 2003, AutoCAD 2006, etc.A separate CADD Laboratory with software for design subjects in Architecture, ECE, EE, and CompE Courses.The School maintains two Air-Conditioned libraries; the Main Library at the Antonino Hall, and the Nursing/High School Library at the Extension Campus. A vast collection of books and periodicals is augmented regularly through continuous requisitions by faculty and students. The School libraries observe the Open-Stack-System. Photocopying machines are available for use by the students at minimal cost.The School maintains a Roman Catholic chapel consecrated to the Immaculate Conception for the spiritual needs of the academic community. It performs important church services such as the Mass on First Fridays, Anticipated Mass on Saturdays and on Holidays.The School maintains two Air-Conditioned Medical/Dental Clinics staffed by physicians, dentists, and nurses. Students, faculty and support staff may avail of the medical and dental services for consultation and treatment. An Optometry Clinic is also available not only to the students, faculty, and staff but also to the immediate members of their family for free consultation and prescription.The Guidance and Counseling Office assists students in the development of their personality and maximization of their potential in academic and personal pursuits.The students and alumni can avail of job and employment assistance through their respective Colleges and the CCP Alumni Association.The students and employees are physically secured and protected by specially trained Security Officers employed by the School and by a private security agency.
Read less