Bachelor of Psychological Science (Hons), Flinders University-HELP University Join Degree
Home ›
Bachelor ›
Bachelor of Psychological Science (Hons), Flinders University-HELP University Join Degree
Program Description
HELP University's Department of Psychology and Flinders University's School of Psychology jointly offer the Bachelor of Psychological Science and Bachelor of Psychological Science (Honours) degree.
This historic joint degree, the first of its kind in Asia, allows students to complete a three-year degree or a four-year honours degree in Malaysia which is accredited by the Australian Psychology Accreditation Council (APAC). This accreditation allows graduates of this programme to apply directly to any Australian or New Zealand university to continue with their PhD or Masters studies.
This programme is available for students who have completed their pre-university studies and also for HELP Bachelor of Psychology students. HELP Bachelor of Psychology students are eligible to apply to transfer into Year 2 or Year 3 of this programme. Students who obtain a minimum GPA of 5.25 (out of 7) in the third year of the Bachelor of Psychological Science degree will be eligible to enter into Bachelor of Psychological Science (Honours).
The aims of this course are to develop knowledge of the factors influencing human behaviour and experience, and to provide skills for the application of this knowledge to issues in the real world. Graduates will develop core knowledge in psychological theory and research to prepare them for possible entry into an Honours programme in psychology.
The course provides comprehensive knowledge of such fields as learning, motivation, personality, emotion, development across the lifespan, social and cultural influences, biological influences, and mental health. Also integral to the course is the development of critical thinking and research skills, and an understanding of the ethical responsibilities of researchers and psychology clinicians.
Why Psychology @ HELP?
Largest Asian Undergraduate Psychology Programme
Distinguished Academics
Strong Research Culture
Entry Requirements
Applicants must have one of the following Entry requirements:
SAM
minimum ATAR of 70
A-Levels
minimum of 2 A-Level and 2 AS Level subjects, with a minimum score of 7 for best 3 subjects (General Paper and first language subjects to be excluded from this calculation).
STPM
minimum of 2 or 3 subjects, with a minimum score of 7 for best 3 subjects
UEC
maximum score of 25 for best 5 subjects and a minimum of 5 Bs
CPU
minimum score of 65%
HELP Foundation in Arts/Foundation in Science
minimum GPA of 5 out of 7 (with credit in Advanced English)
Intakes
January 9, May 23, August 21
Last updated Apr 2020
About the School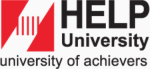 Since 1986 we have grown steadily and sturdily. We have sustained our student number and ensured a robust financial position. We have distinguished ourselves by excelling as a thought leader, an incub ... Read More
Since 1986 we have grown steadily and sturdily. We have sustained our student number and ensured a robust financial position. We have distinguished ourselves by excelling as a thought leader, an incubator of outstanding graduates, a model of selective excellence, and as a community-caring institution. All these years our educational goals have been to prepare students for their first job graduate school, to prepare students for their subsequent career and to prepare students for a fulfilling and productive life. The drives of our vision are our values which are based on "Pride Of Achievement, Sharing Success, The Courage to Be, To Be compassionate, and To be Significant"
Read less