Program Description
As a musician you need to be able to adapt to current trends and you can learn how to do this in a Bachelor of Music at Melbourne Polytechnic. Develop your skills and awareness of the global spectrum of music.
Connect with the world of music
When you enrol and start the course you'll explore a contemporary music program that includes small and large ensembles in such genres as:
Oz Rock
Soul R'n'B and Gospel Choir
Contemporary and Early Jazz
Jazz Vocal
Hip Hop
Original Pop
John Zorn
Stevie Wonder
Mahavishnu Orchestra
Improvisation
Beatles
You'll enjoy an intercultural music program that encompasses small and large ensembles in such genres as:
Tango Brazilian
Balkan
Indian
West African
Balinese
Gamelan
Georgian
Afro-Cuban
Middle Eastern
You'll have over seven hours of weekly contact time in Music Performance subjects over 13-week semesters, including: individual lessons, technical workshops, performance platform, visiting artist master classes, contemporary ensemble, and intercultural ensemble.
You can major on any Western instrument, voice, or on an ethnic or electronic instrument. And you can study composition/arranging as well as performance in state-of-the-art recording studios and post-production suites. Our progressive curriculum integrates aural, theory and performance.
Industry connections and resources
Your teachers in the Bachelor of Music maintain strong and active ties with the music industry, being active performers, composers and arrangers as well as educators. Their industry involvement is recognised through awards, grants and prizes from industry bodies such as APRA/AMCOS, The Australian Jazz Bell Awards and The Australia Council for the Arts. The teachers tour and study interstate and overseas to create global industry ties and maintain currency.
You will have access to the state-of-the art theatre (the Yarra Edge Music Centre) with full production and recording capabilities.
There are ample practice rooms equipped with drum kits, piano, PA and amplifiers, all able to be reserved online. You will also use:
Mac labs with full complement of music software
well-resourced library with three levels including Higher Education study area and music-equipped Macs.
Employment outcomes
On completion of the Bachelor of Music at Melbourne Polytechnic you will be qualified for a wide range of roles in the music industry – either with a company or as a self-employed artist.
Modes of Delivery
Individual lessons, Workshops, Classroom
Assessment Methods
Various forms of assessment may be used including assignments, music recitals, practical demonstrations, aural and written exams, oral presentations, and folio work.
Pathways to further study
The Bachelor of Music also works as a stepping-stone to higher qualifications such as a Masters of Teaching, which is required for many ongoing teaching positions in music.
Career Pathways
On completion of this bachelor degree you will be qualified as: arranger, performer, composer, sound and audio engineer, songwriter, small business operator, music programmer, director, creative director, private studio teacher, community music director, sound creator and sound technician. You may also gain specialist jobs in the music industry including music media, equipment, publishing and record companies.
Enrolment Intake
Entrance Requirements
Local Students
VCE Music (group and/or solo performance) study score at least 20 (or equivalent study)
VET advanced diploma course in music performance
Relevant industry experience with capacity to work at degree level
Selection by audition (level: AMEB 6th grade practical, 4th grade theory)
Audition tests theory, technique (instrumental/vocal), technical routines, performance/aural/music reading skills
Book audition
International Students
Academic: Australian Year 12 equivalency, to include studies in music (group and/or solo performance)
English: Academic IELTS 6.0 overall with no individual band below 5.5, or equivalency
Other: Applicants are required to participate in an interview and audition
Interviews and auditions by Skype or telephone are available for applicants overseas or interstate.
Units of Study
Credit points are a basic measure of student workload. All subjects are given a credit point value. Most subjects at Melbourne Polytechnic are 12 credit points. A normal full-time annual workload is 96 credit points. The academic year is divided into two main semesters; full-time students usually enrol in 48 credit points each semester, part time students usually enrol in 24 credit points each semester or less.
Code Subjects
BOM110 CONTEMPORARY MUSIC THEORY 1
BOM111 AURAL MUSICIANSHIP 1
BOM112 CONTEMPORARY ENSEMBLE 1
BOM113 INTERCULTURAL ENSEMBLE
BOM114 CULTURE & CONTEXT OF MUSIC
BOM115 MUSIC PRACTICE 1
BOM120 CONTEMPORARY MUSIC THEORY 2
BOM121 AURAL MUSICIANSHIP 2
BOM122 CONTEMPORAY ENSEMBLE 2
BOM123 INTERCULTURAL ENSEMBLE 2
BOM124 CAREER STRATEGIES IN THE MUSIC INDUSTRY
BOM125 MUSIC PRACTICE 2
BOM210 CONTEMPORARY ARRANGING 1
BOM211 AURAL MUSICIANSHIP 3
BOM212 CONTEMPORARY ENSEMBLE 3
BOM213 INTERCULTURAL ENSEMBLE 3
BOM214 MUSIC MEANING, AESTHETICS AND CRITICISM
BOM215 MUSIC PRACTICE 3
BOM216 MUSIC COMPOSITION 1
BOM220 CONTEMPORARY ARRANGING 2
BOM221 AURAL MUSICIANSHIP 4
BOM222 CONTEMPORARY ENSEMBLE 4
BOM223 INTERCULTURAL ENSEMBLE 4
BOM224 INTRODUCTION TO MUSIC TECHNOLOGY
BOM225 MUSIC PRACTICE 4
BOM311 AURAL MUSICIANSHIP 5
BOM312 CONTEMPORARY ENSEMBLE 5
BOM313 INTERCULTURAL ENSEMBLE 5
BOM314 COMMUNITY MUSIC
BOM315 MUSIC PRACTICE 5
BOM316 MUSIC COMPOSITION 3
BOM317 MUSIC TECHNOLOGY IN COMPOSITION
BOM318 TRANSCULTURAL MUSIC 1
BOM319 BODY MAPPING AND PERFORMANCE WELLNESS
BOM320 ARRANGING FOR LARGE ENSEMBLES
BOM321 AURAL MUSICIANSHIP 6
BOM322 CONTEMPORARY ENSEMBLE 6
BOM323 INTERCULTURAL ENSEMBLE 6
BOM324 MUSIC EDUCATION
BOM325 MUSIC PRACTICE 6
BOM326 MUSIC COMPOSITION 4
BOM327 MUSIC TECHNOLOGY IN PERFORMANCE
BOM328 TRANSCULTURAL MUSIC 2
Last updated May 2019
About the School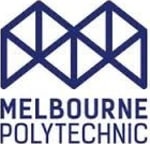 Melbourne Polytechnic has been delivering vocational training since 1912 and today offers a diverse range of innovative, hands-on TAFE (VET) and Higher Education (Degree) programs to equip you with th ... Read More
Melbourne Polytechnic has been delivering vocational training since 1912 and today offers a diverse range of innovative, hands-on TAFE (VET) and Higher Education (Degree) programs to equip you with the knowledge and skills to excel in an evolving and challenging marketplace. Melbourne Polytechnic courses are designed and developed with industry participation to give students the best employment outcomes. Melbourne Polytechnic has seven metropolitan campuses, Preston, Collingwood, Epping, Fairfield, Greensborough Campus and Heidelberg. Each campus provides an individual, unique and enriching student experience.
Read less