Program Description
What is the purpose of this study program?
A printer, smartphone, air temperature thermostat, refrigerator with digital management mechanism, smart washing machine, robot grass trimmer, or vacuum cleaners - all of these are mechatronics and robotics engineers' products that we encounter with on a daily basis. These gadgets and devices facilitate household chores and are used as integral parts of the most advanced technological systems, medical equipment, warfare manufacture, production.
It is mechatronics and robotics specialists, who have made the greatest input to the fourth manufacturing revolution, the result of which is the decreasing demand for the human workforce. Humans are being replaced by machines and robots, which make independent decisions and are able to organize work, while the human performs only a supervising function.
Mechatronics and robotics is the science that unifies all major engineering directions: mechanics, electronics, electrotechnics, automatics, informatics.
The aim of this study program is to prepare versatile specialists, who are able to do technological, organizational, construction, and mechatronic as well as robotic systems exploitation, digital production supervision engineering, and expertise-advisory work. In the course of studies, students acquire knowledge of IT and programming.
A vacuum cleaner may be just a mechanical machine, but it also may be an electronically run robot. It vacuum cleans a room independently of the human and avoids obstacles with the help of electric impulses, thus, choosing the necessary trajectories. The artificial intellect that operates the robot is developed by mechatronics and robotics specialists. These mechatronic mechanical systems much facilitate human lives.
What will students learn?
Some key abilities and knowledge that Mechatronics and Robotics study program helps students develop and acquire include:
Knowledge of mechanics applied electronics and mechanisms as well as robot operation systems theories;
Knowledge of mechatronic and robotic systems design methods;
The ability to identify and analyze technical (manufacturing) issues and solve them;
The ability to formulate and solve mechatronics and robotics tasks;
The ability to design and research mechatronics and robotics systems;
The ability to create mechatronics and robotics equipment manufacturing technologies;
The ability to implement digital manufacturing;
The ability to operate complex technical equipment.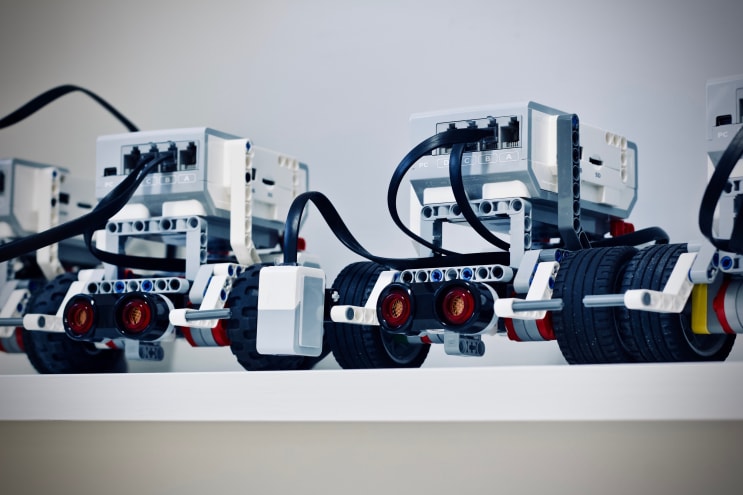 Where can students make practice?
Professional practices are carried out in companies with the most recent production facilities and technologies. Students acquire practical skills working with the equipment, technology, learn about company management.
Where is it possible to study abroad?
With Erasmus, academic exchange program studies are available from one semester to the year abroad. Partnership geography is very wide.
What about career opportunities after BSc studies?
Once you have graduated, you will be employable as a specialist able to:
Work at Lithuanian Engineering Production Association enterprises that produce and distribute mechatronics and robotics devices;
Work in the field of automatization, automated surface processing, and installation robots, robotic lines implementation and maintenance, diagnostics and space products formation areas;
Work at pharmaceutic, food, light industry, and other enterprises;
Pursue the second-cycle (master's degree) education under the joint study program Mechatronics or Mechatronics Systems. The program is implemented in association with the German Braunschweig University of Technology, and in collaboration with the following enterprises: "Arginta", "Traidenis", "Precizika Metrology", "Loro", "Vilniaus baldai", "Intersurgical", etc.
Last updated Oct 2020
About the School

Vilnius Gediminas Technical University (VGTU) is a leading higher education institution situated in Vilnius the capital of Lithuania. Established in 1956 VGTU is one of the biggest research universiti ... Read More
Vilnius Gediminas Technical University (VGTU) is a leading higher education institution situated in Vilnius the capital of Lithuania. Established in 1956 VGTU is one of the biggest research universities in the country with a focus on technologies and engineering and a strong emphasis on university-business cooperation.
Read less