Bachelor of Global Communication and Management
Home ›
BA ›
Bachelor of Global Communication and Management
Program Description
Overview
The Global Communication and Management Program (GCM) offers a Bachelor of Arts degree in Communication for international, enrolling students from 2020. The program may be completed in four years of study.
Adhering to the long-standing international teaching philosophy of Zhejiang University, the GCM program is committed to training entrepreneurs and future business leaders who combine interdisciplinary knowledge, expertise in financial and business analysis, and a deep understanding of China's business environment to excel in China and compete globally. Students will graduate with bilingual proficiency in Chinese and English, cross-cultural communication skills, and a solid foundation of knowledge about China. Equipped with the fundamentals of communication and management, students will be able to succeed in multinational corporations and Chinese enterprises in the fields of management, business, communications and marketing and will be well-equipped to serve as a bridge between China and the world.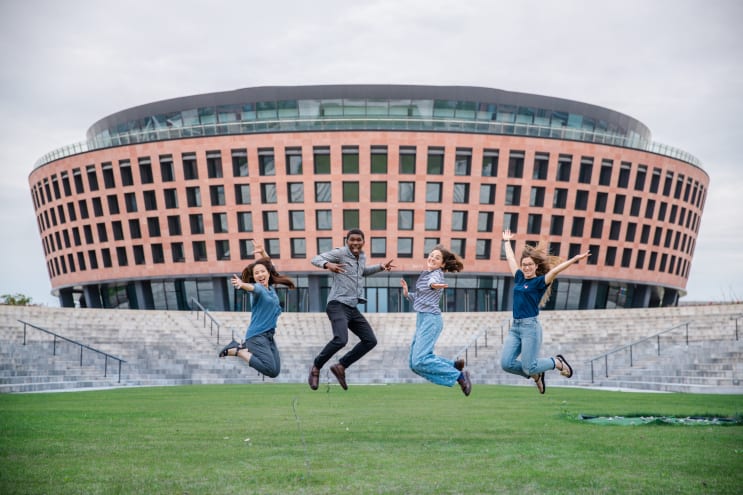 Program Features
Interdisciplinary Pedagogy
The program of GCM is Zhejiang University's first undergraduate business program to welcome international students. The trailblazing program is also the first of its kind to combine management, finance, communication, and China studies into an interdisciplinary platform for international undergraduate students.
Applied and Bilingual Curriculum
Practical courses in Chinese language and culture, communications, finance, and global business are offered. English is the primary language of instruction, with Chinese being used in applied settings and research. Cross-cultural communication is stressed throughout the program.
Engagement in World-Class Learning Environment
The Zhejiang University International Campus, where the program is located, is a model for international cooperation and integration of Eastern and Western styles of education. The campus brings together prestigious Chinese and foreign professors and a large international student community and admits several hundred highly qualified Chinese high school students each year.
Hub For Entrepreneurship and Innovation
Beyond the classroom, ZIBS provides exceptional opportunities for professional practice, industry internships, and cultural experiences. ZIBS has established strategic partnerships with Ant Financial and other leading firms, providing students the ability to participate in a 6-month practical training program in world-leading firms.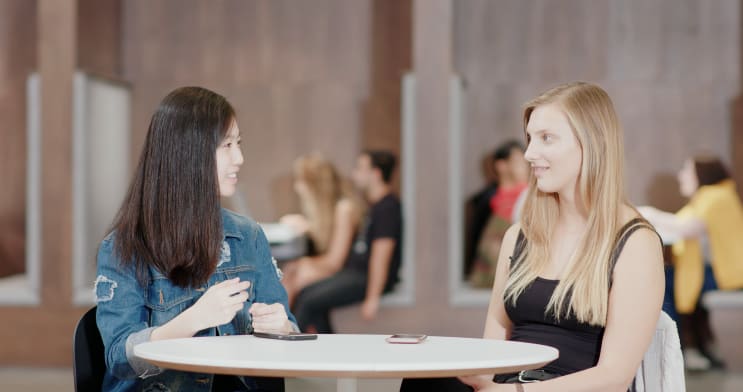 Admission
Application Qualification
Candidates must be non-Chinese citizens between the ages of 18-30 and hold a high school diploma.
Candidates are recommended to have basic Chinese language skills. Program applicants will pass a Chinese proficiency test organized by ZIBS.
Candidates whose native language is not English, or who have not completed a high school diploma in the English language, must provide proof of English proficiency, such as TOEFL (80 or higher), IELTS (5.5 or higher).
According to the regulations of the Chinese Ministry of Education, candidates from Mainland China, Hong Kong, Macau, and Taiwan will be considered international students after immigration to foreign countries if they hold a valid foreign passport or national ID before April 30, 2016, and have a record of at least 2 years of overseas residence between April 30, 2016, and April 30, 2020 (residing overseas for at least 9 months of a given year will count as residing overseas the entire year. Residency will be calculated from entry and exit stamps).
If the applicant has acquired foreign citizenship automatically at the time of birth in a foreign country and one or both parents are Chinese citizens, then the review of applicant's application will be implemented according to the No.210 [2008] Article issued by Exit-Entry Administration Office, Provincial Public Security Bureau, Zhejiang Province.
Application Process & Documents Required
※For application details and deadline, please contact the ZIBS Program Team (gcm@intl.zju.edu.cn) before submitting your application.
Step One: Online Application

Please log on to the Online Application System (http://isinfosys.zju.edu.cn/recruit/login.shtml) to fill in the application form online, print it, and sign your name.

Step Two: Pay the application fee to the Online Application System. If one fails to make the online payment, then one MUST pay the application fee to the University's Bank Account, and upload the remittance letter to the System.
Step Three: Submit the following application documents (Placed in the Following Order):

Application form with ID photo (white background, 35mm×45mm in size).
A photocopy of the passport.
Senior high school diploma (original copy or notarized copy). Graduating high school students can provide a pre-graduation certificate.
Transcript for all the courses in senior high school (original copy or notarized copy);
TOEFL/IELTS or other score reports of English language test (for English-instructed program applicants, whose native language is not English).
Two recommendation letters from high school teachers. Teachers' signature, contact phone number, and email address must be put on the letter.
A personal statement should include study experience, reasons for application, personal strengths. Less than 800 words.
Photocopy of award certificates related to academic courses during your senior high school period. (If any)
Applicants who have given up their original Chinese citizenship and become foreign citizens should submit (1) cancellation certificate of Chinese citizenship (2) current citizenship certificate (3) exit and entry record on passport, from April 30, 2016, to April 30, 2020.
If an applicant acquired foreign citizenship automatically at the time of birth in a foreign country and one or both parents are Chinese citizens, then the applicant should submit (1) birth certificate of the foreign country (2) Chinese parents' permanent resident certificate of the foreign country (permanent resident certificate should have been obtained prior to the birth of the applicant). Copies of the certificates mentioned above are acceptable.
Applicants under 18 (by September 1, 2020) should submit (1) Letter of Guarantee(Download) (2) notarized Authorization Letter written by parents.
Remittance receipt of the application fee. (If any)
Notes:
Results of international standard tests (e.g. SAT/IB/GCE A-LEVEL/ACT/OTHER) are accepted.
Application documents in other languages must be translated in Chinese or English and notarized.
The above-mentioned documents must be handed in or delivered by express to Office of Admissions, International College, Zhejiang University. The application package should be labeled "Bachelor Degree Program Application Materials."
Application materials and the application fee will NOT be returned regardless of the result of the application.
Zhejiang University may ask the applicants to submit supplementary materials or take a telephone/video interview or written examination if necessary.
Caution:
If students fail to come or quit schooling after registration for any personal reasons, the pre-paid tuition fee will NOT be refunded.
When wiring the tuition fee to the university bank account, the application serial number and applicant's name must be filled in. applicant's name. Anonymous remittance will be considered a donation to the university.
Application Fee: RMB 800 yuan(Payment Information)
Interviews: ZIBS Admission Office will short-list applicants and determine who will be interviewed. Interviews will be held face-to-face or via video conference.
Tuition Fee
The tuition fee is 65,000 RMB per year.
The final tuition fee will be subject to change according to the latest government policy.
ZIBS Undergraduate Entrance Scholarship(RMB 10,000-30,000 Yuan)
Objectives

The ZIBS Undergraduate Entrance Scholarship is established to reward individuals with outstanding potentials. It is opened to GCM applicants. The scholarship will be paid to students monthly as a living allowance, starting one month after the student registration period. The scholarship will be disbursed over the period of one school year (10 months). Students are, however, required to pay the tuition in full upon registration.

Application Guidelines

Applicants should fill in the scholarship application form and send it to the Undergraduate Program Team(gcm@intl.zju.edu.cn).

Evaluation Criteria

The scholarship offer will be determined based on applicants' transcripts in senior high school, interview performance, and potential contributions. The result will be announced during mid-June.
Medical Insurance
Students who have paid the whole academic year's tuition fees on time or are funded by a full-scholarship are entitled to the comprehensive medical insurance offered by the university.
Note: The medical treatment expense for physical or mental diseases which students suffered before entering the university cannot be covered by this insurance.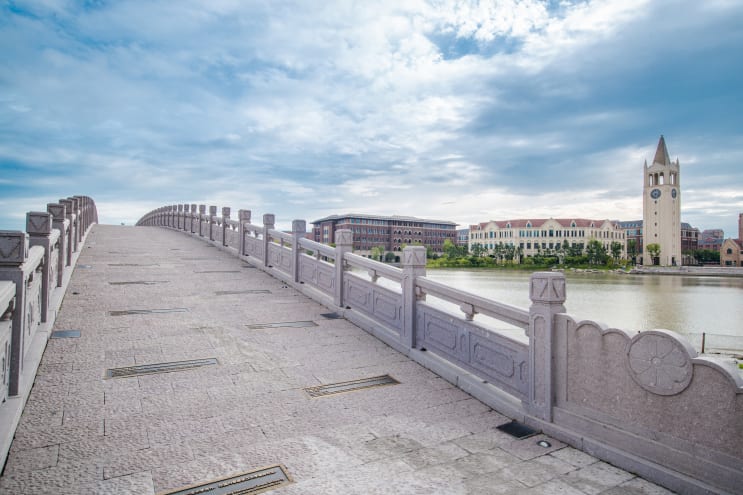 Last updated May 2020
About the School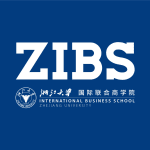 Zhejiang University International Business School (ZIBS) was founded on the ZJU International Campus at Haining in November 2018 to facilitate academic and corporate exchange between the West and the ... Read More
Zhejiang University International Business School (ZIBS) was founded on the ZJU International Campus at Haining in November 2018 to facilitate academic and corporate exchange between the West and the East. With a legacy of academic excellence, innovation, and entrepreneurship from China, ZIBS embraces and embodies the future. The business school prepares responsible and aspiring leaders, and the ecosystem it serves, to face the challenges of an increasingly complex global business environment. By connecting people and ideas, ZIBS shapes the future of business in the new global economic era.
Read less