Program Description
The University of North Alabama is an accredited institutional member of the National Association of Schools of Art and Design (NASAD). The Department of Art offers major programs leading to the Bachelor of Fine Arts degree; minor programs in art, art history, and photography; and coursework applicable to partial satisfaction of general studies components in all programs. Subject programs for the preparation of art teachers are offered as a double major in Art and Education.
The Bachelor of Fine Arts degree program is designed for students with a professional interest in art, and five areas of concentration are offered: ceramics, digital media, painting, photography, and sculpture. Candidacy for the Bachelor of Fine Arts Degree requires successfully passing a portfolio review following the completion of 45–96 credit hours of university coursework.

Arts Degree - Ceramics Concentration
The Ceramics Concentration focuses on throwing and/or hand-building with clay. Skills of building, decorating, glazing, and kiln firing are emphasized. High-fire reduction, mid-range oxidation, and raku firings are offered. Students are guided to develop their own concept or style in order to create a mature body of work.
Equipment
Gas Kilns

2 Gas reduction kilns

Bailey 18 cub ft.
Alpine 12 cub ft.
Olympic Raku Kiln

Electric Kilns

Bailey Large Electric Kiln

Skutt Medium Electric Kiln (2)
Cress Medium Electric Kiln
Paragon Electric Test Kilns (2)

Additional

Shimpo & Brent electric pottery wheel (12)
Soldner Clay Mixer
North Star 20"
Slab Roller
Brent Slab Toller
Large Clay Extruder with Dies
Small Clay Extruder with Dies
Laguna Spray Booth
Slip-O-Matic Slip Mixer
Large tables for hand-building
Storage and shelving for students work

Arts Degree - Digital Media Concentration
The Digital Media concentration is a studio-oriented focus on current digital technologies used as tools for creative expression and communication. Our Digital Media curriculum will expose you to a diversity of digital art courses including 2D, Web, Multimedia, and Video, as well as related studio art courses, semiotics, art history, theory, and conceptual/critical thinking. You will acquire the industry standard technical skills that you will need to create graphic design, interactive web design, multimedia, and motion graphics. You will graduate with a professional level portfolio containing a broad range of contemporary digital media that reflects your personal aesthetic.

Arts Degree - Painting Concentration
The Painting concentration leads students through all areas of the traditional and contemporary painting. Building upon an academic foundation, students will explore techniques in a variety of current artistic trends - ranging from observational painting to the creation of public art pieces and everything in between. Each student is guided to develop their own unique vision and prepared to present their work to a real and interactive world.

Arts Degree - Photography Concentration
The Photography concentration moves you from structured studies in the sophomore year to a self-determined learning focus in the senior year in which your individual interests will be emphasized. You will gain working knowledge in both film and digital photography, learn historic and alternative imaging processes and explore both traditional and contemporary aesthetics. When you graduate, you will have built a portfolio that demonstrates your technical ability and creative originality.
Events
The Photo department does annual trips to Atlanta and Nashville visiting photographers, photo studios, galleries, and a Study abroad program in Paris France. In addition, The photo department does collaborations with the UNA departments such as culinary, writing, and entertainment industries departments.
Equipment
Black and White print enlargers
Print dryers
Dry Mount Press
Matt Cutter
Studio lighting equipment
Medium and large format cameras
Digital Medium format camera

Arts Degree - Sculpture Concentration
The Sculpture concentration focuses on sculptural design and concepts through material exploration. From environmental sculpture to interactive installation, mixed media processes are presented as a catalyst for concept and personal narrative. Students are guided to develop their own visual voice through sculptural processes and manipulation of space to create a mature body of work.
Equipment
12" Table Saw
Compound Miter Saw
Arc Welder
Oxy-Acetylene Torch
1/3 HP Grinder
Planer
Drill Press
Router
Belt and disk sander
Band Saw
Large Air Compressor
5' Tool Cabinet
Large tables for working
Storage and shelving for students work
Art Careers
A successful career in art requires commitment, diligence, flexibility, and good luck. While a bachelor degree will bring you entry-level job opportunities, you must be prepared to begin your career with a strong portfolio and volunteering, internships and part-time job experiences. A graduate degree might be necessary for higher-level positions. Areas of employment opportunities might include:
Art Therapy
Hospitals, nursing homes, rehabilitation centers, etc.
Graduate level training with psychology or counseling background a must.
Media Industry
Animation, video and film production, editing, art journalism, art criticism.
Education
Public or private schools K-12 art teacher, Instructors for adult and community programs.
Retail Industry
Custom framing, display design, purchasing, store management, fashion coordination, sales.
Photography
Media organizations, advertising agencies, design studios, auction houses, large corporations.
Museum and Gallery
Education, curatorial, conservation, art collection management, publications, exhibition design.
Fine Arts Business
Self–Employed, shared studios, network, join an artist guild and participate in juried exhibitions.
Commercial Art
Illustration, advertising, magazine and newspaper, packaging, web and interactive media design.

Our graduates have chosen to pursue higher education and/or careers in many fields of professions. The skills and knowledge they gained at UNA have prepared them for careers in:
Art Education
University Art faculty in Studio Art, Art History, and Humanities, Visual Art Instructor for K – 12
Commercial Business
Theater and Film Production Artist, Custom Jewelry Designer, Photo Restorer, Certified Framer, Package Designer
Graphical Design
Director of Marketing and Design, Web Design and Marketing Associate, Web and Mobile Developer, Multimedia Graphic Artist, Publication Designer and Illustrator
Independent Entrepreneurship
Resident Instructor for Nonprofit Art Studio, Self-Employed Fine Artist (Painter, Sculptor, Printmaker, Ceramist), Photo Journalist, Owner of Portrait Photography Business, Owner of Designs/Visual Communications Business

Tuition & Fees
| | | |
| --- | --- | --- |
| | Alabama Resident | Non-Resident |
| 1-11 Hours | $277.00/hour | $554.00/hour |
| 12-18 Hours | $4,155.00 flat rate | $8,310.00 flat rate |

Addition fees apply. All expenses and fees are subject to change.
Last updated Dec 2018
About the School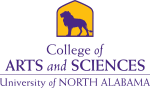 The College of Science, Technology, Engineering, Arts and Mathematics, 19 different departments with an array of majors, minors and certificate programs working independently and together to ignite th ... Read More
The College of Science, Technology, Engineering, Arts and Mathematics, 19 different departments with an array of majors, minors and certificate programs working independently and together to ignite the dream that creates the steam that powers your future. Join us and get ahead!
Read less