Bachelor of Engineering in Print Media Technologies
Program Description
This Bachelor of Engineering provides technical education in Germany while students will be armed with the professional, creative and cross-cultural skills needed to prosper at home and abroad.
In Germany, Print Media Technologies is the first and only international undergraduate program in engineering dedicated to media, which is exclusively taught in English and designed for students from across the world. It is a unique subject which combines creativity, science, technology, intercultural studies, corporate management, and languages.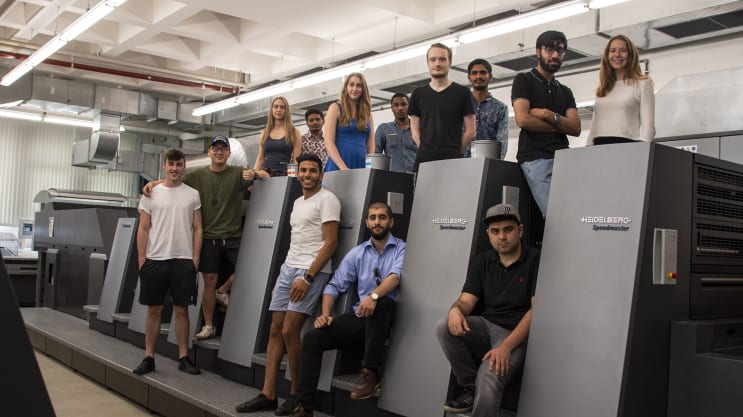 Graduates enjoy high-quality jobs. The placement rate is 100%. The program is to form educated leaders and practitioners on media issues; which include senior technical, management and marketing positions across the world. Graduates work in internationally expanding businesses. The program is firmly designed to promote proficiency in media engineering; in addition, students will develop critical-thinking and public-speaking skills.
New technologies continue to develop. Variable data printing for the individualization of packaging and personalization of commercial print will play a more prominent role in communication and marketing. The symbioses between the Internet and print media offers new products, revolutionizes the way we communicate and triggers new marketing strategies.
The faculty runs a unique state-of-the-art learning center equipped with advanced media technology i.e. the latest printing machines used in the industry. It is the largest and best-equipped centre in Europe and features a great number of laboratories and studios, including digital and commercial printing presses, creative printing set-ups, 3 D printing, a packaging print factory and the latest post press equipment used for binding and finishing. Students will also enjoy the many advantages of a new pre-media facility involving the latest IT technologies and specific workflows available to the media industry.
Application
As we are serious about educating global leaders for tomorrow, we need graduates who can engage in many different societies and will be able to build cooperations between them. Foreign language is an important part of this endeavour. The pursuit of foreign language education is not considered a luxury to be sought by a few. Rather, foreign language instruction is a core element of our degree Print Media Technologies.
English Language Requirements
All applicants must have a qualification in the English language before they can be admitted to the Bachelor programme Print Media Technologies (PMT), whether their first language is English or not.
All teaching at PMT at Hochschule der Medien (HdM) is carried out in English (with the exception of some German teaching during the third year) and tutors must be convinced that you have sufficient fluency in written and spoken English to cope with your course from the start. Therefore, all non-native English-speaking applicants must satisfy one of the following requirements:
TOEFL (550 paper-based PBT, 72 internet-based iBT, or higher), validity of certification 2 years from the day of issue
IELTS (6,0 or higher), validity of certification 2 years from the day of issue
Cambridge Certificate of Proficiency (grade B or higher)
Cambridge Advanced Certificate (grade A)
OOPT (GER: B 2 or higher), validity of certification 2 years from the day of issue
Allgemeine Hochschulreife (grade in English 2,0 resp. 12 credits or higher)
GCSE in English (grade B or higher)
International GCSE in English as a second language (grade B or higher)
Exemptions from this requirement will be considered for applicants who have:
studied the International Baccalaureate programme, if it is taught in English
studied the Singapore Integrated Programme (SIPCAL)
studied in Australia, Canada, Ireland, New Zealand, United Kingdom, or the United States of America and have acquired a university entrance certificate.
acquired an equivalent level of English in High School
German Language Requirements
We require no previous German language skills. Non-German speaking students are required to study German as part of the degree. Students will acquire the necessary language skills in German by attending regular German language classes as part of their programme. From the third year onwards students need to attend selected technical or business courses taught in German.
General Language Requirements
Until the third year classes are conducted in English.
Students for whom English is not their native/first language will be required to demonstrate an advanced level of written and spoken English.
German native-speakers are required to study academic English or may study a third language such as French, Italian or Spanish.
Language classes are compulsory throughout the study.
Careers
Baden-Wuerttemberg has one of the lowest unemployment rates in Europe, as you can read in Why Stuttgart?
But what would this mean for our Students? Where would they find a job? The Employment rate of alumni is actually 100%, so you don't need to worry, you will be able to choose where you prefer to go.
Our graduates are working as researchers, managers, and creatives in international businesses involving in media production and engineering. They work in marketing, management and production roles in both print and new media publishing, everywhere from major corporates through to innovative craft creators.
Where do our alumni work?
...Porsche AG, Mercedes Benz AG, Springer Group, Bertelsmann, BASF, Tetra Pak, Bosch, Friesland Campina, Frito Lay, MBO, DuPont, Merck, Flint, Mondi, Asahi, Kodak, HP, Canon, Fuji, Heidelberger Druckmaschinen AG, Konica-Minolta, Beiersdorf, Henkel, Ferrero, Storck, Procter & Gamble, Unilever, L'Oréal, Cornelsen, Klett-Gruppe, Deutsche Bank, Würth, Hugo Boss and many, many more....
Last updated Oct 2020
About the School
Since the 1st September 2001, Hochschule der Medien has brought together the combined know-how of the former University of Printing and Media, an educational institution with over 100 years of traditi ... Read More
Since the 1st September 2001, Hochschule der Medien has brought together the combined know-how of the former University of Printing and Media, an educational institution with over 100 years of tradition, and the University of Librarianship and Information whose history reaches back to 1942.
Read less