Bachelor of Engineering, Mechanical Engineering
Home ›
Bachelor ›
Bachelor of Engineering, Mechanical Engineering
Read more about this program on the institution's website
Program Description
Goal:
The degree programme qualifies the future engineers for the Savolax technology industry. Duties vary within the fields of engineering, business, and management such as project management, sales engineering, operations and supply chain management and engineering. The work placement is most probably found in a company operating with global exports.
Project operations, as well as customer, contractor or partnership interactions, require a core competence and teamwork knowhow, attitude, methods, and tools.
As an engineer, the necessary technology expertise focuses on product design and development and manufacturing technology. The studies in business management concentrate on project management, marketing, sales, business economics, procurement, the supply chain, international business operations and quality management.
An important part of the programme is getting used to operating effectively a variety of interpersonal networks. Self-development, communication and interpersonal skills, organizational and social as well as international competence and problem-solving skills are included in Industrial engineering know-how. The objective of the programme is to produce a high-quality team player instead of an individual player.
The structure of the studies is based on process thinking and the learning process on problem-based learning. Students are able to include in their programme special project studies in companies in Finland or abroad.
Specialisations:
The main subject is industrial management, and in particular, project management and networks. However, there are no two identical industrial engineers as they get their degrees. The student's interests and choices create a unique competence profile.
When you are in the early stages of your studies you will make your own study plan. Previous degrees and acquired competencies can often be taken into account and compensate the studies so that the completion time can be shortened.
The student can complete her / his individual study plan with 15 credits of studies supporting the education profession she/he has chosen. In addition, students have the benefit of an extensive international partner university network.
Qualifications:
The title of the degree in Finnish is insinööri (AMK). With EUR-ACE status it qualifies the student to apply for master degree programmes in the European Union.
The Savonia University of Applied Sciences Degree programme in Mechanical Engineering passed in 2014 the EUR-ACE evaluation which is maintained by the organization of E.N.A.E.E. This is a European technology organization that evaluates programmes for engineers. The EUR-ACE status makes sure that the programme meets the quality standards of the European Union. Informally they are spoken of as European engineers. Graduates can work as chartered professional engineers throughout Europe.
Content of Studies:
Basic studies provide students with a good knowledge of engineer's basic competencies in mathematics, natural sciences, communication and information technology. These skills are essential in an engineer's work and for professional studies.
Professional studies provide students with a good knowledge of industrial processes and engineer's basic competencies in mechanical engineering, production, and logistics. These studies provide students also with a good knowledge and understanding of business processes and business life in society.
Specialised studies provide the students with high professional expertise according to their individual choices. Industrial engineering and management engineers have a wide range of professional possibilities in work life. Specialised studies provide students with a good theoretical understanding and practical skills in an industrial engineer's work.
Projects are an integral part of the implementation of the programme. Engineering skills, including working life skills, are learned via projects. Good interpersonal and communication skills are required as someone works on global projects involving people representing a wide range of nationalities. Different types of networks and management of these networks is an essential part of engineering skills.
Structure of Studies:
The content of the studies can be modified on a personal study plan. The student's individual interests and learning priorities can be weighted. This way immigrants previous degree or work experience can also be utilized and provide stronger skills and better employment opportunities for the person´s desired tasks in Finland.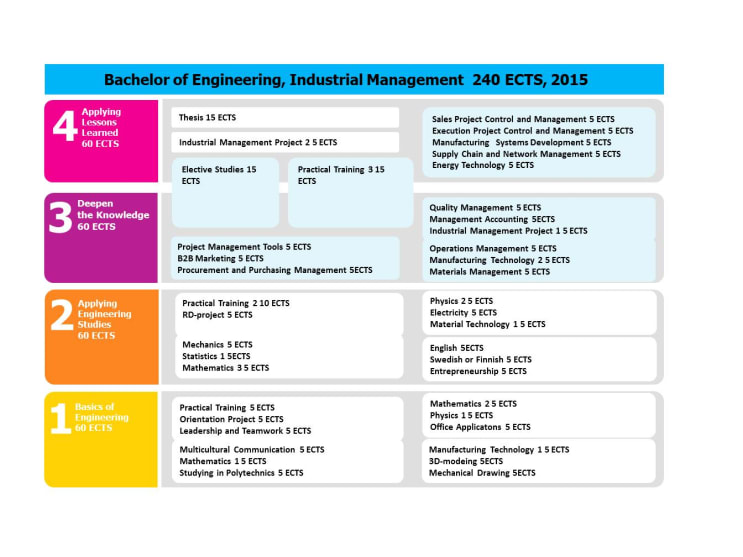 Basics of Engineering 60 ECTS
Basics of production and product design
Basics of project planning and working in projects
Communication
Mathematics and natural sciences
Training
Applying Engineering Studies 60 ECTS
Production and product design
Mathematical skills development
R & D project and its challenges
Languages
Entrepreneurship and Business
Training
Creating the Knowledge 60 ECTS
Project management and management tools
International business, sales and marketing
Quality Management
Logistics and its sub-areas
Industrial based project and its management
Elective studies according to their own orientation
Practical training
Applying Lessons Learned 60 ECTS
Project management and control
Sales and marketing in an international environment
Supply chain management and networks
Elective studies according to their own orientation
Practical training
Thesis
Thesis:
The thesis is 15 credits. The work will take place in the fourth year of study. This engineering work is usually done for and within a company. Students should find a topic from a company that one is interested in as a potential future employer. In many cases, the thesis leads to a job in this company or another similar company. The thesis topic could and should start being asked about after the third year of studies. Engineering work and the thesis are done in the fourth year of study usually in the spring term.
Career possibilities:
Industrial engineering and management engineers have a wide range of career opportunities. Training the students' wide range of technology and business areas and practical training will help to find your career path and interests. A career and own interests are rarely clear at the beginning of the studies. The industrial management engineer may also find employment in public organizations, such as in city, state and local government positions. Third sector organizations can also provide work for industrial management engineers.
Industrial management engineer positions vary from experts to managers. Various activities related to the design and development of products and production are common. Projects are the way these design and development activities are most often organized. So projects and practices have already been learned during the studies.
Industrial management engineer's jobs are often business tasks that require engineering expertise. The workplace is, however, often an international technology company in the field of export. For example, technical products and services do not sell Bachelors of Business Administration, but the engineers. The industrial management engineer often works with and between a wide variety of organizations and entities. For example, the production planner is involved in sales, purchasing, and production. The Sales and Marketing Engineer is dealing with the customer, the production planner, product development and financial management, possibly even taking into account the cultural and communicational aspects.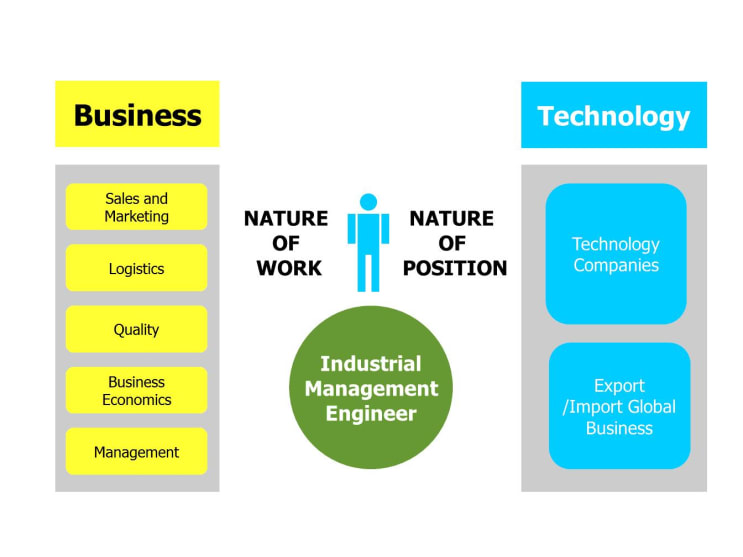 Titles:
Titles of industrial management engineers are:
Project Engineer, Project Manager, Project Director
Sales Engineer, Sales Manager, Marketing Manager
Quality Engineer, Quality Coordinator, Quality Manager
Purchasing Engineer, Purchasing Manager, Warehouse Manager
Production Planner, Production Manager
Installation Supervisor, Inspection Engineer
Maintenance Engineer, Service Engineer, Foreman
Development Engineer, Design Engineer, Patent Engineer
Business Advisor, Consultant, CEO
Teacher, Lecturer.
Internationality:
Finns and Finnish immigrants and a number of different nationalities have studied in this programme. The student of this programme is recommended to carry out an exchange or training also somewhere other than in Finland. Students have the opportunity to complete a double degree in Windesheim University of Applied Sciences in the Netherlands.
The programme and Savonia University of Applied Sciences has a variety of seminars and international summer courses, collaborative projects, and linguistic and cultural diversity training. Savonia University of Applied Sciences has foreign university partners in more than 30 countries.
Cooperation:
The technology industry is the most important business in the North Savo region with its 1.9 billion euros annual revenue and 10 000 directly employed employees (2012). Many of the region's businesses operate in international markets at the leading edge of their field of operation. Their core know-how is concentrated around commercial vehicles, such as state-of-the-art forestry equipment, mining and pile-driving machines, and in furnace and boiler technology in the field of energy technology.
The Department of Mechanical Engineering co-operates with the region's industrial enterprises while undertaking their research, development and innovation work. The businesses can participate in Savonia's projects by partially funding the activities or they can directly purchase the different R.D.I. services provided by the D.P.M.E.'s experts.
The significant volume of functions demonstrates the fact that the R.D.I. Unit of the Department of Mechanical Engineering has succeeded in identifying the current and future needs for development of the local businesses. With many of the businesses, the current co-operation can be described as a true partnership; i.e. there are mutual benefits, continuity and varied actions. The internships, thesis and other project works conducted as part of the education represent the foundation for co-operation with these companies, but also the R.D.I. projects are based on collaboration with the businesses.
EUR-ACE authorities praised active cooperation with companies. Students often make course practice work and development plans as part of the course for companies. The study plan includes a number of projects, many of which are a mandate of the company.
Research:
The Savonia University of Applied Sciences research and development work shows students in everyday life via the project and thesis work. Savonia has selected four areas of focus for education and research, development, and innovation (R.D.I.). One of them is integrated product development. Research is undertaken in collaboration with enterprises and other organizations.
On the industrial management side, the focus is E.C.P. (Engineering-Procurement-Construction) projects, or large delivery projects, as well as processes and supply chains.
Possibilities to continue studies after graduation:
Graduates can apply directly to study for a university master degree (Master of Science). EUR-ACE will provide validity in the European Union area. The University of Applied Sciences graduate degree is Master of Engineering. These programmes are usually studied beside work life and take one to two years. The Master of Engineering degree gives the same qualification for public office as a Master of Sciences degree.
Language:
The whole programme will be conducted in English apart from mandatory languages courses in Finnish (for foreign students) and in Swedish (for Finnish students). Finnish language skills are not learned only in Finnish lessons but may also be learned on other courses. This way a student can have better possibilities to get employment in Finland.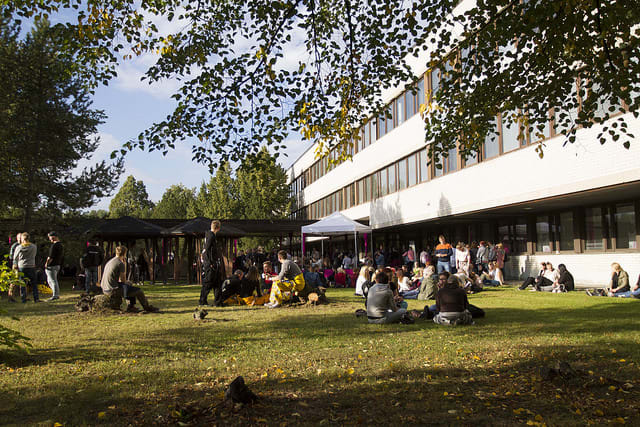 TUITION FEES
Savonia University of Applied Sciences has made a decision to introduce tuition fees for non-EU/EEA students. The tuition fees apply to students starting their studies on 1 August 2017 or later. The tuition fee is charged for each academic year and it must be paid by 31 August.
The fees are:
for Bachelor studies, 5000 euros per academic year
for Master studies, 6000 euros per academic year
All non-EU/EEA students of Savonia University of Applied Sciences may apply for a scholarship after they have been admitted to fee-charging Bachelor or Master degree programmes and they have enrolled themselves as present. In the first academic year the scholarship covers 70% of the tuition fee; in the following academic years, the scholarship covers 50% of the tuition fee. To qualify for the scholarship after the first academic year, students must earn at least 55 credits of studies detailed in their personal study plan per academic year.
Last updated Nov 2020
About the School
® Savonia University of Applied Sciences is one of the largest and most versatile universities of applied Sciences in Finland. Savonia offers a modern and international environment that supports stude ... Read More
® Savonia University of Applied Sciences is one of the largest and most versatile universities of applied Sciences in Finland. Savonia offers a modern and international environment that supports students' professional ambitions and continuous learning. At Savonia, students set their own goals and are encouraged to explore beyond their limits. Find us in Kuopio, Iisalmi and Varkaus.
Read less