Bachelor of Engineering, Information Technology (B.Eng)
Home ›
Bachelor ›
Bachelor of Engineering, Information Technology (B.Eng)
Read more about this program on the institution's website
Program Description
Full-time studies
study places 25
location Mikkeli, Finland
duration of studies 4 years
next application periods:
7.-20.1.2021
tuition fee: for non-EU/EEA citizens 6000 euros,
scholarship scheme and further information www.xamk.fi/tuition-fees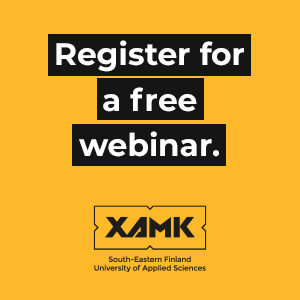 Find and utilize your personal strengths as a future IT-Engineer
The Information technology (IT) program allows you to join the developers of the future.
The IT program gives you a solid foundation on IT and allows you to specialize in the field of your own interest with flexible study plan. With this method, you can find and utilize your personal strengths as a future IT engineer.

The program is built around three key themes: networking, data centers and IoT (Internet of Things) which are supported with other topics such as information security, programming and project studies.

The studies are carried out in our modern and comfortable campus, with state-of-the-art IT equipment.
In our IT programme you focus on computer networking and implementation of services in a modern data center environment. You learn to build secure Internet-connected wired or wireless local area networks. You are able to manage and run server environments. Information and network security is also an important part of the studies.
Different IT skills are combined together in IoT systems and with which you learn how to develop and prototype services and understand their possibilities in global business.
You also learn programming, which allows you to develop and customize services for your needs.
Structure of Studies
The IT contents concentrates on network technologies and providing services with modern server environments and data centers. You gain the skills to design, build and administrate small and medium-sized business network environments and to implement security measures to them. Programming skills are also developed along the studies. In your final study year, you specialize in IoT systems and advanced topics according to your own interests. To reach these goals you also study some physics, electronics and mathematics with project management knowledge and skills.
We organize a large part of the studies through Microsoft and Cisco academies, which allows our students to complete Microsoft and Cisco certifications. This is a valuable advantage when searching for a job in the IT market.
There are lectures, but also a lot of practical experiments in your studies. After some progress in studies you can also take part in research projects at Xamk and in other projects from working life. At its best your bachelor's thesis relates to one of the projects commissioned by some company.
Your competences grow in steps while progressing in your studies. The studies are grouped into modules of usually three courses, and 15 ECTS credits, but there are also annual themes for each study year.
During the first year you are an active learner finding your best learning techniques and working life skills. You gain practical skills in technical issues and learn basic programming. Courses in computer hardware, operating systems, networking and information security give a background to further develop technical knowledge.
Visit the virtual campus of Information Technology.

BYOD – Bring Your Own Device
According to Xamk's BYOD policy new students starting studies at Xamk must bring and use their own devices on campus. However, most of the studies in the Degree Programme of Information Technology are carried out in our modern computer classrooms with all the special hardware and applications needed. Read more about BYOD.
Career Opportunities
The Degree Programme in Information Technology gives you broad IT skills and allows specializing in an area based on your own strengths. This helps you to find your first job.

The role of IT is constantly increasing in our daily life. There is a strong demand for new types of smart systems to support daily routines and wellbeing. Especially the IoT environment is gaining popularity and is expected to change the current business.

Information technology is needed in all areas of business and this opens huge opportunities for an IT professional. Many of our students have found a job related to programming. Other common job options include, for example, working as server and data center managers, implementing services, working with modern cloud environments, designing and managing computer networks, building IoT environments and implementing services with them, or working in IT consulting.
Professional IT job positions are, for example, the following:
data architect
database administrator
data center specialist
information system designer
IoT designer
IT consultant
IT engineer
network specialist
project manager
server administrator
software developer
software engineer
technical specialist

Observis Trainee program
As an IT-student at Xamk, you have the opportunity to take part in Observis Trainee program and receive work life-based assignments, trainee positions and topics for your thesis. This path can also lead you to a more permanent position with Observis. Read more.
Last updated Oct 2020
About the School
Are you interested in practical learning? Would you like to study in modern facilities with top-class teachers? Are you attracted to new ways of teaching and learning? If you said yes, South-Eastern F ... Read More
Are you interested in practical learning? Would you like to study in modern facilities with top-class teachers? Are you attracted to new ways of teaching and learning? If you said yes, South-Eastern Finland University of Applied Sciences – Xamk – might be just the place for you.
Read less