Bachelor of Electronics Engineering
Program Description
The Electronic Engineering career has a career of more than 20 years, which is characterized by teaching its students the latest technology. The fundamental objective has been the training of high-level professionals in the field of electronics, with diverse capabilities that lead the engineer to generate technology to design, plan, develop, integrate, innovate and maintain in operation the electronic systems of various sectors such as the electrical, communications, health, transport, industry and services. In this way, high levels of quality will always be maintained, in order to raise the productivity and competitiveness of companies.
The Electronics Engineer participates in the formulation and implementation of projects to solve engineering problems in various areas, by using microprocessors and microcontrollers, virtual instrumentation, as well as analog and digital electronic systems. To achieve this purpose, we have built a career that has different academic alliances with multinational companies, within which we can mention National Instrumentas for the area of virtual instrumentation and industrial control; Freescale Semiconductor, for the area of microprocessors and digital control and Xilinx, for the area of digital design.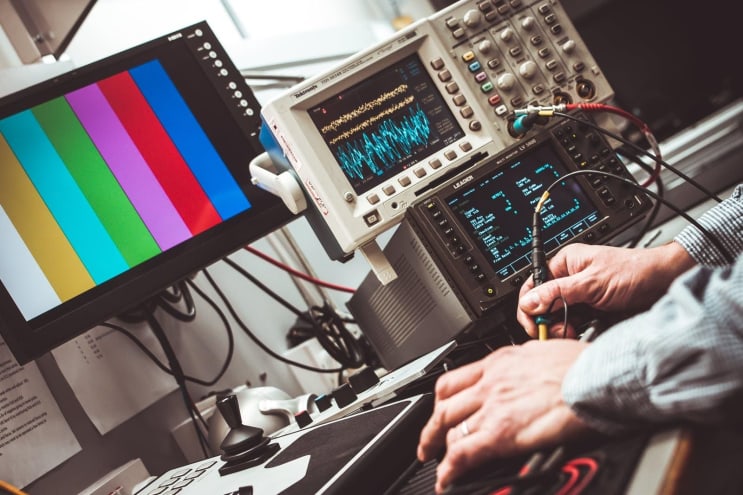 Alexander Dummer / Pexels
Pensum
First year
Reinforcement computer science I
Research and learning techniques
Physics I
Physical reinforcement I
Informatica I
Computer Reinforcement I
Descriptive technology
Mathematics I
Laboratory of mathematical operations I
Computer Science I

Reinforcement of computer science II
Evolution of science and technology
Physics II
Physical reinforcement II
Informatica II
Mathematics II
Laboratory of mathematical operations II
Computer Science II
Technical drawing
Second year
Electricity I
Physics III
Informatica III
Mathematics III
Linear algebra I
Computer Science III

Electricity II
Electronics I
Physics IV
Mathematics IV
Linear algebra II
Ordinary differential equations
Computer Science IV (E)
Third year
Electronic instrumentation
Electronics II
Electronica III
Physical V
Mathematics V
Mathematical statistics
Design and construction of electronic devices

Electrical installations
Microprocessors
Electronica IV
Informatica IV
Control theory
Mathematics VI
Fourth year
Microprocessor applications
Systems theory I
Economy I
Power and motors
Mathematics VII
Operations Research Seminar I
Means of transmission I

Systems theory II
Economy II
Industrial automation
Robotics
Operations Research Seminar II
Telecommunications
Requirements
Registration requirements
Perform placement exam (see location exam calendar).
Fill out registration form.
Submit legalized photocopy of the title of middle level and identity card or IPR.
Present original certifications of the last two years of middle level.
Graduation Requirements
To qualify for the Electronics Engineering degree, in the academic degree, the student must:
Pass the curriculum of the race.
Sustain TOEFL or ELASH test or its equivalence in the course of the race.
Private General Exam.
Thesis work.
Admission profile
Every student who has a middle level degree, who is willing to learn and who has an interest in knowing how the various technologies in the area of electronics, will allow you to provide solutions to any problem that may arise in the local industry. and international.
Last updated Mar 2020
About the School

Universidad Galileo es una entidad educativa superior, producto de 40 años de labor y esfuerzo constante de un selecto grupo de profesionales encabezado por el Doctor Eduardo Suger Cofiño, Ph.D., fund ... Read More
Universidad Galileo es una entidad educativa superior, producto de 40 años de labor y esfuerzo constante de un selecto grupo de profesionales encabezado por el Doctor Eduardo Suger Cofiño, Ph.D., fundador y Rector, quien ha logrado conformar una propuesta educativa completamente diferente a la tradicional y que es impulsadora por un lema muy claro: "Educar es cambiar visiones y transformar vidas."
Read less