Bachelor of Design with Specialisation in Graphics, Interior, Photography or Fashion
Home ›
Bachelor ›
Bachelor of Design with Specialisation in Graphics, Interior, Photography or Fashion
Program Description
Duration: 4 Years
Qualification Awarded: Bachelor of Design with Specialisation in Graphics, Interior, Photography or Fashion
Awarding Body: Alexander College
Language of Instruction: English
Mode of Study: Full-time
ECTS Credits: 240
Course Insight
The Bachelor of Design (BDes) degree is a four-year programme that offers pathways for specialisation in four specific design fields. Working in collaborative, dedicated studio spaces, you will cultivate skills and learn design theories, methods, and processes that will help develop and refine your ideas. This course will develop your extensive understanding of Design disciplines and guide you in the development of your creative, critical and technical skills required to pursue a career in today's ever-evolving design professions across a range of industries.
Graphics Pathway
Graphic design is deliciously diverse – it is used to inform and to influence, to entertain and to educate. Our course is far from ordinary; we regard you as a designer from the moment you arrive at our purpose-built studios and by the time you leave, you will be an expert in your field, equipped to succeed in a competitive industry. This pathway explores the changing concept of graphic design and the role of the graphic designer in society and the professional world; designer as curator, author, craftsperson, editor, educator, collaborator, agitator. You will start by gaining a thorough understanding of design principles, processes and history together with technical skills for print, web, image and motion graphic design creating portfolio pieces as you go. Our specialist staff assist you in developing your own expertise as you 'think through making' as you respond to themes such as interpretation, play, materials & processes and provocation. You put your skills to use in the real world through live briefs and national competition briefs. To capitalise on your design work, you will also learn the business and entrepreneurial aspects of the industry from successful local designers.
Interior Pathway
The BDes degree with specialisation in Interior is a fascinating course which crosses the boundaries between art and design. You will be encouraged to access and nurture your own unique style, creativity and sense of flair whilst learning the technical and practical skills necessary to translate designs into reality. You will learn how to design and make objects as well as surfaces for various interior spaces of private houses, public and corporate buildings, shops and retail environments, for theatre, film and television. You will examine the principles underlying space, surface, decorative pattern, craft as well as digital processes and develop the conceptual ability and technical skills to design and make for both bespoke one-off projects and industrial production. You will undeniably build an impressive portfolio based on the application of real-world experience, problem-solving as well as project management skills and technical expertise needed for a successful career in interior design.
Photography Pathway
Photography is an exciting pathway that aims to enable you to understand and appreciate photography as a means of visual communication and creative expression. This pathway offers an opportunity to develop practical photographic skills underpinned by an understanding of critical and theoretical perspectives. This focus of study enables you to develop your individual and collective creative and technical abilities to a high level. The course is delivered by academic experts in photography, who are actively researching and producing creative practice that informs the teaching on the course. The experienced, supportive and inspiring team will help you to identify your own interests in photography and enable you to make the most of your creative practice.
Fashion Pathway
Fashion is a vast and endlessly growing industry, in constant need for creative, talented designers with taste and a fresh approach. The Fashion pathway will help you develop your creative side and re-think what fashion means today. You will gain a unique insight into all areas of the industry, from the development of textiles to the design and manufacture of fashion collections, to the production of images and publications. You will work in a collaborative studio environment with exceptional facilities and industry-standard equipment. A broad introduction to Fashion, Textiles for Fashion and Fashion Communication from the very beginning will enable you to eventually deliver an industry-ready collection at the end of the course.
Teaching and Learning
Lectures will give you a firm grounding in the theoretical aspects of design and will help you to develop your critical understanding of your own practice. Seminars in smaller groups will enable you to discuss and develop your understanding of topics covered in lectures and enable you to express your ideas, observations and experiences in a supportive academic environment. You will engage with self and peer assessment, collaborate on projects and contribute meaningfully to your peer group. Throughout the entire course, you will attend lectures and seminars with students from across the department, to develop a deeper understanding of all disciplines. You will typically have around 20 contact hours per week.
Assessment
A variety of assessment methods are used including projects, essays, group/visual presentations and exams. You will engage in written critical evaluation of your work and relate it to the broader context of graphic design practice.
Enrolment and Duration
This is a four-year full-time programme. Each academic year usually commences in the first week of October and, in some cases, the last week of September. The academic year runs for a period of 32 weeks. Students may enrol up to two weeks before the course starting date however, early enrolment is advised as places are limited.
Entry Requirements
Due to the creative nature of the course, you will be considered on your own individual merit and potential to succeed. We may make different offers where appropriate to candidates who have a strong portfolio, or substantial relevant work/other experience and whose motivation and skills would enable them to succeed on the course. In your application, please give full details of any relevant work experience and qualifications. Candidates must be at least 17 years of age by 1st September of the year they wish to enter onto the course and must hold a Secondary School Diploma or Foundation Certificate/Diploma or equivalent. Candidates will also be required to provide evidence of proficiency in the English Language.
Graduation Requirements
The entire course comprises of a total of 37 modules over 4 years. To achieve the BDes degree, you must complete all modules to achieve the required 240 ECTS credits for successful completion.
Last updated Jan 2020
About the School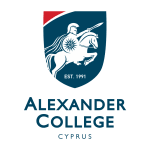 Alexander College has a long-standing history of educational excellence and this is owed, in no small part, to our established UK connections and collaborations with accredited UK Universities and awa ... Read More
Alexander College has a long-standing history of educational excellence and this is owed, in no small part, to our established UK connections and collaborations with accredited UK Universities and awarding bodies. Over the years we have established a number of close links and in addition to our own recognised programmes, we currently offer UK undergraduate and postgraduate degrees in collaboration with Canterbury Christ Church University (CCCU). Deciding to study for a degree is not an easy choice; it requires a high level of commitment and dedication in order to succeed. At Alexander, we understand this and strive to make your time with us an enjoyable, rewarding and worthwhile experience.
Read less