Program Description
Program Overview
90 percent of data in the world today has been created in the last 2 years alone. Some estimate that data production will be 44 times greater in 2020 than it was a few years ago. Others estimate that approximately 2.5 quintillion bytes of data are being generated every day. Global demand for data science and computing expertise exceeds supply, with predictions of a major shortage of analysts for at least the next 10 years. For graduates in Data Science, this presents a high potential employment opportunity.
SP Jain's Bachelor of Data Science (BDS) is a 3-year course designed to prepare graduates who can conduct data-driven investigations, and conduct visual and advanced analytics by acquiring and managing data of all types. Through this course, graduates will develop an in-depth understanding of data science and the techniques for analysis of quantitative and qualitative data to arrive at solutions. They will be able to identify patterns, predict trends and analyze data from sectors such as manufacturing, banking and finance, retail, and healthcare.
PLEASE NOTE: THIS PROGRAM IS NOT OFFERED AT S P JAIN'S SINGAPORE CAMPUS.
Why SP Jain's Bachelor of Data Science?
DEVELOP JOB SKILLS IN ONE OF THE MOST IN-DEMAND FIELDS OF 2018
In an increasingly digital world, Data plays a very important role in driving decisions, innovation, and productivity in large multinationals, non-profits, and governments. It is being used to analyze social media trends to formulate election strategy, evaluate meteorological data to predict the weather or even to analyze retail data to drive more sales.
SP Jain's new undergraduate program in Data Science enables students to develop a thorough understanding of Data Analysis, rapidly adapt to the changing role of Information Sciences and bring in creative solutions to tackle the challenges that arise in modern business.
There is a real value that can be extracted from analyzing data and on graduating from this program, you will be able to help organizations:
Develop better strategies, improve operational efficiencies, reduce costs and terminate risks
Make information transparent and usable at much higher frequencies
Enable the collection of more accurate and detailed performance information on products and services, and therefore, expose variability and boost performance
Allow finer segmentation of customers and enable customization of products and services
Help in the development of the next generation of products and services
GAIN A PRACTICAL, REAL-WORLD UNDERSTANDING OF DATA SCIENCE
From Data Mining, Machine Learning, and Social Web Analytics to Simulation Modelling, Data Mining, and Algorithmic Training – over the course of 3 years, SP Jain's BDS takes you deep into every aspect of Big Data. Not simply from a theoretical perspective, but also through practical, applied capstone projects and industry internships that help students supplement academic knowledge with real-life industry experience, make meaningful contributions to companies, build strong professional contacts, and explore full-time career opportunities.
GRADUATE WITH 2-YEAR POST STUDY WORK RIGHTS IN AUSTRALIA
Australia has always been an education hub and the addition of Post Study Work Rights (PSWR) for 2 years* has made Australia a more conducive and exciting option for undergraduate and postgraduate study. BDS students, on completion of 2 years of full-time academic study in Sydney, are eligible to live and explore career opportunities in Australia for 2 years.
*Applicable as per the current Post Study Work Visa Rights in Australia. The laws are subject to change.
YOU STUDY AT ONE OF THE WORLD'S BEST BUSINESS SCHOOLS
In the last seven years of our short but decorated thirteen-year-old history, the School and its MBA program have been ranked by three of the world's top four business school rankings – Forbes, Financial Times and The Economist. In each of these rankings, we are the youngest school featured – an accomplishment we attribute to our unique and innovative model of business education.
Program Details
The academic track of the program is made of a blend of core and advanced specialist subjects. Our curriculum is built on the principle that subjects get more and more specialized as you progress through the program.
A unique feature of the program is the requirement to undertake, in the final year, applied analytics capstone projects that give students practical, hands-on experience in identifying and interpreting actionable information from raw data and using them to make informed, mathematically valid decisions.
Year 1
The subjects undertaken in the first year of the program build a strong, general foundation in data science, mathematics as well as computer science.
Mathematical Statistics
Introduction to Computer Programming
Introduction to Databases
Linear Algebra
Calculus
Introduction to Data Science
Statistical Data Analysis
Year 2 and 3
In Year 2, mathematical and analytical topics are explored in considerable depth, and students are exposed to topics such as Data Integration, Calculus, Data Structures, Programming, Machine Learning, and Matrix Algebra and Applications.
Algorithms and Data Structures
Data Integration and Warehousing
Visual Analytics (or Explorative data analysis)
Matrix Algebra and Applications
Programming for Analytics
Consumer Behaviour and Marketing Research
Machine Learning
Advanced learning continues in Year 3 through topics like Simulation Modelling, Data Mining, Social Web Analytics, Advanced Web Analytics, and Big Data Processing Techniques and Platforms.
Data Mining
Object Relational and NoSQL Databases
Data Science Capstone Project I
Social Web Analytics (or Web, Internet of Things, and Social Media Mining)
Advanced Analytics (Stream, Sensor and Spatio-temporal Analysis)
Big Data Processing Techniques and Platforms
Data Science Capstone Project II
Admissions
Students must have completed high school/secondary school/junior college or some equivalent form of secondary education and placed in the top 25% of their class.
Students are shortlisted on the basis of their Year 10 or most recent Board exam (taken in the past 2 years) and SP Jain Entrance Test (SPJET) or SAT score.
Domestic Applicants (Australian):
New South Wales (NSW) Higher School Certificate or its interstate equivalent: minimum ATAR of 85
International Baccalaureate Diploma: minimum score of 32 points (from at least six subjects, with three at a higher level)
Completion of an approved course at the level of Certificate IV taken at a registered provider of technical and vocational education in NSW or its interstate equivalent
Possession of qualifications deemed equivalent to either of the above three points
International applicants:
All India Senior School Certification Examination (CBSE), India School Certificate (ISC) Year 12 exam, or Higher Secondary Certificate (HSC) from the Indian State Boards: minimum score of 70%
International Baccalaureate Diploma: minimum score of 32 points (from at least six subjects, with three at a higher level)
A Levels: minimum of grades B, B, B in 3 Advanced level subjects in the same sitting
English Language Requirements:
Applicants are required to demonstrate an acceptable proficiency in English. This is assessed during the evaluations. Students who have not been educated in English must have acceptable English language scores as detailed below:
IELTS overall score of 6, with no band less than 5.5
TOEFL iBT score of 60 overall, with no band less than 20
PTE score of 50, with no band less than 45
Last updated May 2018
About the School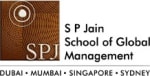 SP Jain is accredited by the Tertiary Education Quality and Standards Agency (TEQSA), Australia. At the end of the program, students are conferred with an Australian degree. This greatly enhances the ... Read More
SP Jain is accredited by the Tertiary Education Quality and Standards Agency (TEQSA), Australia. At the end of the program, students are conferred with an Australian degree. This greatly enhances the international acceptance of the degree, thereby giving impetus to higher education and careers, globally.
Read less