Bachelor of Creative Technologies - Game Art
Home ›
Bachelor ›
Bachelor of Creative Technologies - Game Art
Program Description
Create beautiful environments and characters and use these assets to develop immersive experiences to share with people in an industry that is bigger than the music and movie sectors put together. From 2D platformers to 3D brawlers, you'll be devising and creating your own interactive stories, digital illustrations, concept art and games that will be viewed by an international audience of game enthusiasts. Within the first sixteen weeks of your first year, you'll have created your very own 2D game and, by the time you've finished your degree, you'll have collaborated with other game artists and programmers alike to develop an industry-level game.
Careers & Industry
If you are serious about fast-tracking your way into this multi-million dollar global industry, you'll want to make a beeline to a dedicated course that mirrors the industry environment. You'll also want to get alongside lecturers with industry experience who can give you industry insights. Over three years, this course will help you develop your artistic style and technical skills through a combination of traditional art practices and using industry standard software.
In the final year, you'll be collaborating with a group of artists and programmers on a major game project, just like in the real world. With this portfolio and experience in your back pocket, you'll have the necessary skills to enter the industry, either in a game studio or as an indie developer.
Game Art career paths include:
Game Artist
Modeller
Texture Artist
Technical Director
Art Director
Entry Requirements
General Admission
To qualify for General Admission, you'll need a minimum qualification of NCEA University Entrance or equivalent, such as:
An appropriate qualification from an overseas secondary school or tertiary institution, deemed by Media Design School to be sufficient for admission into a bachelors programme.
CIE (University of Cambridge International Examination)
IB (International Baccalaureate)
Plus, it is recommended to have the following:
24 NCEA Credits, Level 3 in Technology, Art and Design (minimum)
If you are enrolled at a New Zealand secondary school and have not yet completed your NCEA (CIE or equivalent) qualification you can still apply now for admission. When your NCEA results are available in January, we will check them and contact you.
International Students
If you are an international student, you'll need to prove you have sufficient English language skills in order to complete this course. We'll be looking for Academic IELTS 6.0 (minimum), or equivalent qualification if English is not your first language.
Study in San Diego
Media Design School has partnered with fellow Laureate Design University, NewSchool of Architecture and Design in San Diego, USA, to offer our award-winning Game Art course in a city renowned for embracing digital and creative technologies. Located in the same city as the iconic San Diego Comic-Con International, the Bachelor of Arts in Game Art will give students the creative and technical skills needed to enter the gaming industry.
Last updated Feb 2018
About the School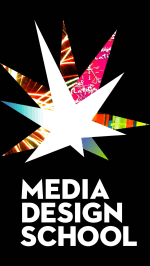 Media Design School is New Zealand's most-awarded tertiary institute for digital and creative technology qualifications
Media Design School is New Zealand's most-awarded tertiary institute for digital and creative technology qualifications
Read less