Bachelor of Communication in Journalism
Program Description
Students in the Journalism Major pursue studies in three major areas: (1) professional journalism, in which students learn the principles and skills of gathering, presenting, and producing news and current affairs; (2) theoretical foundations of the profession, in which students develop a conceptual understanding of the profession and its role in society through legal, ethical, political, historical, economic and media communication theory courses; and (3) complementary studies of the relationship between broadcast or print or internet journalism and society as well as the way politics, government, business, and law operate in both local and international communities.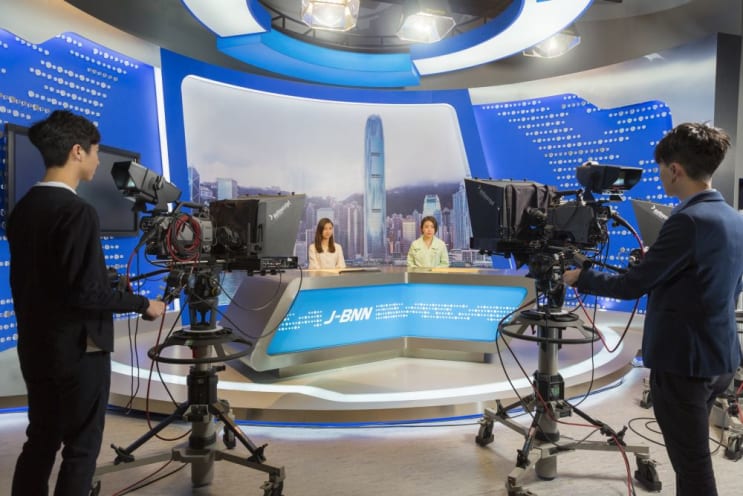 Concentrations
The Journalism Major offers three concentrations: International Journalism, Chinese Journalism, and Data and Media Communication.
International Journalism Concentration prepares students to work for international media that operate in English. Developing students' writing, and reporting skills in English is one of the core missions. Students receive a comprehensive education in the techniques of print, broadcast and web-based journalism. Theoretical courses in media systems, global news and press law are also offered. International students can complete their studies in this Concentration entirely in English.*
Chinese Journalism Concentration provides professional education for students who aspire to work in the Chinese-language media. Apart from acquiring news writing and reporting skills in Chinese (Cantonese/Mandarin), students develop their analytical thinking skills by taking courses in media literacy, press law and communication research.*
Data and Media Communication
Data and Media Communication Concentration is jointly offered by the Department of Journalism and the Department of Computer Science. This Concentration provides students with cutting-edge interdisciplinary knowledge and skills in data and media communication needed for the changing landscape of today's media industries. Students are equipped with the essential skills of data journalism, including newsgathering, investigative reporting, data-driven storytelling and news visualization.
*Students of Chinese Journalism Concentration and International Journalism Concentration have to specialise in one of the following three streams: Broadcast Journalism, Financial Journalism or General Stream.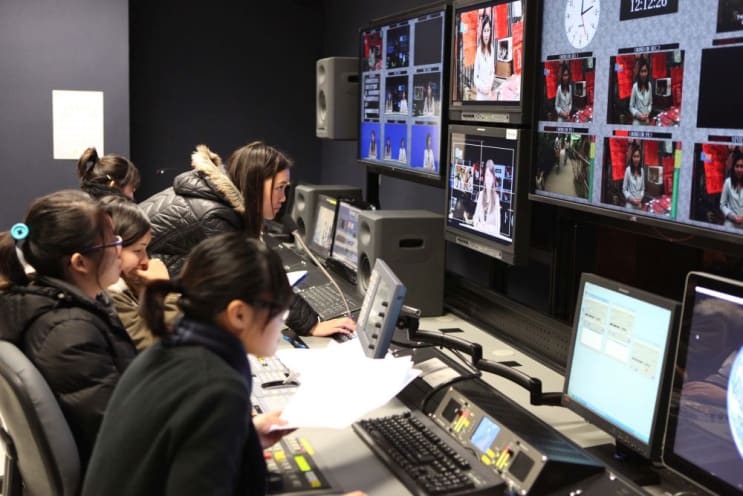 Internships
Students of Chinese Journalism Concentration and International Journalism Concentration are expected to undertake a professional internship during the summer after the third year of their studies. We work closely with the industry to arrange internship positions for our students. The internship normally lasts for at least two months, from early June to the end of August, but some employers may require slightly different periods. Journalism students have completed internships at the following organisations:
Agence France-Presse
AM730
Apple Daily
Associated Press Television News
Boom Magazine
Cable TV
FevaWorks Solutions (HK) Ltd
Frontier Myanmar Magazine
Government Information Services Department
HK01
Hong Kong Commercial Broadcasting Co. Ltd.
Hong Kong Economic Journal
Hong Kong Economic Times
Initium Media
Metro Daily
Metro Radio
Ming Pao
Next Digital
Now TV
Radio Television Hong Kong
Sky Post
South China Morning Post
Television Broadcasts Ltd.
The New York Times
The Standard
Thomson Reuters Hong Kong Ltd.
Wen Wei Po
Exchange / Reporting Tours
Journalism students are encouraged to go on exchange for a semester at one of the many universities we partner with around the world, including in the United States, Australia and Europe. Students can take journalism classes and experience life in another culture. Furthermore, students can join overseas reporting tours during which they are required to cover news events in a foreign land. In recent years, we have led students to Taiwan, Myanmar, North Korea, Germany, and Spain.
Career Prospects
Many graduates of the Journalism Major become reporters, editors, correspondents and producers in print, electronic and online media. Others may go on to work in related fields such as public relations, marketing, business and commerce, government service and education. Some pursue further studies in Hong Kong or overseas. We have a good number of winners of prestigious media awards and scholarships for postgraduate studies abroad.

Entry Requirements
We adopt a holistic approach in selecting applicants on individual merits. Applicants are required to meet the University Entrance Requirements and English Language Requirements.
Applicants admitted with advanced standing to Year 1 of study with international qualifications such as GCE, IB and SAT may apply for transfer of units.
The School adopts a broad-based admission policy for students who want to study Journalism or Public Relations and Advertising. Students are not required to choose a major before admission. Instead, in their first year of studies, they are required to take core courses that introduce them to multimedia storytelling techniques, media law and ethics as well as other courses that give them a flavour of different fields of communication studies. At the end of year one, students will be assigned to a Major according to their personal preferences and academic performance. In year two, they will be assigned to a Concentration based on their choices and scores in relevant courses.

English Language Requirements
The following public examination results are recognised as meeting the English Language requirements stipulated by the University:
Proficiency Tests

Minimum Requirements

TOEFL

Internet-based test (iBT) - Score: 79; or
Paper-based test (PBT) - Score: 550

IELTS Academic

Overall Band: 6.0

SAT

A minimum score of 550 in both Critical Reading and Writing with a sub-score of 8 or above in Essay in old SAT; or
A minimum score of 590 in Evidence-Based Reading and Writing in new SAT

ACT

A minimum score of 23 in both ACT English and Reading

GCE O-Level/ GCSE English/ English Language/ English Literature

Grade C/ Grade 4

IGCSE First Language English

Grade C/ Grade 4

IGCSE English as a Second Language

Grade B/ Grade 5

GCE AS or A-Level English

Grade E

HKDSE English Language

Level 3

HKALE Use of English

Grade E

IB

Grade 4 in:
IB English A (Higher or Standard Level); or
IB English B (Higher Level); or
IB English Literature and Performance (Standard Level)

OR

Grade 5 in:
IB English B (Standard Level)

Others

Other English language qualifications deemed acceptable by the University

Admission Scholarships
Applicants with outstanding academic performance will have the opportunity to receive admission scholarships:
HKD

USD

Full scholarship*

190,000 each year

24,000 each year

Half scholarship*

95,000 each year

12,000 each year
*Subject to the University's approval.
Last updated Mar 2020
About the School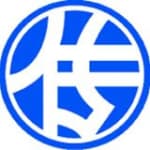 The School of Communication of Hong Kong Baptist University was founded in 1968. It provides a comprehensive range of programmes in communication available in Hong Kong at the undergraduate and postgr ... Read More
The School of Communication of Hong Kong Baptist University was founded in 1968. It provides a comprehensive range of programmes in communication available in Hong Kong at the undergraduate and postgraduate levels.
Read less