Program Description
AFFILIATED TO BANGALORE UNIVERSITY
B.com has come up with challenging and promising career opportunities. Our wide experience and knowledge of the B.com industry as a leading college gives us the edge when it comes to offering specialized training. Through an innovative and personalized approach, we craft and polish your skills. Right from the curriculum design to our hand-picked team of professional instructors to the strong Infrastructural support of our college, we ensure a blend of innovation and creativity to add new dimensions to your abilities and enhance your learning experience.
As the industry has been growing by leaps bounds, there has been an infinite scope for B.com In the present scenario, with varied preferences of people.
COURSE DESCRIPTION
We offer 3years full-time course B.com
The course has 6 semesters where the student gets introduced to the world of commerce.
Offering a unique and comprehensive syllabus and prepares a student from the fundamentals which is essentially required in today's industry.
This well-blended syllabus in combination with communications and self-development lasses make IIFA students a preferred choice among leading companies.
Bachelor of Commerce degree is designed to provide students with a wide range of managerial skills while building competence in a particular area of business. It imparts candidates with knowledge of accounting principles, export and import laws, economic policies and other aspects which impact trade and business. Ideally a student of B.Com. on graduating is expected to have acquired basic knowledge in a variety of fields related to an organization and business management. B.Com. degree holder is fit to work in any corporate organization or be self-employed. B.Com. graduates possess a variety of skills like accounting, tally, human resource management etc.
B.COM COURSE ADMISSION BANGALORE
Eligibility: 10+2 (Preferred Stream Commerce)
Duration: 3 years
CAREER PATH
Career options available after a B.Com. degree are endless. B.Com. jobs range from roles in Finance and Accounting, Banking Industry, Corporate Sector etc. Some of the sectors which employ B.Com. degree holders are Banking, Media, BPOs, Tourism Industry, Hospitality, FMCG Telecom etc. The average annual salary offered to these graduates ranges from INR 1.8 lacs to 8 lacs.
B.Com. the course imparts basic knowledge about trade and commerce practices in society and prepares a student for job opportunities in a wide variety of sectors. A B.Com. the graduate can work in both public and private sectors. They are fit to work in a variety of industries and take on varied roles like administration, hospitality, accounting, marketing, retailing, production planning etc.
Some of the roles and areas of function for students with B.Com. are:
Business Manager
Senior Business Analyst
VP Strategic Operations
Global Program Manager
Adjunct Assistant Professor
Finance and Accounting
Banking and Insurance
Market Research
Event Management
FEE PAYMENT METHOD
3 Years Total Amount: Rs.2,40,000/-
Lump sum Amount: Rs.2,04,000 /-
Initial Down payment Rs.30,000/-
IF INSTALMENTS:
1st Semester : Down Payment (Rs.30,000) +Rs.35,000= Rs.65,000/-
2nd Semester: Rs.35,000/-
3rd Semester: Rs.35,000/-
4th Semester: Rs.35,000/-
5th Semester: Rs.35,000/-
6th Semester: Rs.35,000/-/-
NOTE:
1) COURSE FEES INCLUDES COURSE MATERIAL, PROJECTS WITH 100 % PLACEMENT ASSISTANCE.
2) THIS FEES STRUCTURE IS NOT APPLICABLE FOR FOREIGN STUDENTS.
Last updated Mar 2018
About the School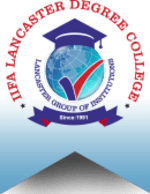 IIFA-Lancaster is a unit of LANCASTER Group of Institutions which was established in the year 1991 with the motto of Faith, Commitment & Empowerment. IIFA-Lancaster is an institute for learning In ... Read More
IIFA-Lancaster is a unit of LANCASTER Group of Institutions which was established in the year 1991 with the motto of Faith, Commitment & Empowerment. IIFA-Lancaster is an institute for learning Interior designing, Fashion designing and Animation.
Read less