Bachelor of Businesss Administration, International Business
Home ›
BBA ›
Bachelor of Businesss Administration, International Business
Read more about this program on the institution's website
Program Description
Start your journey towards Global Business with our Bachelor of Business Administration!
About the programme
Degree title: Bachelor of Business Administration
Study programme: International Business
Duration of the programme: 3.5 years
Study mode: Full-time, on Campus
Study location: Kuopio, Finland
The BBA International Business Programme aims at developing global business experts who are especially skilled in foreign trade, and in the internationalisation process of SMEs. Throughout our programme you will develop the skills and abilities needed to work effectively in international environments. This will allow you to pursue your professional career at multicultural and multinational working places - be it in Finland or abroad.
The International Business studies are versatile and practically oriented. Throughout the programme, students develop various projects in cooperation with the surrounding community, local businesses, institutions, fellow students, and international partners.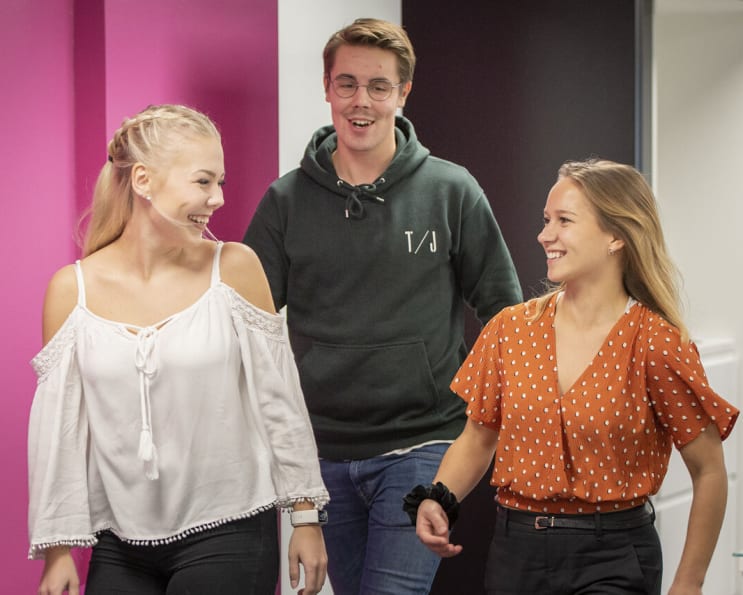 Specialization and minors
The BBA programme specializes in foreign trade, and in the internationalization process of SMESs. The programme offers three minors:
International sales develops your understanding of digital tools, sales and purchase operations, customer realtionship management, global sales team management, promotion and strategies.
Design business challenges you to create sustainable business models and processes through service design, creative leadership, and digital concept development.
Welness business enables you to identify opportunities and establish profitable businesses within the fields of wellness, health and well-being.
Practical tools for your future career
BBA graduates are prepared to face continuous change in the global business field and are sensitive to the requirements set by international partners. They operate fluently within multicultural teams and are able to guide their team towards reaching specific objectives.
Structure and content of studies
The International Business programme consists of 210 credits and has a duration of 3.5 years. Each year equals to 60 credits (1600 hours) that include lectures, online and independent studies, teamwork, research and development work. During the programme, students need to complete a basic and a professional internship (30 credits), and a thesis (15 credits). The detailed structure of the International Business programme is as follows:
Basic studies 60 credits
Professional studies 90 credits
Alternative studies 15 credits
Internship 30 credits
Thesis 15 credits
First year: Essential Business skills
Planning and starting a business. This is done in coopeation with a local partner organisation. The students will form teams around SMEs, and start getting to know the veripus phases needed when establishing a business.
Operating a successful business. Students gain a profund insight into running daily operations of the partner organisation. Students go through team building phases and become familiar with multicultural teams and working methods. Students are expected to apply business knowledge into practice within the partner organisation and to be able to share their understanding to fellow students. At the end of the year, students will have acquired a comprehensive understanding of the everyday business operations as a foundation to develop their international trade expertise.
Second year: Essentials of Internationalisation
The second-year studies will focus on the essential internationalisation skills. First, you will learn how to use the tools, such as business research, and will understand the functions of international economics. Second, you will put these skills and understanding into use, again together with local organisations, within the theme of preparing for internationalisation. A real-life business internationalisation project dominates the term, supported by studies in business analysis and communication.
Third year: Managing internationalisation
During your third year you will focus on adapting business operations to an international environment, and on the challenges organisations face due to differences in conducting business. As skills and understanding grow, you will be able to perceive the evaluation and development of international business. Your management and leadership skills will grow to meet the demands of international trade expertise.
Student testimonials
Thesis:
The thesis at Savonia is always work related. This gives you a good opportunity to networking with professionals in your field during your studies, and often the thesis turns out to be a starting point for your career.
The thesis emphasises the cooperation between you, working life and the U.A.S. in choosing the topic, setting the goals and actually doing it. During the process, you show that you are capable of working independently in recognising, evaluating and solving developmental challenges in working life. Professional reporting and communications skills are required as well. Work-related theses include the following at Savonia:
a developmental project, which you or your team will plan and implement based on the requirements of your client. Examples of such a project include product or service development, workflow development and information material development such as a guide or manual. The developmental process and its outcome will be reported in a field-specific manner.
a research project, where you or your team will perform appropriate research activities in order to shed light to the developmental or problem-solving needs of your client.
a production, which you or your team plan and implement to show your expertise or artistic talent. The production could be an event, seminar or performance. The process and its outcome will be reported in a field-specific manner.
a cumulative thesis, where eg projects, researches or scientific articles done during the studies are gathered together and reported as a synthesis, presenting the key findings or results in a field-specific manner.
Your thesis process will be supported by business research studies, thesis seminars and methodology workshops. You can do your thesis independently or in a group.
Career possibilities:
BBAs will work, among other things, in import-export, international sales and customer care, logistics and other international activities. You will also have the skills and competences needed to become an entrepreneur. .
Titles:
Export assistant
Export secretary
Sales representative
Sales secretary
Marketing planner
Store manager
Import assistant
Import secretary
Product Manager
Investment Adviser
Procurement Specialist
HRM Specialist
Commercial Agent
Export Manager
Import Manager
Internationality:
The BBA-groups are multinational and –cultural by nature, so you will get accustomed to an international work environment from day 1. In addition, the BBA programme itself is designed for internationalisation. Close cooperation with our international partners brings you in contact with people and organisations outside Finland, making it possible for you to compare views, share knowledge and work side by side on projects by using technology-based communication tools as well as meeting in person.
Student exchange is also a natural and recommended part of your second-year studies, and internships (basic and/or professional) could take you anywhere in the world.
Our selection of language studies is substantial, complemented by the offerings of University of Eastern Finland. Cross-cultural studies provide a good basis for your personal experiences in all aspects of internationality.
Cooperation:
Savonia is active in developing the surrounding community via, among others, student projects, joint research projects and various development programmes. The cooperation with the local working life is highly valued and based on long-term relationships. Also the joint activities with the University of Eastern Finland and Karelia U.A.S. bring a variety of options for our students. International aspects are dealt with in a close network of foreign partner institutions, covering exchange, internships, projects and joint or double degrees.
Research:
The BBA programme is dedicated to helping small and medium-sized businesses in their internationalisation efforts. Our students will work on various work-related research or developmental projects of SMEs.
Possibilities to continue studies after graduation:
A BBA degree is an internationally recognized and approved qualification. A BBA graduate is eligible to apply to continue theoretical studies at most universities worldwide. Often the following Master's degree can be completed in 2 years, depending on the field of study and the student. However, should you wish to continue your studies to the Master level at a university of applied sciences, you will be directed to start your working career to gather 3 years of work experience before entering a Master's programme.
Language:
The whole programme will be conducted in English apart from mandatory languages courses in Finnish (for foreign students) and in Swedish (for Finnish students). Please note that you are not expected to be perfect when you start your studies – your language skills will improve while doing business studies. The multicultural learning environment with students speaking various languages is the best way of preparing for the challenges of global business life!
TUITION FEES
Savonia University of Applied Sciences has made a decision to introduce tuition fees for non-EU/EEA students. The tuition fees apply to students starting their studies on 1 August 2017 or later. The tuition fee is charged for each academic year and it must be paid by 31 August.
The fees are:
for Bachelor studies 5000 euros per academic year
for Master studies 6000 euros per academic year
All non-EU/EEA students of Savonia University of Applied Sciences may apply for a scholarship after they have been admitted to fee-charging Bachelor or Master degree programmes and they have enrolled themselves as present. In the first academic year the scholarship covers 70% of the tuition fee; in the following academic years, the scholarship covers 50% of the tuition fee. To qualify for the scholarship after the first academic year, students must earn at least 55 credits of studies detailed in their personal study plan per academic year.
Last updated Oct 2020
About the School
® Savonia University of Applied Sciences is one of the largest and most versatile universities of applied Sciences in Finland. Savonia offers a modern and international environment that supports stude ... Read More
® Savonia University of Applied Sciences is one of the largest and most versatile universities of applied Sciences in Finland. Savonia offers a modern and international environment that supports students' professional ambitions and continuous learning. At Savonia, students set their own goals and are encouraged to explore beyond their limits. Find us in Kuopio, Iisalmi and Varkaus.
Read less