Bachelor of Business Administration
Home ›
BBA ›
Bachelor of Business Administration
Read more about this program on the school's website
Program Description
Bachelor of Arts in Management
The program of Bachelor of Arts in Management allows the student to acquire a solid knowledge of business processes and analytical techniques as well as sound technical skills. Graduates of the program can begin their careers in a field of their specialization and get involved into numerous positions at different levels or pursue their academic path with the further Master program in Management giving a wider handset of fundamental methodologies and practical experience.
Bachelor of Arts in Business Administration
The Bachelor degree in Business Administration enables students to manage resources, time and personnel in order to effectively start and complete projects. The program combines numerous disciplines in communication, finance, economics, business management, and others, which gives students opportunities to work in various fields in the roles of senior management, strategic consultants, independent experts in the future.
Language: English
Duration: 6 semesters (3 years): 5 semesters + internship/thesis
Start dates: October and February
Credits: 185 ECTS
Degree Awarded: Bachelor of Arts in Business Administration
Courses
Courses for Bachelor of Arts in Management are divided into 3 main categories: Core courses (100 ECTS/25 courses) which are obligatory and Specialisation courses (40 ECTS/10 courses) which are introduced during the 2nd and 3rd year of the program and Seminars (15 ECTS). At the end of the studies, the student is obliged to prepare a Bachelor thesis (30 ECTS) OR complete an internship (30 ECTS).
Examples of Courses
BACOR101 - Accounting I
The course introduces key accounting theories and main financial principles that are used in financial decision-making. The course teaches how to prepare and analyze financial statements and evaluate the financial state of a company. Students will also learn about modern accounting technologies that can be implemented for the preparation of financial information.
BACOR102 – Introduction to Microeconomics
This course provides an introduction to microeconomic concepts. The course starts with an analysis of the dynamics of demand and supply and their interaction under various market structures, gives an overview of consumer choice theory and firm behavior under different market structures, and discusses the role of the government in a market economy and the concepts of externality and market failure. The course provides theories and real-world applications of economic principles.
BACOR103 – Marketing Management
The emphasis of this course introduces students to the essential principles of marketing, the marketing function, marketing systems, the marketing concept, and marketing management. The aim of this course is to help students understand the principles of Marketing Management and its application in real-world business situations. Course participants are expected to obtain the ability to apply the marketing concept in enterprises. The strategic approach taken in on marketing will enable students to improve a broad understanding of consumers and the marketing performance of companies, especially those operating in an international marketplace/environment.
BACOR104 - Business Ethics
This course examines principles code of conduct, conflict and moral dilemma of interest, nepotism (favoritism) and individual and group integrity. Business Ethics is a moral analysis of business activity and practices. Students study business actions and decisions in the light of moral principles and values, and the question about whether any ethical values are already implied in business and market activity, or whether introducing ethics into business will cause fundamental changes to the business. Students measure how business does and should affect our individual and social lives, and inquire what role business and its values play in our society altogether. Students observe issues and conflicts that predictably arise in business that have moral aspects to them. This course offers an introduction into the concept of values, morality, as well as cultural beliefs and upbringing in all areas of business, from consumer rights to corporate social responsibility. Decisions made by shift managers or corporate presidents may affect thousands of individuals or entire communities. Consumers today expect and demand integrity, honesty, and transparency in all levels of their environment. Understanding those expectations is the key to communicating core values and behavior not only to employees but society in general.
BACOR105 – Entrepreneurship
This course is designed to help students evaluate the business skills and commitment necessary to successfully operate an entrepreneurial venture and review the challenges and rewards of entrepreneurship. Entrepreneurship refers to the process of developing new business ventures or growing an existing one. Central to this activity are entrepreneurs: risk-taking individuals who seek to bring about change and new opportunities, both for themselves and for the business communities in which they operate. Such persons play an important role in commerce, trade, and economic growth in many nations.
Students learn about their decisions, and their goals to determine how entrepreneurship can play a role in their lives. Students will be introduced to entrepreneurship from an economic perspective and the concepts of environmentally sustainable practices and social entrepreneurship. The course focuses on the creation of social and economic value by developing core capabilities of idea generation, opportunity recognition, resource acquisition, and entrepreneurial management. Students will learn to shape entrepreneurial opportunities, assess financial feasibility while living an entrepreneurial experience. This experience includes forming teams, constructing business models, talking with partners and customers, assessing feasibility, while launching a new venture or initiative.
BACOR106 - HR Management
Students are introduced to the management of an organization's workforce through the design and implementation of effective human resources policies and procedures. Topics include the need for human resources management and its growing professionalism; human resource planning including employee relations; job design and analysis; recruitment and selection; compensation; employee development; workplace health and safety.
The human resource function of modern organizations is critical, as people are our most important resource. The course is an evaluation of principles, practices, theory, and current issues facing organizations as related to attracting, selecting, and maintaining a productive workforce in today's competitive operating environment.
BACOR107 – Business Communication
The objective of the course is to develop a better understanding of communication in the business sphere and to improve teamwork skills. This course will discuss theoretical aspects of communication and will give opportunities to practice and get more experience in a business environment.
BASEM101 – Industrial Visits
The industrial visit has its own importance in the career of a student who is pursuing a professional degree. It is considered as a part of the college curriculum, mainly seen in engineering/BBA courses.
Objectives of the industrial visit are to provide students an insight regarding the internal working of companies. Theoretical knowledge is not enough for making a good professional career. With an aim to go beyond academics, the industrial visit provides the student with a practical perspective on the world of work. It provides students with an opportunity to learn practically through interaction, working methods, and employment practices.
BACOR108 - Accounting II
This course aims at providing the student with knowledge and skills in accounting and finance. Upon completing the course, the student will be able to present and discuss central issues in business studies, apply theoretical models when analyzing problems in accounting and finance, use acquired knowledge and skills when facing and solving problems in practice and analyzing company-specific problems.
BACOR109 – Globalization and International Business
The central objective of this course is to understand the strategic management of multinational corporations (MNCs). The course examines the impact of globalization in International Business and how, and why, firms decide to develop operations in foreign countries, and how firms can become successful once their operations cross national boundaries. We will also examine how individuals manage business activities effectively in such multinational firms.
BACOR110 – Digital Marketing
In this course, the students will learn about topics such as, social media marketing, email marketing, and mobile strategies that you can adapt to implement contemporary marketing campaigns for any type of organization. Students will be prepared to enter the workforce as you learn to make tactical and data-driven decisions using social media measurement, business intelligence, SEO/SEM, web analytics, and marketing data.
BACOR111 – Introduction to Macroeconomics
This course will introduce students to the basic concepts of macroeconomics. It emphasizes the tools used in modern economics to explain how the economy as a whole works and explores the diversity of opinions regarding this issue. Once students have completed this course they will be better placed to understand the causes of inflation and unemployment and the relevance of government monetary and fiscal policy in dealing with such economic problems. Furthermore, students will have a solid foundation upon which they can progress to higher-level studies in Macroeconomics.
BACOR112 – Information Systems
This course provides a broad overview of the issues managers face in the selection, use, and management of information technology (IT). Increasingly, IT is being used as a tool to implement business strategies and gain competitive advantage, not merely to support business operations. Using a case study approach, topics include information technology and strategy, information technology and organization, and information technology assets management.
Admissions Process and Requirements
Send the application form
Receive feedback from the SSHE staff
Send additional required documents (previous diplomas and CV, if applicable)
Receive the confirmation of enrollment
We will contact you as soon as you have sent us the filled in application and the required documents.
Click here to review the application process.
Requirements
Previous diplomas and cv (if applicable)
Scan of your current ID
TOELF/IELTS(80/7) English proficiency certificate or equivalent
Questions?
Reach out to us! You can do so through the form here, or directly via email: info@sshe.ch
Last updated Jul 2020
About the School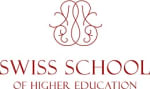 SSHE is a private university based in Switzerland – the heart of Europe's luxury, finance and hospitality. University has a Swiss Labeled Accreditation EduQua and part of EFMD and ECBE organisations. ... Read More
SSHE is a private university based in Switzerland – the heart of Europe's luxury, finance and hospitality. University has a Swiss Labeled Accreditation EduQua and part of EFMD and ECBE organisations.
Read less