Bachelor of Business Administration in International Business
Home ›
BBA ›
Bachelor of Business Administration in International Business
Program Description
About the Program
Degree: Bachelor of Business Administration, BBA
Training type: Full-time studies
Length: 210 ECTS Cr, 3,5 years
Annual intake: August 2021 intake 50
Application period: 7 - 20 January 2021
Want to get a high-quality business education, get classmates from all over the world, and develop your English skills? If yes, this is something for you! International Business provides students with the knowledge and core business management skills they need to succeed in the global marketplace. You will study the whole degree in English. Tuition fee and scholarship The official tuition fee is 8000 euros/year for non-EU/ETA citizens. All excepted students will get 50 % scholarship for the first year. Good performance in studies (60 CR/year) will guarantee 50% scholarship throughout the studies. Develop your knowledge and skills to:
manage diverse teams
communicate in multicultural contexts
synthesize and analyze business data
apply strategic thinking
manage global businesses.
Study and gain work experience You do not only earn a BBA degree diploma; during your studies, you also gain a lot of actual work experience. Many of our graduates establish extensive business networks already during their studies. Practical training (ca 5 months), projects and thesis are all ways of learning and interacting with working life and companies. From all over the world We have students e.g. from France, Russia, Estonia, Ghana, Nigeria, Belarus, Bangladesh, China, Vietnam, Nepal, Denmark, USA, India, Sri Lanka, Pakistan, Hungary, Netherlands, Great Britain, Latvia, Malawi, Canada, Mexico, Brazil, and Finland!
Fundamentals of Business During the first year, you will concentrate on the fundamentals of business, such as the basics of marketing, management, communication, and research. You will get theoretical bases of business that will help you to understand business practices in global contexts.
Academic Tracks During the second year, you will choose one academic track and write your thesis. The Academic Tracks (7 credits each) are Marketing Management, Cross-Cultural Management, Technology Business and Future Foresighting, Finance and Corporate Governance, User Centric Design and Innovation, Economics of Internationalisation and Competitiveness.
International Exposure The third academic year is dedicated to the international exposure and specialization: practical training and/or an exchange period abroad. You are encouraged to choose your specialization at our partner institutions. Students can also widen their experiences and skills by pursuing a double degree at one of our accredited partner universities, outside Finland. In case you stay one more semester at JAMK you may also specialize in High-Tech Management, Sport Marketing, Tourism and Hospitality Management, or Entrepreneurship.
Intended learning outcomes Intended learning outcomes are a statement of what a student will know and be able to do at the end of a programme.
Knowledge and understanding
Practical Skills: Multicultural Competency
Intellectual skills: Information Management in Business
Transferable Skills: Multicultural Communication in Business
Graduate Jobs According to our alumni survey our graduates work in professions such as: Marketing Director, Secretary-General, Export Assistant, CEO, HR Coordinator, Export Assistant, Mobile Product Manager, Area Sales Manager, B2B Marketing Executive, Trader, Sales Consultant, Business Area Manager, Lead Planner, Account Manager, Acquisition Marketing Manager, Product Manager, Store Manager, Analyst, Brand Manager.




JAMK´s International Business Programme is the only EPAS accredited bachelor level programme among Finnish Universities of Applied Sciences. Graduates who choose to study on an EPAS accredited programme can be assured that they are attending an institution with high international standards of quality with a balance between high academic quality and professional relevance. In addition, the needs of the corporate world are well integrated into the programme.
Last updated Dec 2018
About the School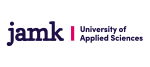 There is demand for JAMK graduates: they have know-how, the right kind of attitude and pride for their professional skills. Being a professional offers you more choices in life and career. The facilit ... Read More
There is demand for JAMK graduates: they have know-how, the right kind of attitude and pride for their professional skills. Being a professional offers you more choices in life and career. The facilities at JAMK combine a relaxed atmosphere with high technology. Our international students report that the teaching is excellent and our staff are very supportive. Our graduates have the knowledge and skills to succeed in the global working environment.
Read less
Accreditations