Bachelor of Business Administration in International Business (BBA)
Home ›
BBA ›
Bachelor of Business Administration in International Business (BBA)
Read more about this program on the institution's website
Program Description
Application: 7-20 January 2021
Tuition: 8000€/academic year for non-EU students
Scholarship available
Would you like to have an exciting career either in Finland or abroad? Could you see yourself working in a multicultural work environment and wouldn't mind if your work takes you to the places you haven't seen before? If yes, the Degree Programme in International Business is your choice.
What is the BBA degree all about?
The degree programme in International Business, or DIB as we call it, is intended for both Finnish and international students wishing to seek interesting career paths in innovative international business, sales and marketing, management or entrepreneurship. The programme emphasises interaction within a multicultural learning environment and encourages initiative, interaction and innovation.
The programme develops the students' skills to assess the differences between national, organisational and occupational cultures. You learn by participating in lectures and discussions, doing group works, keeping presentations, taking part in different projects and case studies and visiting companies. Many of the courses are delivered in co-operation with visiting lecturers from foreign partner universities. The close co-operation with work-life makes it possible for students to put theory into practice. Studies include practical training, which enables students to network with work-life in Finland and abroad.
Content of studies – The skills that will help you to achieve your dream
The programme focuses on developing various skills required in the field of innovative international business. You will learn to draft international sales and marketing plans and how to implement, co-ordinate and control them. You will learn how to create, develop and maintain profitable customer relationships. The programme also includes international marketing management, which enables you to conduct analyses, international market surveys and formulate market-entry strategies. Studies also include courses in IT, HRM, management and accounting. The graduates adopt an approach that is based on demand and user-oriented innovativeness, which make it possible or them to work in project duties with an innovative, initiative-oriented and developmental approach.
Learn by doing
A big part of international business studies is real life-projects that students conduct to local and international companies as part of their course studies. Go-to-market plans for companies such as Dorent Ltd, Oikian Ltd or Uros Ltd have allowed students to show their skills to company representatives. To enhance their knowledge of organizing an international conference our students have actively helped local company Printocent in organizing international seminars. At Oamk you will be able to use your skills and knowledge already during the studies.
Internationalism
Students are encouraged to participate in a student exchange period in one of the partner institutions and also to carry out a practical training period abroad.
Students will also have an opportunity to apply to a Double Degree programme at partner university. In Double Degree programme students spend part of their studies in partner institution and will receive a degree diploma from both higher education institutions once they graduate from Oamk.
Versatile study possibilities to make your degree unique
Once accepted as a degree student, it is pretty much up to you what your BBA diploma will look like. Of course, there are compulsory courses you must take, but there are also many possibilities for you to choose something extra into your degree that will make you and your expertise stand out from other job seekers once you graduate.
One of these great opportunities is Business Kitchen. Business Kitchen is the universities' entrepreneurship hub - a community and co-working space to boost action and discover new opportunities in business and life. In Business Kitchen students get to solve real-world challenges and put theories in practice as well as various activities, programmes and events to support new business creation.
Career opportunities
International Business programme allows versatile career opportunities both in Finland and internationally. Usually, the graduates make their careers in the areas such as international sales and marketing, customer services, sales and office assignments, personnel administration, finance, marketing design and implementation, or international trade import and export. The working title could be one of the following:
Account Manager
Marketing Managers and Assistance
Marketing Co-ordinators
Customer Service Agents
Sales Managers and Negotiators
Purchasing Managers
Entrepreneur
Please note that though these study modules are available for our students some of them might have separate admission period.
Entrance examination involving selection cooperation in Finland
17 study places
1) The Pretasks A & B
Pretask A (application video)

Create a 2-minute applicant video according to the Pretask A Instructions.
You can start working on the video today, and it must be ready latest by 11.45 Finnish time on Tuesday 14 April.

Pretask B (written online exam with essay and maths)

Further instructions will be sent to you by email on Monday 6 April.
The online exam will be open for you on Tuesday 14 April at 11.45 – 14.00 Finnish time.
Mark the date and time in your calendar now.
For the online exam, you will need a quiet place with a computer, and an internet connection.
You need to start reading the required pre-reading material now. The essay of Pretask B will be based on the pre-reading material that was originally updated on the website in January.
Points awarded: maximum 25 points; minimum requirement 8 points.
Best applicants will be invited to an online interview by the points of Pretasks A & B
2) The Online interview
Invitations will be sent by email between 22 – 24 April
Individual online interviews (about 30 minutes - video connection required) between 27 – 29 April
Points awarded: maximum 25 points; minimum requirement 5 points.
The applicants must pass all parts of the examination in order to be selected for admission.
For the exam, you will need a computer, and an internet connection, and a quiet place.
Last updated Sep 2020
About the School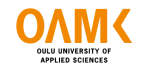 Oamk is a strong and multidisciplinary University of Applied Sciences. We educate competent and innovative professionals and conduct active research and development. In co-operation with our partner i ... Read More
Oamk is a strong and multidisciplinary University of Applied Sciences. We educate competent and innovative professionals and conduct active research and development. In co-operation with our partner institutions we create new vitality to the northern region. We provide bachelor and master degree programme studies, pedagogic studies at the School of Vocational Teacher Education, Open University studies as well as supplementary training. There are three Bachelor's degree programmes leading to a higher professional degree (BSc Hons) that are taught entirely in English: BBA, Business Information Technology, BBA, International Business, BEng, Information Technology. Bachelor's degree programmes are on EQF (European Quality Framework and Other Learning) level 6 and our Master's degree programmes on level 7. Our operations are government funded, and audited by the Finnish Higher Education Evaluation Council (FINHEEC).
Read less