Bachelor of Business Administration in Global Business
Home ›
BBA ›
Bachelor of Business Administration in Global Business
Program Description
Global Business
Major: Global Business
Degree / Award Title: Bachelor of Business Administration in Global Business
Offering Academic Unit: College of Business
Mode of Study: Full-time
Aims of Major
The major aims to:
Equip students with business knowledge by application-oriented teaching at an internationally competitive level.
Prepare students to adapt and contribute to various working environments in China and global markets.
Enable students to integrate business knowledge and broader skills to solve real business problems for multinationals.
Develop students' creative thinking, critical thinking and analytical ability.
Enhance students' language and communication skills in a global setting.
Develop their leadership and teamwork ability with people from different cultures.
Nurture students with a careful balance of intellectual, vocational and practical constituents making them a person with an inquiry mind, independent thinking, good work attitude and self-confidence.
Intended Learning Outcomes of Major (MILOs)
Upon successful completion of this major, students should be able to:
Demonstrate key knowledge and skills in business-related disciplines.
Communicate effectively in English and Chinese.
Apply creative and critical thinking in solving business-related problems.
Attain personal and team goals using individual and interpersonal skills.
Demonstrate awareness of ethical and global issues in business.
Analyze the political, legal, economic, and cultural aspects of the global business environment.
Evaluate business practices and opportunities emerging from business operations in the global markets.
Provide creative solutions to marketing and management problems arising from the evolving global business environment.
Degree Requirements
| | | | |
| --- | --- | --- | --- |
| Requirements | Normative 4-year Degree | Advanced Standing I | Advanced Standing II |
| Gateway Education requirement* | 30 credit units | -- | -- |
| College / School requirement* | 42 credit units | -- | -- |
| Major requirement | 30 credit units | -- | -- |
| Free electives / Minor (if applicable) | 18 credit units | -- | -- |
| Minimum Graduation Requirement: | 120 credit units | N/A | N/A |
| Maximum Credit Units Permitted: | 144 credit units | N/A | N/A |
* For details, please refer to the Curriculum Information Record for Common Requirements.
Additional Information
To nurture BBA Global Business students as global elites, students are required to complete two mandatory student exchanges, one in North America and another in Europe or in a country of student's choice. This is a graduation requirement. Normally, the two exchanges will take place in Year 3 (BBAU4). Variations to this pattern will be handled on an exceptional basis by the programme leader. In order to participate in an exchange, students must fulfil the requirements, including a minimum CGPA. Students who fail to fulfil the exchange requirements will either have to defer their graduation (i.e. until such requirements are fulfilled) or will have to switch to a different major where there are no exchange requirements.
BBA Global Business
Year of Entry: 2020
Mode of Funding: Government-funded
Admission Code: 1001 BBA Global Business
Mode of Study: Full-time
Indicative Intake Target (subject to change): direct application places

Local Students: 2
Non-Local Students: Direct Application route for international and mainland Non-Gaokao students: around 250. NUEE route [全国普通高等学校统一招生计划(统招)] for mainland Gaokao students: around 225

Normal Duration of Programme: 4 years
Direct / Non-JUPAS Application Deadline: 2 January 2020 (Local & Non-local)
Programme Video
Why BBA Global Business?
The BBA in Global Business offers a globally-oriented curriculum and opportunities for students to develop a global mindset, think strategically and contribute to companies doing business internationally. Our application-oriented courses prepare the next generation of managers to lead global teams. In the Global Business Consultancy Project, for instance, students work with a multinational corporation to solve real business problems.
Students have opportunities to enhance their leadership and skills while working with others from different cultures through boot camps, study tours, executive forums, the Global Business Diagnostic Residential Trip, structured exchange programmes, internships, international case competitions and mentoring from global leaders. Students are offered three semester-based exchange opportunities* (two compulsory and one optional) and other overseas immersion opportunities to widen their global exposure.
* Subject to fulfilling the requirements for participating in the exchange studies.
Why BBA Global Business at CityU College of Business?
BBA Global Business programme offers you:

3 exchange studies (2 compulsory & 1 optional) +
1 foreign language +
Flexibility to customize your own global curriculum

College of Business is among the top three business schools in Asia.
Entrance scholarships up to HK$265,000 are available for elite students.
Overseas exchange and summer programmes are available in over 200 partner universities around the globe!
Over 80% of students secure local and global internship opportunities in areas including banking, accounting, IT and consulting.
Triple Exchange Opportunities
To nurture BBA Global Business students as global elites, students are offered Triple Exchange opportunities, two of which are compulsory1 (one in North America and another in Europe2). There are plenty of resources and challenges for students to develop as global leaders, e.g. study tours, scholarships, executive mentorships and global consultancy projects. Students can explore and realise their dreams globally.
Note 1: Subject to fulfilling the requirements for participating in exchange studies.
Note 2: Exchange destinations (subject to continuous review and changes):
North America
University of Toronto (exclusive quota for GBU students)
University of Minnesota (exclusive quota for GBU students)
Queen's University at Kingston
Indiana University
University of Wisconsin-Madison
Europe
University of Mannheim (exclusive quota for GBU students)
University of Leeds (exclusive quota for GBU students)
University of Warwick
University of Liverpool
Copenhagen Business School
Career Prospects
Graduates of this programme are equipped with the knowledge and skills needed to work as associates in global companies, professional business consulting firms and marketing or management positions in firms doing business internationally.
Entrance Requirements for Direct/Non-JUPAS Applicants
To be considered for admission, you must satisfy the General Entrance Requirements.
Notes:
Besides Category A elective subjects, Mathematics extended modules (M1/M2) and "other languages" (at grade E or above) can also be used to meet the elective requirement. If students take both M1 and M2, they are counted as one subject only.
Applied Learning subjects are not counted as elective subjects.
For details of the alternative Chinese Language qualifications acceptable by the University for Non-Chinese Speaking (NCS) students, please visit our website.
Co-curricular Activities and Learning Support
Global Business Internship
The Global Business Internship is designed to provide students with real-life work experience in global businesses in local and overseas contexts. Students are expected to gain in-depth knowledge and practical understanding of global business operations and the professional contexts in which they can apply the theories and skills they have learned in the formal curriculum.
​Global Business Diagnostic Residential Trip
In their final year, students are provided with an excellent opportunity to explore and master their business knowledge and gain hands-on experience by analysing a real business problem of the host company and developing an action plan during a diagnostic residential trip.
Global Business Consultancy Project
Final year students provide consultancy services to global businesses in a real business setting and learn from the first-hand experience.
Overseas Summer Programmes
Students may participate in English immersion courses, which include components such as volunteer placements, homestays and cultural activities in Australia, Canada, New Zealand and the USA. Service Learning participants also provide voluntary services in less developed areas such as the Philippines, Thailand, Mongolia, Sri Lanka and Laos.
Young Scholars Programme
To nurture BBA students to become outstanding future leaders in the region/world, our Young Scholars Programme offers the following:
Overseas exposure during semester breaks, including study trips to renowned companies and universities;
Internship placements in multinational companies to be arranged locally or overseas;
Networking with top business students admitted locally and overseas;
Professional mentorships provided by professors and professional practitioners; and
Cultivation of social responsibility through community services and voluntary work.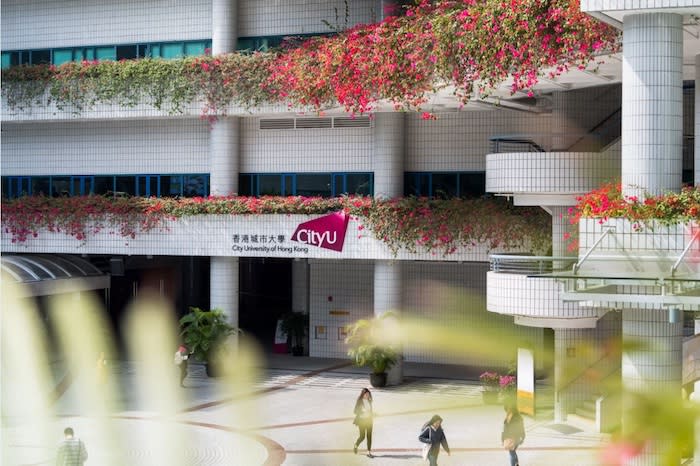 Last updated Jan 2020
About the School

Welcome to City University of Hong Kong (CityU). We are a dynamic university established in 1994 and uniquely located in the heart of Hong Kong, Asia's world city. Our goals are to pursue high levels ... Read More
Welcome to City University of Hong Kong (CityU). We are a dynamic university established in 1994 and uniquely located in the heart of Hong Kong, Asia's world city. Our goals are to pursue high levels of excellence, promote innovation and nurture creativity with the aim to improve people's lives. In a city where East meets West, our vision is to become globally recognised for professional education, one that emphasises the mutual enrichment of different cultures and intellectual traditions, and for research that makes a real difference.
Read less