Bachelor of Business Administration in Accountancy
Home ›
BBA ›
Bachelor of Business Administration in Accountancy
Program Description
Accountancy
Major: Accountancy
Degree / Award Title: Bachelor of Business Administration in Accountancy
Offering Academic Unit: Department of Accountancy
Mode of Study: Full-time
Aims of Major
This major aims to provide an active learning environment in which students can develop knowledge of accounting and inter-related business disciplines and enrich the broader skills and values essential for members and leaders of the accountancy profession in Hong Kong and the Greater China region.
Intended Learning Outcomes of Major (MILOs)
Demonstrate key knowledge and skills in business-related disciplines.
Communicate effectively in English and Chinese.
Apply creative and critical thinking in solving business-related problems.
Attain personal and team goals using individual and interpersonal skills.
Demonstrate awareness of ethical and global issues in business.
Apply accounting principles and practices to business situations in the context of an ethical and regulatory framework.
Formulate professional solutions to contemporary accounting and business issues.
Degree Requirements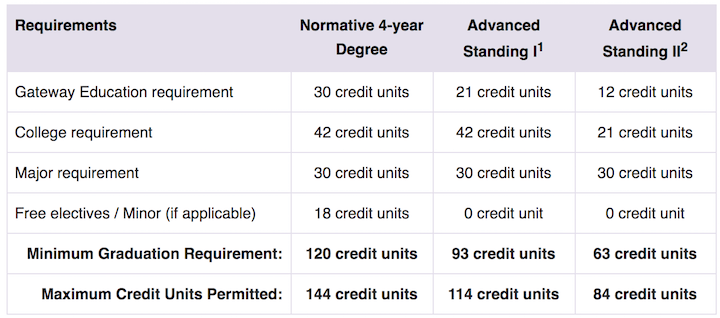 Notes:
For students with recognised Advanced Level Examinations or equivalent qualifications.
For Associate Degree/Higher Diploma graduates admitted to the senior year.
Professional Recognition
This major is accredited by the Hong Kong Institute of Certified Public Accountants (HKICPA), The Association of Chartered Certified Accountants (ACCA), The Chartered Association of Management Accountants (CIMA), and the CPA Australia.
Additional Information
To nurture BBA Accountancy students as professional and ethical leaders for business challenges, students are strongly encouraged to actively attend a "Strategic Leadership Development Series", arranged for BBA Accountancy students to gain exposure to a variety of skills trainings, seminars, workshops, and professional development opportunities, and to interact with potential employers and other practitioners.
BBA Accountancy
Year of Entry: 2020
Mode of Funding: Government-funded
Admission Code: 1002 BBA Accountancy
Mode of Study: Full-time
Indicative Intake Target (subject to change):
Direct Application Places

Local Students: 28 for the Department of Accountancy.
Non-Local Students: Direct Application route for international and mainland Non-Gaokao students: around 250. NUEE route [全国普通高等学校统一招生计划(统招)] for mainland Gaokao students: around 225

Normal Duration of Programme: 4 years
Direct/Non-JUPAS Application Deadline: 2 January 2020 (Local & Non-local)
Programme Video
Why BBA Accountancy?
Known as the "language of business," accounting is certainly fundamental to success in the business world. You will be well equipped with this vital knowledge if you join us in our quest for business excellence. Studying accounting provides you with great employment potential and numerous educational opportunities. Aside from the prerequisites for becoming a professional accountant following your graduation, an accounting degree offers a doorway to almost any business opportunity you can dream of, from financial auditing to business consulting. If you want to pursue further studies in business, accounting is definitely a perfect place to start.
Why BBA Accountancy at CityU College of Business?
Our programme offers valuable resources to maximize your potential and lead you to success. It provides you with

Professional Recognition – Our dedicated academic staff deliver solid professional knowledge. The programme is recognized by major professional associations, including HKICPA, ACCA, CIMA, and CPA Australia.
Real-world Experience – We offer internship placements in well-known accounting firms. Most of our Penultimate Year students gain internship placements, and we provide them with a series of pre-internship training sessions to prepare.
Overseas Exposure – In addition to the exchange programme provided by CB, we organize study tours during study breaks, including tours to Korea, Taiwan, Guangzhou, and Europe. On these tours, you will attend credit-bearing courses, visit renowned international corporations, and join in cultural discovery activities. We also collaborate with the National Taiwan University in a joint degree programme.
Whole Person Development Training – On-going training will be provided at every stage of your university life. We offer a Graduate Employment Training Program, an Accounting Scholars Programme and other training workshops which cover a full range of skills for job-hunting and interviews, business etiquette, soft skills, and communication proficiency.
Personalized Mentor Scheme – Student and staff mentors are assigned to individual freshmen in our Student Mentoring Scheme. The wealth of experience offered by our senior students and academic staff will help you adapt to and plan your university life from the start.
Diversified Co-curricular Activities – We provide opportunities to participate in Social Enterprise Consultancy Projects and other types of open competitions. These opportunities allow students to explore contemporary business issues in great depth, via collaborating with peers and obtaining advice from senior management consultants and academic staff.

College of Business is among the top three business schools in Asia.
Entrance scholarships up to HK$265,000 are available for elite students.
Students with non-weighted 4 core and 2 best elective scores of 28 or above are guaranteed free switching of their BBA majors by the end of year 1.
Students with non-weighted 4 core and 2 best elective scores of 30 or above are guaranteed a free choice of their 2nd BBA major by the end of year 1.
Overseas exchange and summer programmes are available in over 200 partner universities around the globe!
Over 80% of students secure local and global internship opportunities in areas including banking, accounting, IT and consulting.
Career Prospects
We will facilitate your acquisition of the qualifications and skills you need for career advancement in prominent multinational certified public accounting firms, government departments, commercial, industrial and public organisations.
Admission Arrangements for Direct/Non-JUPAS Applicants
Applicants to this programme (admission code: 1002) will be considered for admission to first-year studies in the Bachelor of Business Administration in Accountancy programme.
Applicants seeking advanced standing entry can submit an application for the following programme:
BBA Accountancy (admission code: 1016A)
Entrance Requirements for Direct/Non-JUPAS Applicants
To be considered for admission, you must satisfy the General Entrance Requirements. Preference may be given to students with better English proficiency and have studied a course in Mathematics, Additional Mathematics, Applied Mathematics, Pure Mathematics or Statistics at a high school or post-secondary institution.
Professional Recognition
Accreditation is obtained from the following professional bodies:
Association of Chartered Certified Accountants (ACCA)
Chartered Institute of Management Accountants (CIMA)
CPA Australia
Hong Kong Institute of Certified Public Accountants (HKICPA)
Note: Professional accreditation is subject to periodic review by the respective professional bodies.
Student Exchange/Internship
We arrange overseas student exchange and study tours, including visits to Singapore, Seoul and Shanghai and exchange studies to the US, Europe and Australia.
Each year, we have an average of about 70% of our penultimate year students successfully completed professional attachment in major accounting firms, reputable commercial organisations or government bodies.
Joint Bachelor's Degree Programme
CityU has established a partnership with National Taiwan University, Taiwan and offers a Joint Bachelor's Degree programme.
Co-curricular Activities and Learning Support
Overseas Summer Programmes
Students may participate in English immersion courses, which include components such as volunteer placements, homestays and cultural activities in Australia, Canada, New Zealand and the USA. Service Learning participants also provide voluntary services in less developed areas such as the Philippines, Thailand, Mongolia, Sri Lanka and Laos.
Young Scholars Programme
To nurture BBA students to become outstanding future leaders in the region/world, our Young Scholars Programme offers the following:
Overseas exposure during semester breaks, including study trips to renowned companies and universities;
Internship placements in multinational companies to be arranged locally or overseas;
Networking with top business students admitted locally and overseas;
Professional mentorships provided by professors and professional practitioners; and
Cultivation of social responsibility through community services and voluntary work.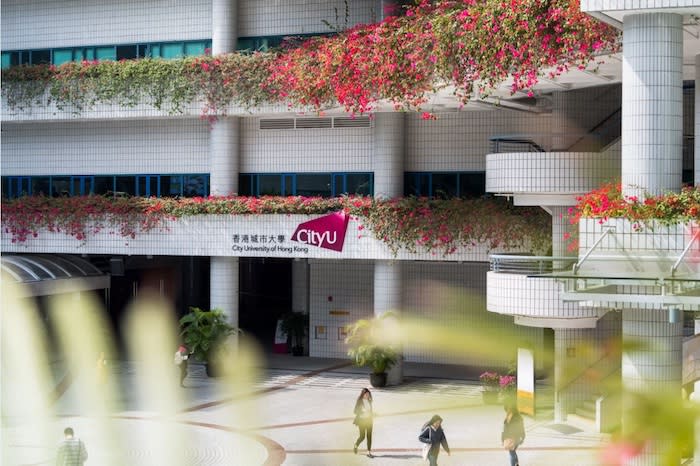 Last updated Jan 2020
About the School

Welcome to City University of Hong Kong (CityU). We are a dynamic university established in 1994 and uniquely located in the heart of Hong Kong, Asia's world city. Our goals are to pursue high levels ... Read More
Welcome to City University of Hong Kong (CityU). We are a dynamic university established in 1994 and uniquely located in the heart of Hong Kong, Asia's world city. Our goals are to pursue high levels of excellence, promote innovation and nurture creativity with the aim to improve people's lives. In a city where East meets West, our vision is to become globally recognised for professional education, one that emphasises the mutual enrichment of different cultures and intellectual traditions, and for research that makes a real difference.
Read less